Are you in the New England or Florida area and looking to lease a copier machine? If so, consider your local copier dealer, BDS! BDS is different from any other leasing company. We create hassle-free leasing options for local businesses. Small businesses and large businesses can equally benefit from our flexible leasing options. Furthermore, with flexible lease term options available, we guarantee we can find the best device for you at the perfect price.
Flexible lease terms
This option is ideal because businesses get to explore how different devices perform in their environment with flexible lease terms. Whether you are looking for 36, 48, or 60 months, we guarantee we have a lease term that will work for you. If there are concerns about how long you should lease a particular device, the BDS team will address them before providing you with your copier lease agreement.
We do not want to pressure you to commit to a lease term that does not work for you. This is especially the case when considering your budget! If your budget does not support a longer lease, we encourage you to be upfront about that. As your trusted print partner, we pride ourselves on creating a safe space for you to share with us the needs of your office environment.
Upgrade your equipment seamlessly!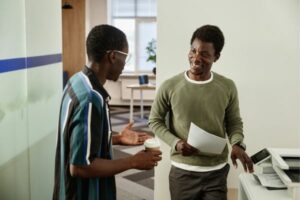 When determining your lease terms, you should also anticipate when you will require updated equipment. Thousands of copiers are sold on the market yearly from popular brands like Kyocera, Xerox, Canon, and Ricoh. It is tempting for businesses to want to jump on new and flashy equipment opportunities. BDS makes this process easy with our leasing program.
We will create terms catered to your upgrade needs. If you anticipate upgrading after a year, we can create a lease term for your current device to cater to those needs. To gain a better idea of what device is best for you, BDS can help you weigh the pros and cons of each device to find the best lease for you.
Furthermore, not every new copier is going to be right for you. When you lease with BDS, we ensure that you are making the most sound investment for the needs of your business and industry. With over 40 years of supplying impeccable support and office technology to local businesses, BDS is prepared to address your organization's unique challenges.
BDS, your certified office technology reseller
Have you heard of the term certified reseller? A certified reseller is a reputable local print partner authorized by the world's biggest technology brands to service, sell, and maintain their equipment. BDS is an authorized reseller of technology from the biggest brands in the world, including but not limited to Canon, Xerox, Ricoh, HP, and Kyocera.
As authorized resellers, our service technicians are trained in these brands of copiers and printers. There is an extra layer of security that comes with partnering with a certified reseller. For example, say you invest your next copier lease with BDS and choose a HP copier for your office. If you begin experiencing issues, BDS can be there within 2-4 hours to address the problem. Our technicians are trained to address the most common issues that HP users experience.
Furthermore, as certified resellers, we can set you up on a maintenance plan designed perfectly for your device. Maintenance is the key to sustainability for your copier. If you fail to maintain your copier regularly, you can experience printer issues like printer jams, poor print quality, and major malfunctions. We have an internal guide that will help ensure you never miss a maintenance service. We can even make a schedule for you and come to your office to perform maintenance services!
World-class service at your fingertips
You deserve the highest quality of service, and BDS delivers. One of the many things that set us apart from other printing companies is that we are not solely concerned with making a sale. We want to provide you with the best solutions designed for you. Our customized solutions have earned us praise from professionals from many different industries. BDS has earned an NPS (Net Promoter Score) of 92.6, which is way above the industry average.
We strive to deliver the best results and go the extra mile to ensure you are satisfied with your investment. If this is your first time leasing a copier, request a quote today! We can connect you with a BDS representative within the next 48 hours to help you address your concerns and find the right copier for you. We can help you decide whether the benefits of leasing outweigh the benefits of purchasing a copier.
If you want to purchase your next copier, BDS also offers copiers for purchase! We have certified preowned equipment for those with a tighter budget or looking to save money. We have a preventative maintenance program for these devices to ensure you stay up to date on the necessary requirements for your device.
If you are looking for free resources, including tips and tricks to help you optimize your copier or other print devices, be sure to check out our blog and knowledge base. We consistently post new content to help you with your daily printing needs. In addition, we regularly post the latest industry news and trends on our social media channels. Join the conversation by following us on Facebook, LinkedIn, TikTok, Instagram, and YouTube today!