Small businesses face unique challenges in their print environment compared to larger businesses. Smaller businesses often are tied to a stricter budget regarding the printing equipment they invest in for their business. Looking for the best copier for your small business is challenging, as you want to ensure that the equipment you are investing in is operating at its fullest capability.
VIDEO: Copiers for small businesses
How do I find the best digital copier on a budget?
Many multifunction printers and copiers on the market are listed at an affordable price, though not all will perform at the highest of capabilities. With many options ranging from basic to wireless printing and copying, it can be hard to decide what's best for you. The first step to finding the right copier for your small business is gauging how much you plan to be using your copier.
Size:
If you use your copier regularly and have a full team that plans to use it, investing in a larger multifunction copier that can meet your business demands is a good idea. If you plan to use your copier less, it might be a better option to find a cheaper option on the market that is small but efficient.
To lease or buy:
Once you figure out the size of the copier that you need to operate your business, you should gauge whether it is a better financial decision for you to buy or lease. This is a big decision, and each choice has its pros and cons that we will explore further.
Paper handling:
Do you know what documents you will be copying and if they will be in black and white? If not, now's the best time to figure that out. Depending upon what you will be printing, this can affect the price of the equipment you need. For instance, if you are an architect who regularly prints large drawings and manuals that require large paper trays, a basic copier will not benefit your business.
CPM:
Furthermore, when looking for printers, you should pay extra attention to the copy per minute (CPM) listed in the technical specifications section. Copy per minute refers to the speed at which your pages will copy.
If you have a high copy demand, the higher the CPM, the better. You can use a slower CPM if you're not copying as much. Be aware that it may take up to a few minutes to copy. This may not be an issue now, but it could become tedious as your business grows.
Conserve your energy:
If you own a small business, you are likely looking to save money where you can. Energy is a great place to start when investing in new equipment. Ensuring you choose an energy-efficient copier will help save money annually on utility bills.
Plus, you are helping the environment! An energy-efficient copier can also avoid overheating from your machines, which makes these copiers a safer option regarding fire hazards and breakdowns.
To lease or buy a copier, what is suitable for me?
Your decision to lease or purchase a printer will ultimately depend upon your unique situation and business model. Luckily, BDS offers leases and purchases of popular multifunction copiers and printers! When actively searching for a new copier, it is a great idea to consider your long-term business goals. Any business starting wants growth, but what does that look like to you?
Does growing mean moving locations? Moving into a bigger building? Recruiting a larger team? If you have not started thinking about these things, now's the perfect time! If you want to save on the cost of your office equipment annually, you should invest in the right copier that will elevate your business to new heights while also anticipating the future demands of your business.
The case for leasing a copier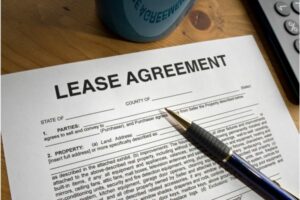 There is a case for leasing a copier, specifically for small businesses. The strengths of leasing a copier for small businesses include the following:
Budget-friendly:
This is the biggest strength of leasing a copier versus just purchasing one. The positive effect of leasing a copier creates a rippling effect for the other benefits. In general, leasing office equipment is much more budget-friendly than buying because of the flexibility of payment plans, options, and no large upfront payment is required.
Flexibility is a highlight for this option, as you often receive a lot of freedom regarding what you pay, the payment schedule, and the lease length. Furthermore, your interest stays stable throughout the life of your lease. Learn more about copier leasing with BDS!
Upgrade your equipment as your business grows:
Remember how we discussed how important it is to consider your future business goals before investing in a new copier? This is one of the many reasons you should consider carefully before buying. Technology continues to grow and innovate, meaning that when you purchase any office equipment, you may miss the latest innovation.
With leasing, you can upgrade your equipment at a more affordable price instead of having to buy new. Upgrading your equipment will help your office become more efficient and help grow your business to new heights.
Re-distribute your funds to more meaningful capital:
When you are a small business, having substantial capital is important in helping you grow.
The last thing you want to do is invest all your financial resources in office equipment, including copiers, fax machines, and printers. When you lease a printer, you open your funds to explore more exciting business opportunities that will appreciate over time!
Although there are many strengths to leasing a copier for your business, there are still some drawbacks to consider before making the jump, including:
Contract:
A copier contract is great for flexibility in payments, but it can also feel a bit limiting. Often, leasing companies will require 2-5 years to lease any of their office equipment. Some local companies, like BDS, are more flexible with contracts, but bigger companies may not be. If you do not realistically think you will be using your copier for the length of your lease, it is best to re-consider leasing.
It's also important you read your contract carefully all the way through. There may be strict terms of the agreement and extra fees if broken. When in doubt, ensure you are taking the necessary steps to make sure you are leasing with a trusted print partner.
No appreciation value:
When you lease equipment, you do not get the option to resell your office equipment, which means you are losing money. Again, depending on your business, there may be more meaningful capital that you would rather invest in, so this may be fine.
However, this can be a disadvantage if you plan to use your copier at a higher volume than average. There is no appreciation value to the equipment you are using. In this case, purchasing would be a better option, primarily if you invest in a larger copier.
More money over the term of your lease:
Although leasing a copier does not require a high upfront cost, you should consider the money you will need to spend over the life of your lease. For instance, you can pay thousands of dollars in interest alone, depending on your interest rate.
Furthermore, you should factor in the cost of running your printing environment, including printers, fax machines, ink and toner cartridges, paper, and more. This all adds up and should be carefully examined before investing.
The case for purchasing a copier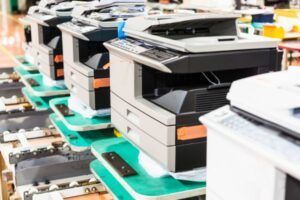 In general, small businesses will find leasing a copier to be a better financial decision for their business, but that does not mean you should completely ignore the idea of purchasing a printer. There are some strengths and scenarios that make buying a copier a better financial option for your business, including:
Buy a used copier to save money:
When purchasing office equipment, we rarely consider the opportunity to buy used equipment. Some people are turned off by purchasing used equipment for the possibility of running into issues with the equipment.
With a trusted print partner like BDS, you can ensure that our certified pre-owned office copiers will fit your budget and be reliable as ever!
Save money in the long run:
The upfront cost of purchasing a copier, especially if new, will likely be higher than if you were leasing it. However, the price is higher because you get more out of purchasing a copier versus leasing, including appreciation value.
When you do this, you can avoid contracts and minimize payments on interest on your equipment. This makes buying a more financially sound option in the long run.
Better maintenance:
Do you like having control over your maintenance schedule? If so, purchasing is going to be best for you. When you own your equipment, you have the option to service your equipment wherever you would like. When you lease, you are contractually obligated to maintain your equipment with the company that owns the product.
Although this may seem like a minor deal, if you are unhappy with the service from the company you have purchased the product from, you are unfortunately stuck. For precautionary reasons, it is best to research and review the company you are leasing from reputation.
Although there are notable strengths to purchasing, similarly, to leasing, there are a few potential drawbacks you should consider before purchasing, including:
Prepare to pay more upfront:
This is one of the more significant downfalls to purchasing. Often with small businesses, there is not enough money or resources to afford the upfront cost of a copier. Depending on the type of copier you invest in, this could cost you up to thousands of dollars upfront!
If your business requires highly specialized machines, be prepared to pay a larger price. Remember too that there are more affordable options for buying like buying used.
No upgrades (at an affordable price):
As technology advances and business demands change, you will likely need to update your copier. When you lease a copier, upgrading your equipment to meet your business needs is easier and more affordable. However, when you own your copier, you must pay the upfront cost of replacing it.
Because of how quickly office innovation is happening, you may need to update your equipment every 5 years to keep up! This can be very costly, depending on your business and industry.
Prepare to finance maintenance:
When you own your equipment, you get flexibility regarding how you want to service your equipment. The downside is that this can also cost more money. Maintenance is usually included in your contract, and monthly pay installments when you lease a printer, so you do not have to worry about paying upfront when something goes wrong.
Office equipment can be unpredictable sometimes, and the likelihood of running into a maintenance issue is high. Be sure to have allocated funds put aside for when this happens.
Final Considerations:
If you are still struggling to determine if purchasing or leasing a copier is right for you, consider print automation to understand better how your print environment operates, including the rate at which you copy and print materials.
To recap, deciding whether to lease or buy your printer ultimately depends on your needs. Owning offers more control and saved costs in the long run, whereas leasing is more budget-friendly, especially when considering upfront costs.
Finding the best copier for your small businesses may not seem as cut and dry as you hope, but with resources and patience, you will find the best fit for your business needs. BDS is proud and ready to help serve our local New England and Florida communities with their copier needs. Request a quote today to get started with an all-star BDS technician! We will respond to your inquiry within 2-4 hours!
To stay updated on the latest industry news and trends, check out our Facebook, LinkedIn, and YouTube channels. For company updates and tips on using your office equipment more efficiently, be sure to check out our blog for new content regularly.