Positive reviews and our reputation are true testaments to our success. We provide top-notch services and a wide range of copier machine options to suit businesses of any size.
We are committed to providing the finest customer service and satisfaction. Discover our ten strategies for locating a copy machine service near me.
Research and choose a reputable provider:

Look for copier service providers with a solid reputation and positive customer reviews. Consider factors such as their experience in the industry, expertise in copier repairs, and the range of printing services they offer. View BDS services here.

Check for certifications and manufacturer partnerships:

A reliable copier service provider should have manufacturer certifications and partnerships with reputable brands. These certifications indicate that technicians are trained and qualified to handle specific copier models. BDS is officially recognized as a Kyocera, Canon, Ricoh, and FP product supplier.

Prompt response and turnaround time:

Pay attention to their response time when looking for a copier service provider. How quickly can they attend to your copier issues? Quick response and efficient turnaround time are essential to minimize downtime and ensure your copier is back up and running smoothly. Get support now!

Skilled and knowledgeable technicians:

The expertise and skill level of copier service provider technicians are crucial. They must be well-informed about different black-and-white or color copier models. They should have experience in copier repairs and maintenance. They should be capable of diagnosing and solving issues quickly.

Transparent pricing:

Choose a copier service provider with transparent pricing. They should provide clear and detailed cost breakdowns for their services, ensuring you understand what you are paying for. Avoid providers with hidden fees or unclear pricing structures.

Comprehensive service plans:

Look for copier service providers that offer comprehensive service plans tailored to your needs. These plans may include regular maintenance, emergency repairs, toner replacement, and other essential services. A comprehensive plan can help prevent potential issues and ensure optimal copier performance.

Warranty and guarantee:

Inquire about any warranties or guarantees offered by the copier service provider. A reputable company will stand behind its work and resolve any issues arising after the service is performed.

Proactive maintenance:

A trustworthy copier service provider should emphasize preventative maintenance to keep your copier in pristine condition. Regular maintenance can extend your copier's lifespan, minimize breakdowns, and improve its overall performance.

Excellent customer service:

Pay attention to the copier service provider's customer service level. They should be responsive, courteous, and attentive to your needs. A provider that values customer satisfaction will take the extra mile to ensure your positive experience.

Ask for recommendations:

Seek recommendations from colleagues, friends, or other businesses in your industry that have used copier services. Personal referrals can be valuable in finding reliable and trustworthy providers.
Having the right copier service provider is imperative for several reasons: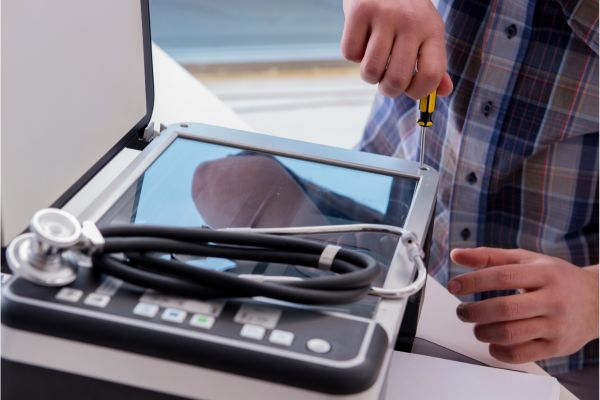 Minimize downtime: When your copier malfunctions or requires maintenance, a reliable service provider can respond quickly and efficiently, minimizing downtime. This ensures that your business operations can continue smoothly without significant interruptions.
Cost savings: Timely maintenance and efficient repairs can save money in the long run. Address copier minor issues quickly. This will stop them from becoming more significant problems. Regular maintenance can improve copier efficiency, reduce energy consumption, and lower operational costs.
Proper handling of equipment: Copiers are complex machines that require careful handling during repairs and maintenance. A trustworthy service provider understands copiers' intricacies and ensures equipment is handled correctly. Improper handling by inexperienced technicians can lead to further damage and costly repairs.
Manufacturer support and genuine parts: Reputable copier service providers often have partnerships or certifications from manufacturers. This enables them to access genuine parts and has direct support from manufacturers, ensuring that replacements or repairs are performed using high-quality components.
Peace of mind: Knowing you have a reliable copier service provider to trust gives you peace of mind. You can focus on your core business activities without worrying about copier maintenance or breakdowns, as you have professionals who can handle those issues promptly and effectively.
A great copier service provider helps ensure smooth operation, reduces downtime, saves costs, and provides expert support. It is an investment that contributes to your business's productivity and efficiency. Contact BDS to get started today.