For many businesses, a state-of-the-art multifunction copier can be the missing piece your printing environment needs! When you choose BDS as your local Florida print dealer for MFP copiers, you receive fast machines that are able to handle copy jobs efficiently and securely.
Partner with a local copier dealer
Here at BDS, we are big on partnering with local copier dealers. There are significant strengths that separate local copier dealers from commercial dealers. BDS is an excellent option if you are looking for printing companies in Florida! We proudly serve our local West Palm Beach community with innovative office solutions and state-of-the-art copiers and printers.
When you partner with a local copier dealer like BDS, you receive the following:
The highest quality of service
Flexible pricing options
Access to industry experts
Reliability
BDS differs from other printing companies, as we provide individualized support and service to help address the issues facing your printing environment and industry. We have experience partnering with businesses in accounting and finance, education, healthcare, nonprofits, and government.
Our experience working with a diverse group of professionals has allowed us to shift our approach to providing you with the highest quality office solutions while also addressing any concerns you may have.
Customer service when you need it
Poor customer service leaves an impression that lasts way beyond the life of your purchase. At BDS, we pride ourselves on delivering the best service to ensure you are satisfied with your partnership. You do not have to worry about lousy attitudes, long wait times, or inexperience when you partner with BDS.
We are incredibly proud to have achieved a Net Promoter Score of 92.6, a metric used in customer experience programs measuring customers' loyalty to a company. As a business technology vendor, our score exceeds the industry average!
We take our partnerships seriously and understand that you, as our partner, are a critical component of our success. With 40+ years of experience, we guarantee you will be pleased with the knowledge, service, and training we provide for your partnership.
What size copier is right for my business?
If you are trying to determine the appropriate size of a copier for your office environment, there are a few things to remember. Determining the right copier size is not one size fits all, but with some considerations in mind, we can help you pick the appropriate size.
When considering copier size, you should consider how much you plan to use your copier. The more industrial the copier is, the higher and quicker the copier's capabilities are. This is great for businesses that regularly print and copy throughout the week. However, if you rarely use your copier, investing in a copier of this size could save money!
Furthermore, if you are operating a small business, you may be on a budget and unable to afford more expensive office equipment. In that case, due to affordability, smaller digital copiers will be a fantastic choice for your business. Another thing to consider if you are operating a small business is the amount of physical space available in your office.
Multifunction copiers take up a lot of physical space due to being large industrial machines. If you are short on space, you are better off investing in a smaller copier for your office.
Copier Leasing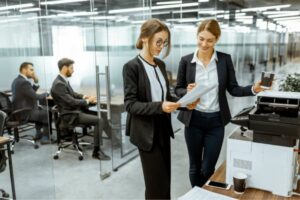 If space is not an issue for your business, and your business prints and copies at a high volume, you should strongly consider leasing your next multifunction copier with BDS. Our copier leasing services provide you with top brands like Kyocera, Canon, Ricoh, and Xerox to help with your office solutions.
Multifunction copiers are a great option for being proactive in your print environment. These machines will provide you with an array of benefits that include:
Estimation of future costs
Various finance options available
Ongoing tech support and Maintenace
Deduct the cost of copier lease for tax purposes
As always, customer serve that exceeds your expectations
The obvious strength of leasing a copier is that you can adapt high-quality equipment to your office environment while not breaking your budget. You can also upgrade your equipment to meet your business needs as you grow and expand!
Whether you are trying to determine what size or brand of a copier is right for you, BDS can help walk you through your options and create an individualized plan for your print environment that will set you up for success.
We are proud to serve our local West Palm Beach, FL community and have local professionals with extensive knowledge and experience with business in the Miami metropolitan area of Florida.
Contact us today to get started with local Florida copier leasing. To stay updated on industry news and trends, be sure to follow our Facebook, LinkedIn, and YouTube channels for the latest content.