Are you looking for local New England and Florida copier dealers? BDS is your leading local print partner and copier dealer, ready to help address your business and office needs.
When looking for your next copier, you can partner with a large or commercial print company or a local print partner. We believe partnering with a local print partner for your copier needs is the best choice.
Why partner with a local copier dealer?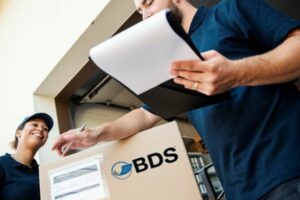 Whether looking for office copiers or solutions, working with a local copier dealer will allow you to receive individualized support and service to find the right copier for your office. When you work with enterprise-level print partners, you risk not receiving strong and individualized support because of the high volume of need and their business structure.
Working with a local copier dealer provides businesses with the following:
Highest quality of service:
When you partner with an independent or larger copier dealer, you are investing in not only the equipment but also service and maintenance from your print partner. Maintenance and service are not usually top of mind when shopping for new copiers, but they are inevitable costs and factors that matter down the line.
When you partner with BDS, you experience the best quality service, from when you get on a call with a sales expert to when one of our all-star service technicians installs your equipment. We pride ourselves on investing in the best education, tools, service, and resources in our local communities.
Flexible costs:
Do you have a specific budget in mind for your next copier? When you partner with a local copier dealer, there is a higher chance of finding a copier that fits your budget while also meeting the demands of your printing environment.
The price is often higher when you purchase or lease a copier from the actual manufacturer. When you shop for your next copier lease or purchase with a local copier dealer, more options are available to help make a financially sound decision for your business.
At BDS, we offer many budget-friendly copier options, including pre-owned multifunction copiers and copier leasing from some of the best brands on the market, including Kyocera, Xerox, Canon, and more!
Valuable, reliable, and experienced industry experts:
When purchasing office equipment, trust is vital to securing a successful print partnership. Local copier dealers tend to employ industry experts with years of experience in the field that can provide their partners with the best service, knowledge, and resources available.
Whether you are speaking with a service technician or sales representative, you should expect exceptional knowledge and expertise regarding the office equipment you are investing in.
When you purchase your copier or office equipment from a major manufacturer, you often do not receive one-on-one individualized support, making you less confident in your purchase. When you partner with BDS, we adopt a vigorous approach to meet your office and industry needs.
Our service continues once we install your copier into your office environment. We are available for any questions, maintenance, or concerns. We pride ourselves on providing top-notch service for the remainder of your time partnering with us.
Want to learn more about copier leasing and elevating your office environment? Be sure to regularly check out our blog for new articles on tips and tricks. Stay up to date on all things new in the printing industry by following our Facebook, LinkedIn, and YouTube pages.