Knowing how to prevent or reduce them is crucial to productivity and workplace efficiency. Our team explains common printing mistakes and how to avoid them in print jobs.
Check out these common printing errors before jumping into our pre-print checklist: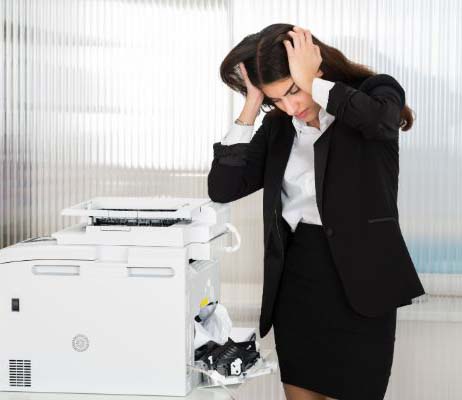 Documents contain typos. Even the best print quality will look terrible if you don't proofread your text. It's essential to proofread thoroughly to ensure accuracy before hitting the "print" button.
Single-sided printing versus duplex printing. Do you need to print on both sides of the paper? Printing on both sides of a sheet saves money, helps the environment (less paper used), and reduces printer wear and tear.
Using quality paper with your MFP device. Using quality paper is important when printing certain types of documents and can also reduce paper jams. Always check your print paper settings before printing to make sure you have the correct size and weight load.
Do I need to print in color or black and white? Printing a black-and-white document in color is a waste; make black-and-white printing your default setting. Use the draft mode setting to save toner and reduce paper costs. Finally, use the preview feature to check your document before printing.
Here are eight mistakes we regularly see while trying to print with your multifunction copier printer device:
Incorrectly installed or incompatible ink or toner cartridges:

If the ink or toner cartridges are not installed correctly or are incompatible with your printer, your printer will not work correctly. Always make sure to install the correct cartridges according to the printer manual.

Paper jams:

Paper jams are common issues with printers. It happens when paper gets stuck in the printer rollers or other printer parts. To avoid paper jams, ensure the paper is loaded correctly, and do not overfill the tray.

Poor print quality:

Poor print quality is often caused by low ink or toner levels, clogged print heads, or misaligned cartridges. Regularly check your ink or toner levels to ensure good print quality, clean the print heads, and align the cartridges as needed.

Slow printing:

There are many factors that can contribute to slow printing, including low memory, outdated software, and a slow internet connection. Improve your internet connection, upgrade your printer's memory, or update your printer driver if you are experiencing slow printing.

Network connectivity issues:

Network printers can malfunction due to connectivity issues. Ensure that your printer is connected to the network and your computer has the correct IP address and printer driver.

Driver problems:

Outdated or incorrect printer drivers can cause problems with printing. Ensure you have the latest drivers installed for your printer, and download them from the manufacturer's website.

Running out of ink or toner:

It's easy to forget to replace ink or toner cartridges, but running out can cause printing problems. Always keep extra cartridges on hand and replace them as needed.

Power issues:

Power issues, such as a loose power cord or a power outage, can cause your printer to stop working. Ensure that your printer is properly connected to a power source and that the power cord is securely attached.
Still having issues with your printer after checking our common printer issues checklist? Contact our service team to help!
Do you want to keep up with the latest industry news and trends? Be sure to follow us on our Facebook, LinkedIn, YouTube channels, and blog for the latest content!