For businesses to make more effective use of their multifunction copier printers, they must be able to print in various sizes and have additional features such as folding, staple finishers, booklets, Z-folds, and more. With the ability to print on many different paper sizes, a business can effectively print posters or marketing materials in large format and still be beneficial for day-to-day printing.
In most stores such as Staples, Walmart, and OfficeMax, you can find all the standard North American size papers in the paper section of each store. In many cases, however, businesses rely on managed print providers to monitor supply levels to prevent downtime caused by supply shortages. This page will discuss the difference between the standard letter, legal, ledger, and tabloid sizes and dive into a few other paper sizes you may not have heard of. You don't have to worry; we're here to make paper sizes easier to understand.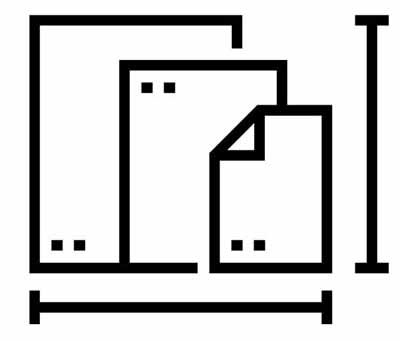 There are two central systems in use: international and North American. Here we will discuss the American standard measurement systems (ANSI).
American standard measurement systems are mainly used in the USA and Canada, and as opposed to metric measurements, they use imperial measurements. Letter (8.5 x 11 inches), Legal (8.5 x 14 inches), and Tabloid (11 x 17 inches) are the most popular formats of the standard sizes. Letter sizes in North America that are less common include ledgers, junior legal, half letters, government letters, and government legal.
The most common paper size is letter size.
Letter size paper is used by most copiers, printers, and scanners. The dimensions of letter size paper are 8.5″ x 11″ and is the default size for all copiers, printers, and fax machines.
Uses for Letter size paper:

Office documents, letters, and faxes are printed on letter-size paper. Letter size paper is also used for folded brochures, pamphlets, and other documents when using a multifunction copier with additionally finishing types.
The second most common size is Legal.
Legal-sized paper measures 8 1/2″ X 14″ and is the second most common paper size. Most MFPs, printers, and fax machines have a separate tray for this type of paper. Since most copiers do not automatically support legal-sized paper, it may be necessary to change your print settings before printing to this size tray.
Uses for Legal size paper:

A legal size piece of paper is ideal for printing brochures, take-out menus, or other folded documents. A legal-sized, tri-folded document looks almost identical to a letter-sized document, only wider.
Tabloid Size paper is the third most common.
The third most common size of paper is 11″ X 17″, sometimes known as tabloid or ledger size. The size is most commonly printed on a multifunction device with an additional tray set up. "Tabloid" is primarily a magazine and commercial publishing term. Due to its less common use in office printing, tabloid paper (11 x 17) is more difficult to find in retail paper outlets.
Uses for Tabloid size paper:

Newspapers, commercial printing, large brochures, and posters are printed in tabloid size.
Having covered the most popular standard paper sizes, let's look at non-standard paper sizes. A multifunction copier can print many additional sizes if your office uses them. Most multifunction copiers have additional custom paper size options to expand or decrease the tray to the necessary paper size.
Half Letter
Among the loose paper sizes in North America, Half Letter is among the most popular. It measures 5.5 x 8.5 inches or 140 x 216 mm in inches. This document is also known as a statement, stationery, memo, or half-size document.
Uses for half letter size paper:

The half-letter format is recommended for notepads, personal correspondence, and diaries.
Government Letter
Government letters are the second most popular loose paper size in North America. The letter piece is 8 X 10 inches, which is 203 X 254 mm. US Government letter paper is slightly shorter than letter size paper in both width and length.
Uses for government letter paper size:

Government letter paper is usually used to print government-related documents.
Executive Size Letter paper
Another not-so-common size that your multifunction copier should be able to print is the executive size which is 7 X 10 inches or 184.2 X 266.7mm.
Uses for Executive letter size paper:

The half-letter format is recommended for stationary, postcards, personal correspondence, and diaries.
Paper sizes and paper options can be customized on many MFPs. To ensure your day-to-day tasks can be accomplished, you should know the media type and sizes your multifunction copier can handle. Contact BDS if you need assistance or additional trays, equipment, or paper to meet your printing needs. We've got 40+ years of experience providing unparalleled technology and impeccable support.