We've all been there. You go to print a document from your printer, and suddenly you have a paper jam. Or you are experiencing blotchy ink and poor ink quality on your documents.
These are frustrating issues because they can be easily avoided with a quick cleaning. When it comes to more commercial and affordable printer users, there are many people who do not clean their printers. We cannot, however, blame them! You can find these printers in your local retail store, which means you may not always receive individual support from a technician who can help explain to you in detail how to care for your equipment.

Quick Tip: How to Clean the Slit Glass on Kyocera TASKalfa Copiers
Cleaning your printer
Here are a couple of quick things to consider before you clean your printer:
Safety!
You can avoid long-term issues with your printer by cleaning it safely. Do not rush to clean your printer with just any cleaner or chemicals. Depending on what you are using, you could use something incredibly harmful to your printer's interface, which may lead to more significant issues that are not as simple to fix. Furthermore, your safety is more important. Remember to clean your printer only when not plugged in, especially when using liquid solutions. This is common sense, but it is easy to forget in the moment, which brings us to our next point.
Be Patient!
Do not rush the cleaning process! Be sure that you are dedicating enough time to clean your printer. You want to avoid accidents and rushing through the cleaning process could cause more issues. Furthermore, you will not thoroughly clean the equipment if you rush, leading to further damage. Learning to clean your printer is new, so taking time to digest the information is essential. It is always better to be safe than sorry.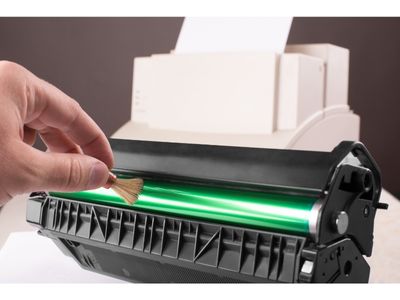 Why you should keep your printer clean
Keeping your printer clean is more than just aesthetic appeal. Cleaning your printer offers many benefits, including:
Stronger efficiency and performance
Money saved on long-term maintenance issues
Better speed
Better print quality and response times
More sustainable printers!
If you want to reap the benefits of having a high-functioning printer, follow these steps.
Cleaning 101:
Now that we have had the chance to walk through safety concerns, including what you should avoid doing, let us clean your printer.
Check your user manual for a self-cleaning option:
The printing industry is becoming increasingly innovative, so luckily, many new inkjet printers will have a button dedicated to an automatic clean for the interior. If you look at your user manual, there is usually a small glossary of terms where you can find the button to complete the cleaning cycle. Be sure to avoid pressing random buttons. Again, patience is essential to preventing further damage.
For External Cleaning:
Keeping the exterior of your printer clean is equally as important as making sure the interior is clean for proper functioning. For offices, printers and copiers can be germ spreaders. With multiple people working with one printer throughout the day, the likelihood of bacteria spreading is exceptionally high. Furthermore, sticky hands or spills can cause stains to the exterior, which, looks straight-up bad. Finding the right solution can be tricky, as you want to ensure you are using a solution that will not harm the interior of your printer. Typically, Isopropyl alcohol or anti-bacterial wipes can do the job of cleaning the outside. Be sure to check and double-check the ingredients in the wipes or solution you use to ensure there's only alcohol in them. Some ingredients to avoid when cleaning your printer are bleach, ammonia, or any other harsh chemicals found in cleaners. These chemicals will destroy the quality of your printer's exterior and touchscreen. Don't worry about ruining the touch screen by using these solutions either. If alcohol is the primary ingredient, your screen will be fine and still function properly.
Avoid water & Damp Cloths:
You see a small stain on your printer and have the urge to spray it with some water. Please be sure to avoid this. Water can seriously damage your technology if it seeps into the inside of your printer. Again, we clean to avoid system issues, so avoiding this is in your best interest. There is conflicting advice regarding the use of a damp cloth or a paper towel on printers. When cleaning your printer, we define a damp clean cloth as close to dry as possible. Once you get the lint-free cloth damp, wipe it gently on the exterior. Again, that excess water and moisture from the cloth has the potential to seep into your device and damage the internal workings. Of course, always wait until the surface is dry before you plug in your printer.
More considerations
Avoid the urge to shove any cleaning products inside your printer to clean. As tempting as this may be, it will only cause more damage to your printer. Instead, you can reach out to a technician for printer cleaning services who will ensure that your printer is in great shape.
Furthermore, when it comes to ink droplets, make sure any that seep onto or into the printer are wiped clean. If you leave any dried ink, you have an increased risk of ink clogs. Ink clogs are more than a simple nuance; If not treated promptly and correctly, they can cause considerable damage to your printer and the quality of your prints.
Do you need printer repair services? If you already have a printer experiencing issues due to excessive dirtiness or accidental water seepage, we can help! Fill out this service request form, And we will set you up with the best technicians in the area!