Using a commercial printing machine, offices can print any document in-house at a high page per minute (PPM) without sacrificing print quality. A commercial multifunction printer can print, scan, copy, and fax while delivering fast, reliable, and quality solutions. There are many different types of commercial printing.
The commercial printing industry produces a wide range of printed materials, including direct mail marketing materials, books, posters, catalogs, magazines, transactional statements, and packaging. A commercial printing company may also offer all-in-one services, such as graphics, reporting, and direct ordering.
Are you interested in leasing a commercial printer for your business to increase productivity? Learn about why you should lease a copier here.
Professional printing quality is a top priority for commercial printers in every industry.
What are the benefits of commercial printing services?
The cost of using your printer is lower than outsourcing
Commercial printers can print high-quality documents
You can print items quickly and when you need them without having to wait
The printing process is entirely under your control, from the design to the quality
A commercial printer is designed to be reliable and often comes with a guarantee
What are the printing methods?
Various printing types are available, and most work well with commercial printing. The main two types are digital and offset printing.
Digital Printing Versus Offset Printing
Offset lithography printing creates high-quality printed products and is suitable for printing many copies of a few originals. With offset printing, wet ink produces material, while content prints on metal plates. The printer then inks the image and transfers it to a rubber blanket before printing.
Today, digital printing works well on most paper stocks, but some papers and jobs are better suited to offset printing. There are also some stocks and jobs where digital printing will perform as well as, or better than, offset printing. The quality of digital printing has now approached the level of offset printing.
How does Offset Printing work?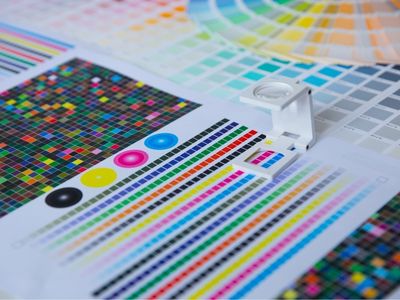 Wet ink and printing plates are used in traditional offset commercial printing. As a result, the technician has complete control over the color, resulting in vibrant colors, clearer pictures, and high-quality printing.
Digital Printing is more common for print jobs.
With many originals, digital printing is the fastest way to produce short runs. Printing images directly from a digital file onto various media, such as paper or non-paper surfaces.
Can you print in a wide format for commercial prints?
Wide-format printers can be used in the office by business owners. Your large format prints can be displayed on a larger or longer surface using a wide format. With a cost-effective commercial printer, you can simplify your wide-format workflow. Learn more about Wide format printers here.
Commercial Printers: Why Should Businesses Use Them?
While many companies outsource their printing, there are several reasons why they should bring it in-house. It is essential to choose a commercial printer that will meet your requirements effectively. Companies that need to print products for business require commercial services. Commercial printing allows on-demand printing without the hassle of using outside printing presses.
Businesses can print more efficiently with commercial printers. Most printers can now produce the same high-quality printing that outsourced printing can, so there is no reason not to do your printing.
Do you want to bring high-quality printing in-house?
Businesses need commercial printing to stay competitive, keep customers informed, and drive sales. Don't spend thousands of dollars outsourcing your commercial print needs; BDS can help you.
By bringing the commercial printing process in-house, you can get the prints you need at an affordable price with excellent quality. Save time and cut costs when the commercial printer is available 24/7 in your business, and you no longer must rely on printing companies.
Where Can I Purchase a Commercial Printer?
All types of businesses can benefit from our range of commercial printers. BDS offers expert advice and guidance to ensure you choose the right printer for your business. Contact us to learn more about our line of Commercial printing machines.