If you want your copiers and printers to function at the highest level possible, stick to a robust and strict maintenance schedule. Whether you are using a home printer or a multifunction printer and copier, maintenance is vital to the life and longevity of your devices.
Determining a schedule is the best thing you can do for your printers and copiers, but many businesses need help figuring out where to start. With conflicting advice online, it can be difficult for businesses to gauge whether they should perform maintenance every one to two years or monthly.
What issues might I encounter if I do not regularly maintain my printers and copiers?
When discussing printer and copier maintenance, it is best to lead with what we want to avoid. Imagine you are printing a time-sensitive document, and in the middle of printing, your printer runs out of ink. You may think, no problem; I will refill the printer with ink. But what if you forgot to buy ink? Now you must run out, grab ink, fill your printer, and by the time the document is printed, you are running close to your deadline.
We can avoid running into this problem by maintaining a solid maintenance schedule. Printer and copier maintenance is not just preventing ink clogs and paper jams. It is also ensuring you and your business avoid slow print jobs by ensuring all your ink levels and paper are good.
With many busy business owners, it may be difficult for owners to remember to maintain and refill printer supplies and ensure you are on schedule with maintenance. This can all be avoided with a maintenance schedule. Whether you hire someone internally to handle your maintenance scheduling or outsource to a local print partner, having a maintenance schedule will save you a ton of headaches down the line.
How will I benefit from printer and copier maintenance?
Aside from preventative measures to avoid printer jams, ink clogs, or any other malfunctions, there are other benefits to maintaining a schedule for your printers and copiers that are worth exploring. When you regularly maintain your office equipment, you can expect the following:
Extended cartridge and printer/copier life
Regarding printer cartridges, toner emissions from your printer can waste way more ink in the cartridge than necessary. This waste of resources will cost you money overall, and you will lose out on the entire life of the cartridge. To avoid this, you must regularly maintain your printer with a repair service that will prevent these issues from happening.
One of the more significant benefits of regularly maintaining your office equipment is that you will undoubtedly extend the machine's life. You will not have to worry about replacing and updating your printer or copier every six months to a year because it will continue running smoothly if you maintain your regular maintenance schedule.
Boost productivity
Whether you have a more significant, more established business or a small local business, you will want efficiency from your office equipment to complete your print jobs quickly and securely. If you are struggling to print at the same speed that you were when you purchased your printer, you may need a repair. Maintaining your printer can help you maintain your quick PPM (Pages Per Minute) so print jobs are completed quickly and on time.
Secure supply replacement
There are options to have a third-party print partner handle your supply and maintenance levels, so you do not have to. The main benefit of having this option is that you can receive automated supply replacements when you partner with a local print partner like BDS. We will ensure you receive the right supplies on time when needed, so you do not have to worry about that.
Many businesses leave this task up to the administrative staff. However, doing so can pull them away from more important tasks. We want to avoid this, so we take the lead in handling your maintenance by regularly tracking your ink levels before they reach dangerous levels.
How often should I maintain my office equipment?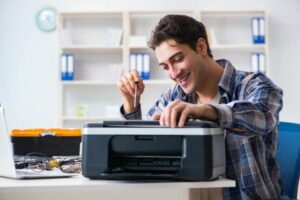 The answer is going to depend. You can expect to update your printer and copier maintenance at least every year. When you perform maintenance on your printers and copiers annually, you are more likely to catch any issues that will cause significant malfunctions.
What happens often is a business's printers and copiers will be running smoothly, so they think maintenance is optional. However, that is further than the truth. Regular checkups have been proven to allow your equipment to last longer than average.
Furthermore, to gauge how often you should provide maintenance to your printers and copiers, you should consider how often you print in your office. An estimate usually works, but if you prefer a more accurate number of times your devices are being used, a print audit is an excellent choice to gauge how often you are printing.
Once you receive a better idea of how much you are printing and copying, you can then move on to develop a solid maintenance schedule.
How do I develop a maintenance schedule for my printers and copiers?
Two options are available for maintaining your printers and copiers, including maintaining them yourself or having your local trusted print partner handle it. In general, having a local printing partner handle the maintenance and scheduling of your printers and copiers will be much easier.
BDS offers maintenance and supply management to our local New England and Florida communities, so you do not have to worry about doing it yourself. Our managed print services will help us remotely monitor the ink and toner levels in your networked printers and copiers. This will benefit your business tremendously because by doing so, you will never run out of ink and toner while printing a document.
For one price, your business can receive all the supplies, services, equipment, and scheduling we offer without worrying about maintaining and developing a schedule by yourself. Another benefit of working with a local print partner for your printer and copier maintenance needs is that we have the supplies available for specific models.
Each printer and copier brand will require different maintenance needs, making maintaining your printers and copiers more difficult without the help of an authorized print dealer. With BDS, you do not have to worry about that because we have you covered with the best maintenance for most major brands.
To learn more about the support BDS offers our local communities, request a quote to schedule a consultation. To stay up to date on industry news and trends, follow us on our Facebook, LinkedIn, YouTube, and TikTok channels.