Is your print environment proactively managed? If not, you may be looking for solutions to improve productivity while strengthening your security. You may be wondering why managed print services is the best choice for your business is, and we can help! Managing your print environment has never been easier. Our managed print services will help cut print costs in half by allowing you better control over your print jobs, improved productivity, and better security.
Benefits of managed print services
Managed print services allow a third-party print partner, like BDS, to incorporate innovative technology to help monitor your print environment. With BDS-managed print services, we can monitor your ink and toner levels, implement security measures to protect against cyberattacks, and set specific limits on the number of print jobs. There are so many moving parts to what makes BDS-managed print services successful. Thus, the benefits you receive from investing in these services are huge!
Cut costs by investing in BDS-managed print services (MPS)
The most substantial benefit to investing in these services with BDS is the ability to cut costs significantly. Uncontrolled print jobs are costing businesses tons of money annually. When you lack control over the amount of print jobs in your environment, you lose control of your budget. Luckily, BDS adopts a comprehensive approach to providing managed print services to local businesses and organizations.
We encourage you, as our partner, to share as much information as possible regarding your print environment and budget. We value and encourage a collaborative partnership with our partners. By giving us as much information as possible, we can better gauge the needs of your business. By providing us with your budget and any restrictions, we can ensure that we offer solutions that will not exceed your budget.
Improve productivity and efficiency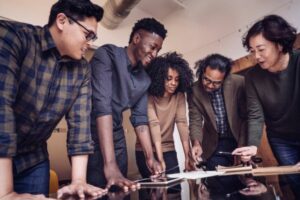 A robust print infrastructure is a critical player in the success of a business. The last thing any business wants to deal with is downtime due to issues with your printing device. Managed print services will help you avoid downtime by identifying potential maintenance and service issues early. The earlier you can catch a service or maintenance issue, the better!
Whether you are experiencing streak lines on your print jobs or a printer jam, BDS will arrive at the scene in record time to ensure your device is up and running again. Our technicians are highly trained to service devices from the largest brands in the world, like HP, Kyocera, Xerox, Ricoh, and Canon. As certified resellers, our technicians are trained to service and maintain all different types of brands and models.
Strengthen security measures
Cyberattacks are rising, and many businesses and organizations are at risk. As the world becomes increasingly digital and more hybrid work-from-home models are adopted, the risk of cyberattacks increases. The best way to guard against these attacks is by educating your staff on the proper protocols and practices to help avoid them. However, there are other preventative services you can incorporate to provide an extra layer of security over your print devices.
Managed print services can help you closely monitor and control the print jobs happening in your establishment. With better control, you can gain better access to where and when print jobs are happening. For instance, if someone is printing an unauthorized print job, you will immediately be notified. This fast-acting technology is great because when you are not closely monitoring your environment, you may miss unauthorized print jobs.
What makes BDS different from other MPS providers?
BDS maintains a simple and straightforward approach to providing the best technology support and solutions. This approach has allowed us to partner with professionals from various industries, including finance, education, nonprofits, construction, healthcare, and more. We recognize that every industry has its own unique needs and challenges. We consider these nuances when building the best-customized solution for you!
If there is one thing that distinguishes BDS from the competition, it is our customer service. Our commitment to providing you with the best results is unmatched. BDS employs the best of the best in printer technology. From our salespeople, service technicians, and administrative staff, everyone is ready to get the job done. Our team is collaborative and works together to provide you with the highest quality results for your business or organization.
Our commitment to service extends to the resources we offer. We regularly post free resources on our blog, knowledge base, and YouTube. Of those resources, we include how-to's, tutorials, tips, and tricks to optimize your printing device and device recommendations. We want to share our experience and knowledge to help local professionals gain the most benefit from their printing devices.
Get started with BDS today by requesting a quote. We will respond to your inquiry within the next 48 hours (about two days). Join the conversation on social media by following us on LinkedIn, Instagram, YouTube, TikTok, and Facebook.