Are you looking for an office printer rental in the New England or Florida area? BDS has you covered with the best office equipment in the business. When you invest in your printer lease with BDS, we will create payment and lease agreements that match your needs. Whether short-term or long-term, we at BDS pride ourselves on providing the most flexible leasing options.

VIDEO: Office printer rental
We are the premier print partner for your technology solutions and provide the best support. In fact, with over 40+ years of experience providing office equipment and technology solutions to local New England and Florida businesses, we have become one of the leading voices in our industry. When you invest in your next office printer rental with BDS, we guarantee you will not regret it.
Is a printer lease right for me?
If you have ever had experience leasing a car, mobile device, or any other object, you should be familiar with printer leasing. Printer leasing is the same concept; you can incorporate the best, most high-tech equipment into your office environment for a fraction of the cost. When you lease, you are charged recurring payments (typically monthly) to continue using your equipment.
You can create various lease terms when you lease office copiers and printers. You can do a standard 12-month lease, 36 months, or even up to 48 months! The choice is yours, and determining which lease term is suitable for you will require some additional research. Luckily, when you partner with BDS, your local print partner, we can help you determine the best lease term.
Here are a few highlights of the benefits of leasing your printer:
Cost-effective option: With one low monthly payment, you can have the most advanced technology in your office. The right printer will help your business elevate to new heights, all for the price of one payment. Furthermore, many leases include maintenance and servicing fees in your monthly payment, so you do not have to worry about forking over more money to maintain your equipment.
Ability to upgrade: As your business expands and grows, so will your printer needs. Maybe you are looking for the newest Ricoh model or HP but are worried about the price. When you lease, you can upgrade your equipment at a fraction of the cost.
Avoid ownership responsibilities: Ownership of your printer is not for everyone. Technology can be unpredictable, and printers are no different. When you own a printer, you are solely responsible for maintenance, repairs, and supplies. There may be more realistic or practical options for certain businesses. For instance, smaller businesses enjoy leasing because they can save money on ownership expenses.
Do you still need help deciding whether a printer rental is right for you? Request a quote with BDS today, and we will connect you with an expert to help you decide.
Benefits of leasing with BDS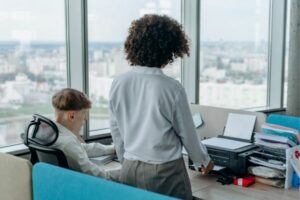 When you lease your next office printer with BDS, you have the choice of picking from the world's most renowned technology brands. We are certified resellers of Kyocera, Xerox, Canon, and Ricoh. As certified resellers, we are authorized by these brands to sell, service, and maintain their equipment. Say you run into a maintenance issue with your printer; BDS has the correct tools, procedures, and resources to ensure your device receives proper care.
This is a great option when investing with your local print partner. If you were to buy your office printer through a major retailer or third party, you may not receive the benefits of adequate and proper service on your device. There is a layer of security and comfort in knowing that the technicians working on your device know the ins and outs.
Aside from being certified resellers, we would also like to highlight our rockstar service technicians. Our technicians are highly skilled and knowledgeable in their field. We seek out the best of the best and ensure our technicians are trained with the most up-to-date information. BDS technicians are different from most, especially regarding their ability to think fast on their feet.
Should you run into any maintenance or service issue, a BDS technician can be on the scene in record time. In fact, our technicians will arrive on the scene within 2-4 hours maximum time. That is extremely impressive for this industry. We are strategically located throughout New England and Florida so that we can respond swiftly.
You get all these benefits and more when you lease with BDS.
Are you ready to take the next step with your office printer rental?
Request a quote today, and we will connect you with a BDS expert in the next 48 hours! If you would like to learn more about BDS, tips and tricks for your office equipment, and all other printer technology-related things, be sure to regularly check out our blog and knowledge base for free resources.
Furthermore, we highlight these resources along with the latest industry news and trends on our social media channels. Join the conversation by following us on Facebook, LinkedIn, Instagram, YouTube, and TikTok.