Finding the right printing company to partner with for your printing environment is paramount to business success. Whether you are looking for digital printing solutions, multifunction devices, or mail and postage, consider BDS, one of the best printing companies in Massachusetts.
What sets BDS apart from other printing companies?
BDS has 40+ years of experience serving our local New England businesses with their printing services. Whether you need to print business card brochures, presentation folders, or other printing and marketing needs, BDS can help you with the best digital office solutions.
We have experience assisting business professionals from a variety of industries, which has helped us shift and adapt our approach to meet the needs of our clients. We follow a straightforward approach to providing our clients with the best office technology and solutions.
Partnering with BDS offers many rewards, including the following:
Preventative maintenance program
Custom-tailored equipment
Complimentary training for the life of your equipment
Automated supply replenishment
Accredited factory-trained technicians
On-site service within 2-3 hours of a request
Premium customer service
Did you know that businesses waste a large amount of paper annually? Not only does this cost businesses tons of money, but it also negatively impacts the environment. BDS has taken a step in the right direction by offering a comprehensive upcycling and recycling program to reduce e-waste from negatively impacting the environment.
The best customer service in the business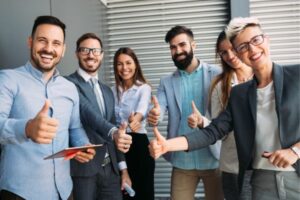 If there is one thing that we at BDS pride ourselves on, it is our customer service. We invest a lot of time, resources, and training to provide stellar customer service. When you partner with BDS, you will not regret the investment due to our diligence in ensuring you are satisfied with our high-quality printing solutions.
We have earned a 92.6 NPS (Net Promoter Score) score, measured by customer loyalty to a company. Although that number is significantly higher than the industry average, we strive to make it even better by learning ways to serve local clients better.
Our all-star customer service begins from the moment you place a service call, to when the technicians arrive on-site to remedy your issue. The customer service does not stop there either. After we provide you with the necessary services, we will follow up to ensure that your equipment is up and running to its full capacity. Our simple and straightforward approach to providing clients with the best service has helped us remain the leading print partner in the area.
Affordable printing solutions you can count on
Maybe you are a small business just getting started and worried you will not be able to afford the high-quality office solutions you deserve. If this is you, we have you covered with our affordability options for local New England businesses. We offer printer and copier leasing and certified preowned multifunction devices to help you incorporate high-quality equipment at a fraction of the price.
We go the extra mile to ensure that our preowned and leased equipment functions at the best quality. Our multifunction printers and copiers are put through a rigorous testing process before we even add them to our inventory so we can ensure that you are getting the best of the best.
High-quality service and maintenance when you need it
You should consider maintenance when considering the cost of your next printer or office solution. Maintenance can range from ink supply, printer paper, and troubleshooting issues with your printer, like paper jams.
Every device needs maintenance to perform to the best of its ability, and you want to ensure that you are maintaining your devices correctly and sticking to a schedule. If the thought of this stresses you out, let BDS handle it. We are happy to create maintenance schedules for your devices.
If you encounter an issue with your machine, we can send a BDS technician on-site within 2-3 hours! Learn more about how we can help by requesting a quote today. Join the conversation by following our Facebook, LinkedIn, YouTube, and TikTok channels.