A strong printing infrastructure is paramount to business success. Businesses worldwide rely on printers, copiers, multifunction devices, fax machines, and other office solutions to deliver results in real-time. BDS is the top pick for local Boston printing services for your digital printing needs.
What local Boston printing services does BDS offer?
BDS goes the extra mile to provide you with innovative technology and solutions to help solve the unique problems facing your industry. We have a full line of printers, copiers, and multifunction devices from top brands like Kyocera, Xerox, Canon, and Ricoh. We regularly maintain and equip our devices with the best care and materials to deliver the best results.
Multifunction printers and copiers
The most popular investment local Boston printing partners make with BDS is multifunction printers and copiers. Every business, no matter how large or small, needs printers and copiers to help boost productivity. We understand the necessity of reliable, fast, and high-quality printers and copiers, which is why we offer multifunction machines to solve all your business challenges with one machine.
Our multifunction copiers and printers are easy to use and have printing, copying, and faxing capabilities both in black and white and full color. When you invest in a multifunction copier or printer with BDS, you receive the following benefits:
Better document organization
Better management of your print environment
Reduce office costs
One simplified interface
Multifunction printers and copiers keep your business competitive, as finding these capabilities in any other office machine is hard.
Mail and postage solutions
BDS does not specialize solely in copiers and printers. We also offer innovative office solutions to help you keep up with the demands of your business. Of these solutions, mail and postage are another popular service in demand from local New England businesses.
Do you need more control over your mailroom, including better organization efforts? If so, a postage meter may be right for you. BDS offers a wide selection of postage meters that we customize to meet your mailing requirements unique needs. We take pride in catering these solutions to work best for you and will help you every step of the way in determining what you need.
With BDS personalized postage systems, we will increase your business's efficiency, workflow, and reliability so you do not experience any slowdown in your business operation. As we mentioned, there are many available options to businesses, and we will walk you through determining the best solutions for you based on volume and the type of mail you send.
A postage meter may be great for your business if you are looking to:
Increase productivity
Reduce postage costs
Easy interface
Boost business
Transform how you send letters, large envelopes, or other packages by investing with your local print partner, BDS.
Is your print environment proactively managed?
If you are looking for overall better management of your print environment, including monitoring print jobs, cost, ink levels, and protecting data, you should seriously consider BDS managed print services. Our managed print services will provide the necessary tools to monitor your print environment, including your printers, copiers, and other devices, to control costs.
Managed print services offer various benefits, making it an excellent option for large and small businesses. When you invest in BDS managed print services, you receive the following:
Better control of printing costs
Streamline business printing processes
Enhanced security
Maintenance and supply management
Reduction of waste
Businesses report printing as an uncontrolled expense that could cost your business more than you think! Managed print services offer better control of how much you spend, as you can set limits on the number of print jobs from specific devices and closely monitor to avoid going over budget.
Furthermore, if you work in an industry that regularly handles confidential data, security will be one of your business's primary areas of concern. Managed print services will protect your data using practice and comprehensive fleet management to identify potential issues.
What type of industries does BDS partner with?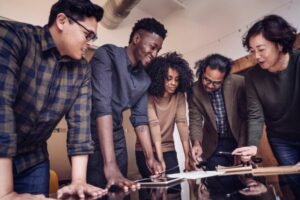 With over 40+ years of experience helping local professionals with their business printing needs, BDS is proud to have partnered with diverse professionals. Our experience has helped us shift and adapt our approach to serving our communities and learn more about different industries' unique challenges.
Out of the many industry professionals we have served, the most common are:
If you do not see your industry here, do not worry. We are always expanding our horizons and looking to learn more about the unique challenges faced by your industry. Request a quote, and we can connect you with a BDS professional to walkthrough the needs of your print environment and what options best suit your unique situation.
Why BDS as my local Boston printing partner?
As you can see, BDS goes the extra mile to deliver top-notch results for our loyal and dedicated partners. Our partners rely on us to provide the best Boston printing solutions for their print environment, and we do not take that responsibility lightly. Our service technicians and sales professionals utilize the best training and knowledge available to deliver the highest results.
All of this is only possible with our stellar reputation for customer service. Providing exemplary service to our local communities is a hallmark of our success as your local Boston printing partner. We pride ourselves on being trustworthy, honest, and fair.
We also understand that small and large businesses often have a budget that they need to adhere to and want to honor and respect, which is why we provide affordable options for investing in our equipment and office solutions.
Of those options, we offer printer and copier leasing with flexible lease terms and payments. We also provide options to purchase certified preowned office equipment to help ease the cost of printing in your environment. Printing should not put you over your budget; it should elevate your business, which is why we are dedicated to continuing to offer flexible options.
How can I get started with BDS, my local Boston printing partner?
To start your partnership with your local Boston printing partner BDS, you can request a quote or contact us on our website. Once you submit an inquiry, we will connect you with a BDS professional in less than 48 hours! That means no long waitlists to get access to top-notch services and solutions.
If you are looking to learn more about printing and how you can elevate your business to the next level, we offer free resources from our knowledge base and blog to help you learn more. You can join the conversation online by following our Facebook, LinkedIn, YouTube, and TikTok channels for more resources.