Are you in the market for a new multifunction printer but are on a budget? If so, buying a certified preowned printer may be your best choice. BDS is an authorized reseller of top-of-the-line printer brands, including Kyocera, Xerox, HP, Ricoh, and more. As authorized resellers, our used printers and copies undergo a rigorous testing process to ensure that our equipment runs at the highest level possible.
We want to ensure you are satisfied when you partner with BDS for a used printer, so we go the extra mile. We invest top dollar in providing our service technicians with the best knowledge and training available on your printing equipment so we can better serve you.
Who buys used printers?
You may be shocked to hear that used multifunction printers are one of the more popular methods of purchasing printers and office equipment for your business. There are a few strengths to using used printers that make them an ideal printing solution for small and large businesses alike.
We have experience providing used printers to partners in various industries, including accounting and finance, government, healthcare, nonprofit, education, insurance, and law. Each partner we have served from these industries has found used printers a fantastic option for their printing environment because they are a cost-effective and eco-friendly solution.
Used printers are a stronger option for small businesses on a budget. Typically, businesses need help correctly distributing funds to meaningful equipment and tasks that will help your business grow, especially when starting.
Many small businesses need the budget to purchase brand-new equipment, especially from major brands of copiers and printers. To solve this problem, they invest in a used printer from their local print partner to receive top-of-the-line service and equipment.
Similarly, we have worked with industry professionals that run bigger businesses that need to supply many printers for their office space. Even those in big business see the value in purchasing a used multifunction printer, as supplying up to hundreds of new printers can be costly!
Only invest with certified preowned printer resellers
Whether investing in your next used printer purchase with local printer and copier dealers or major retailers, you should ensure that the print partner you decide to partner with is a certified preowned reseller of the brand you are looking for. We cannot stress how important this is.
Certified used printer resellers of major brands have particular strengths that place them above independent third parties, including:
Better security and reliability
Technicians educated to service your equipment
Customer service when you need it
We recommend you avoid purchasing used printer equipment from sketchy websites online, and if you choose to connect with someone through social media for your next used printer, ensure that you are using your discretion.
When you partner with a certified used printer and copier company like BDS, you have the security of knowing that your equipment is in excellent condition, and should you run into any maintenance problems, you have a team of all-star service technicians trained and ready to service your equipment.
How is BDS different from other used printer and copier dealers?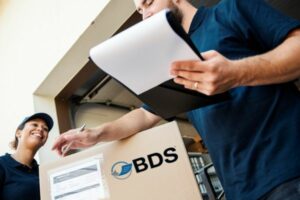 If you are a business owner in New England or Florida, we strongly encourage you to invest in your next used printer with BDS. BDS does things differently from most used printer and copier dealers, as our equipment goes through a rigorous inspection, where every single component of your printer is taken apart and reassembled.
If we find any issues with the equipment while reassembling it, we replace the parts if necessary. As mentioned, all our service technicians are certified directly by the manufacturer of each major brand we sell.
Our technicians have the stamp of approval from our manufacturers to make sure our used printers work flawlessly with training techniques made specifically for each brand and model. We invest significant time and energy into ensuring that your equipment functions to the best of its ability, so you stay calm down the line.
Furthermore, there are certain rewards you receive when you choose BDS as a print partner that, includes:
Superior customer service
Tailored office solutions for your office environment
Preventative Maintenace Program
Complimentary training for the life of your equipment
Technicians on-site within 2-4 hours
We pride ourselves on going the extra mile to ensure your office environment's challenges are addressed quickly and adequately. Whether you need assistance determining which major printer or copier brand is right for you or to service your equipment, we will create solutions and schedules to help set you up for success.
Can I lease a used printer?
If you want the most budget-friendly option for your printing environment, you can lease a used printer with BDS. Leasing a used printer could be the right decision if you want a budget-friendly option but also prefer the flexibility of upgrading your equipment.
When you lease a copier or printer with BDS, you can choose the best leasing terms and payments for your budget. Our printer and copier lease solutions help enhance your business' productivity and will allow you to lower costs while reducing environmental impact.
As always, at BDS, we also offer ongoing tech support and maintenance for your equipment. If you run into issues with a printer jam, ink clog, or wrong color output, we can get a BDS service technician to your site in 2-4 hours to remedy the issue and get your business up and running smoothly.
What are you waiting for? Request a quote today for your next used printer investment, and a BDS representative will get back to you. To stay up to date on industry news and trends, be sure to follow our Facebook, LinkedIn, YouTube, and TikTok channels.