A robust printer can take your business to the next level, helping you reach all your long-term business goals. Successful companies understand the need for high-performance office equipment, which is why many invest in purchasing the right equipment that will succeed in their work environment.
Efficiency, high speed, and cost-effectiveness are usually top of mind when in the market for new printers, as is the option to lease or purchase your next printer. Buying a printer at the retail price can cost thousands of dollars, which may be outside your price range. Leasing provides more flexible options allowing businesses to save money that would otherwise be paid upfront at the retail cost and for maintenance over the life of your equipment.
What is printer leasing?
Printer leasing is an affordable option for those looking for a strong-performing printer but not interested in paying the retail price for the equipment. Leasing usually allows you to pay monthly for printing equipment that will be returned to the supplier at the end of your lease.
There are also different leasing options on the market, each offering flexibility to fit every organization's needs. Some leasing companies offer one-year leases, two-years, three-years, and more!
Although cost is a notable factor in leasing equipment, there are still those skeptical about the benefit of leasing a printer, lease terms, and potential hidden fees that will be tacked on to the price. It completely depends on the leasing companies' protocols and terms, which is why we always recommend researching and leasing with a trusted company like BDS!
Advantages
So, is it better to lease or buy a printer for your business? Aside from saving money, there are other strengths of leasing a printer versus buying that are worth exploring.
Flexibility:
As businesses grow and change over time, so do printing needs. With leasing, you are guaranteed a flexible printing option that can change and adapt to your future needs. With leasing, you're not married to your printer, meaning you can upgrade or switch out your printer for one that better meets your business goals once your lease is finished.
Furthermore, enjoy the option of flexible payments! Often, with most leasing companies, you can modify your payment schedule to fit your needs better. You also can extend your lease if you find that the printer you are currently using is helping your business succeed and adapting well to your growth.
Maintenance and repairs: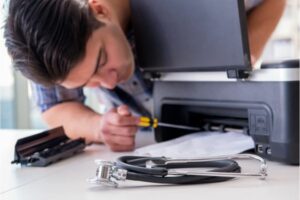 Technology, including printers, can be unpredictable. You will likely encounter some common issues with your printer, such as printer jams or ink clogs. If the printer maintenance issues are not severe, you can solve them on your own if you feel comfortable doing so.
However, there are other times when the maintenance issues are too complicated to remedy yourself. This cost can be high, especially if your equipment has no warranty or protection. The last thing you want is for your business to suffer because you're struggling to maintain your printer.
With printer leasing, there are options to have service and maintenance included in your lease agreements, meaning that the support is available whenever you need it. Even if the monthly payment is higher with the extra service packages offered, you still save money overall if you run into severe issues with your printer. With any printing equipment, it's always better to be safe and prepared, and with BDS, our service technicians can come to you within 2-3 hours of your service request!
Upgrades:
One of the more attractive benefits of leasing is the ability to upgrade quickly. As we have mentioned, technological equipment continues to grow and change rapidly before our eyes, making it unmanageable to keep up! That is why with leasing you can do so quickly.
It is worth noting that most technology, including printers, typically lasts a few years before becoming outdated, meaning the need to change and upgrade your equipment can become a constant. With leasing, you are not stuck with the same dated equipment that you have had for years; you can quickly upgrade at a much lower cost.
Sustainable option:
Leasing a printer is one of the most sustainable options you can make. The equipment we lease is treated with the utmost care and is designed to be utilized to its full life span. When your lease is over, we recycle those same printers for the next business that chooses to print with our equipment. If not, we recycle the materials from the printer. With leasing, the added stress of figuring out how to sustainably dispose of your printer is no longer your problem. Just send it back to BDS, and we will take care of the rest!
Choose BDS as your printer leasing partner
Our customer service has been a hallmark of BDS's success for over 40+ years. You, our partner, are the most important factor in our success, and as such, we take great pride in delivering exceptional service and products to our loyal and dedicated customers. Whether you're looking to lease or purchase a copier or printer, BDS can help!