Are you in the local New England and Florida areas deciding whether investing in a postage meter is right for you? We understand that it may be hard to gauge the amount of mail you will send, especially if you are new to the business. In general, stamped postage will be an excellent option for those who send mail infrequently and will not get much use out of a more industrial postage meter.
Still, there are some things worth considering.
What is stamped mail?
In our previous article, Postage Meters: Stamped vs Metered Letter, stamped mail, or stamped letter is simply the process of physically applying stamps to your envelope. Stamped mail is a traditional yet efficient way to send mail or mail a letter, and it is often more affordable than other available options, like metered letters.
Postage stamps are small adhesive paper issued by a postal authority to be stamped on a letter or parcel. As mentioned, they are primarily used due to being a more cost-effective option for those who print less often. Postage stamps also have a fixed amount of postage noted on them, which is a convenient way of identification.
The USPS has a variety of stamps available, and different ways to retrieve them, including through a USPS location, The Postal Store Online, Stamps By Phone, Stamps By Mail, and Stamps By fax. The most common items shipped with postage stamps include booklets, sheets, and coils.
Are there strengths to stamped mail and stamped letter?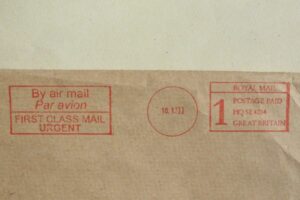 Just because stamped mail is traditional does not mean it does not work. For most everyday people, stamped mail will be a great option as it is cost-effective and does not require any excess technology or knowledge on your end. Furthermore, if you are mailing less than ten letters per week, you may not need to invest in a postage meter when you can quickly stamp your letter flat with postage.
Furthermore, stamps can be customized in case of a special occasion or for purely aesthetic reasons. The ease and convenience of traditional stamped mail make it an efficient and great option for smaller businesses or everyday people.
Drawbacks
Although the simplicity of stamped mail may be great for some businesses, there are more practical options for some. Stamped mail has some drawbacks that make it a less effective choice for businesses with a higher volume of mailing needs.
For starters, if you regularly mail up to 50 letters or items per week, traditional stamped mail will not cut it. You will waste much time running to USPS to ship all these items in a week. Plus, you will have to weigh out the item carefully to ensure that there are no extra surcharges and to avoid having to return the item due to insufficient postage.
This may be a minor deal for those mailing less than ten items weekly. However, sending over 50 letters or articles can pull you away from your business. Furthermore, this can become costly, as stamps can vary in price from 55 cents each to 15 cents for an additional ounce.
At that point, it is much more cost-effective to avoid the post office altogether and invest in a postage meter.
Does BDS offer postage meters?
We do! We are happy to have a broad and diverse selection of postage meters available that we will customize to meet the individual and unique needs of your mailing requirements. Our mail meters will accurately weigh and rate your mail for you and increase your business's efficiency, workflow, and reliability.
We employ a hands-on process for assisting businesses with their postage meters, walking you through different options based on the volume of mail you send and the type of mail you send to find the best option for you!
When you partner with BDS for your postage meter needs, you receive the following:
Increased productivity
Reduction of costs
Ease and convivence
Boost your business
And even better, all-star customer service from a winning team! BDS technicians pride themselves on providing the highest quality customer service to ensure your satisfaction with our services. What are you waiting for? To get started, request a quote, and we will have someone reach out to you within 2-4 hours of your request!
Are you looking to stay current on the latest industry trends and news? Follow our Facebook, LinkedIn, and YouTube channels for the latest content, and regularly check out our blog for the latest tips and tricks.