Office equipment can be expensive, and with a large influx of new devices hitting the market every day, the need for new equipment increases. Print companies are switching to leases to combat the retail price of equipment. And potential clients and businesses are paying attention. Just search "printer leasing companies near me," and you will see the demand in real-time.
Still, with so many printer leasing companies available at your fingertips, finding the right one for you may be tricky. BDS has simplified the process with our hassle-free approach, providing you with office copiers and printers at a fraction of the price. There are a few moving parts that are critical to our success.
Flexible payments and lease terms
One of the greatest strengths in leasing your next office printer is the flexibility of payments. Printer prices can range from a couple hundred to a couple thousand dollars. For many businesses, paying the total amount of money upfront is unrealistic. Instead, leasing allows businesses to pay a low monthly payment for their equipment.
Flexibility extends beyond payments, as you can create flexible lease terms that work for you. Whether 12, 24, or 36 months, BDS can create a lease that matches your needs. If your priority is low lease payments, a longer lease may be right. Or you may want a shorter lease to upgrade your equipment within a year or so. Either way, we can create custom terms to set you up for success.
Upgrade for a fraction of the cost
As your business expands, so will the requirements of your office. Instead of being stuck with outdated equipment, you can upgrade more efficiently with BDS. As certified resellers, we offer equipment from the most popular technology brands in the world, Canon, Kyocera, Xerox, HP, and Ricoh. We guarantee that our inventory is reflective of the current market. Upgrading your devices with BDS keeps you competitive by boosting business productivity and efficiency.
Maintenance services at your convenience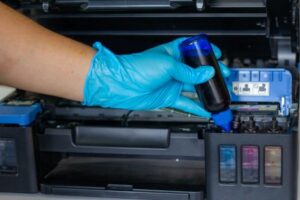 Regarding your maintenance and service needs, leave the heavy lifting to BDS. We will create a maintenance schedule tailored to your device's requirements. Our services will ensure your device performs as if it were brand new. We can complete the majority of the maintenance services you need onsite. You will not have to worry about lugging large office equipment to your local partner because we come to you!
Furthermore, with record responsive times, BDS can be on the scene within 2-4 hours to remedy any service issue you are experiencing. Our quick and active response will minimize downtime in your office.
Looking for other office technology leases
Our leases extend beyond printers. We also offer copier and MFP (Multi-Function Printer) leases for your convenience. You can enjoy the same benefits you would for a printer lease with any of these other devices. From office copiers, multifunction devices, or even postage meters, BDS has you covered as your local printer and copier leasing company.
Request a quote today to choose the best printer lease for you. Our sales team will be in contact within the next 48 hours to get you one step closer to your dream printer lease! To optimize your equipment further, we offer free resources on our blog and knowledge base. Follow us on Facebook, LinkedIn, Instagram, YouTube, and TikTok to stay updated on industry news and trends.