At BDS, we understand that printer leases can be a hassle. That is why we have created a hassle-free process for leasing our premier office equipment. If you are looking for a hassle-free printer rental for office spaces, BDS is here to help. We offer flexible rental terms and pricing, from short-term to long-term.
The BDS leasing process
Leasing with BDS is different from leasing with other print partners. We get right to work from the second we receive your quote or inquiry. When you request a quote from BDS, fill out as much information as possible regarding your printer needs. The more information, the better. When our BDS experts have more information, they can proactively offer you the best technology and solutions.
If we could use one word to describe the BDS leasing process, we would use collaborative. We value you as our partner. And since this equipment will be utilized daily in your office environment, your opinion matters. As soon as you contact a BDS expert directly, you will realize we are not like other print partners. We will not hassle you into making a purchase that does not feel right for you.
We are concerned with far more than making a sale. Our motto is to provide your business with the best, most sustainable printing technology solutions and equipment. It would be completely against our ethos to not conduct adequate research on the unique needs of your industry and business model. With 40+ years of experience assisting business professionals in finance, healthcare, education, and more, we are aware of the unique challenges your industry faces.
Printer rentals for office do not have to be a nightmare. With BDS, we can help you find the best office printer by auditing your print environment to understand better what you need to succeed. Whether that is a laser printer, multifunction device, or copier, we are here to help. After requesting a quote, we will contact you for a proper consultation and give you options. We will help you come to terms with the right choice and get you started with your new printer in no time. It is that simple!
World-class service with equipment to match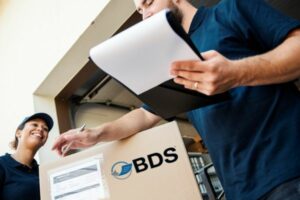 None of the success at BDS is possible without our stellar customer service. We pride ourselves on our 92.6 NPS (Net Promoter Score), which is above the industry average. When you partner with BDS, you are treated as an equal with the highest level of respect and helpfulness in the business. Furthermore, we have top-notch equipment to match with our exemplary customer service.
We are certified resellers of the world's most famous office technology brands like Kyocera, Xerox, Canon, and more. As certified resellers, we are authorized to maintain, service, and sell these equipment brands. This provides an extra layer of security for our partners, knowing they have experts who can properly service their devices.
Join the conversation by following us on LinkedIn, Facebook, YouTube, Instagram, and TikTok today!