Are you an education professional and are looking for the best printers for schools? Look no further than BDS, as we have the best mfp printers and copiers available to help you create and maintain a positive and enriching learning environment for your students!
As educators, you must be provided with the best materials and office solutions to create a stable and enriching student environment. Equally as important is having the technical support you deserve to create lesson plans, grade papers, and more. We at BDS understand the unique challenges facing your industry.
Put BDS's 40+ years of serving education professionals to use!
We have 40+ years of experience serving the communities of New England and Florida. We have partnered with education professionals to bring innovative education solutions. Whether in classrooms, libraries, or secretaries, we have helped every educational institution with their copier and printer devices.
Our work with education professionals has allowed us to understand and learn about your industry's unique challenges. We have worked with education professionals that teach grade school and college students. One of the more significant challenges we notice come up repeatedly is the increase of cyber threats in the education industry.
This is disheartening because teachers are not the only people at risk. More importantly, students not adequately trained or equipped to handle cyber threats are more at risk. Furthermore, teachers must be trained or prepared to deal with cyber threats to avoid creating an even bigger issue.
We recognize the importance of safeguarding sensitive personal information. To help you and your students, we provide a range of solutions. These include printing equipment, services, and IT solutions. We have the best support times, so choosing BDS will not disappoint you.
What services and equipment does BDS offer in the Education sector?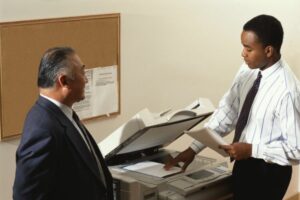 BDS has created a wide range of office solutions and equipment to help address your environment's specific needs. Educational spaces are not all the same, which is why we have adopted many solutions to ensure each partner's needs are addressed. These solutions include:
Copier leasing
We have high-speed MFP (MultiFunction Printer) copiers that can do the job of four machines in one! Our leases include flexible pricing options and lease terms to ensure we meet the budget of your educational institution. Leasing a copier with BDS has several advantages, including lowering your costs, maintaining packages, and reducing environmental impact!
BDS has a fantastic line of copiers available to educational institutions, including Kyocera, Xerox, Ricoh, Canon, HP, Konica Minolta, and more! If you are trying to determine what brand is best for you, BDS can help! We will find you the right brand and model that will best benefit your company.
Secure Document Management Services
Whether you are grading papers, keeping track of student progress, or records, BDS secure document management helps educators organize and facilitate the secure sharing of information between different departments, staff, students, and even parents! Our secure document management services are designed with a comprehensive print security policy, so you have added protection over your student's information.
Managed print services
Who does not want more control over their print environment? BDS managed print services will help you protect your investment by reducing and monitoring print-related costs. We will also increase your equipment's efficiency with our services.
The last thing you want is to waste money on extra or excessive printing. Our managed print services will help you monitor and control the number of prints your students are printing. We also have options to put controls on how much your students can print on specific devices.
Subscriptions for Ink and toner
If you print regularly, you will need a supply of Ink and toner readily available when you need it. BDS offers a subscription for educational professionals that allows us to remotely monitor your toner and ink levels.
With our help, you do not have to worry about closely monitoring your levels and scheduling the next batch of Ink and toner. Instead, let us handle your levels so you can instruct your students! For an Ink cartridge and toner, we have a range of OEM and compatible supplies for most printer models, so there is no need to worry about not receiving the correct materials for your equipment.
Manage IT compliance seamlessly
Remember how we mentioned cyber threats are one of the biggest threats facing education professionals? You will need a solid IT infrastructure to help guard and protect educators and students from cyber threats and phishing attacks that continue to rise.
BDS understands that not all educational institutions can monitor IT compliance as closely. BDs is committed to reducing the burden on your IT department. To minimize downtime, we will monitor your printers and unstable network connections, leaving your IT team to refocus on other projects.
We are proud to have team members that are the best and brightest that will ensure that you have the proper systems in place for the most affordable, best price for you. We will create individualized solutions to help you seamlessly manage your IT infrastructure while ensuring that poor internet issues or attacks do not slow down your educators.
Will BDS regularly service my printing equipment?
BDS can certainly get you started on a maintenance schedule for your multifunction printer and copier to ensure your machine(s) continue running smoothly. We understand the importance of maintenance when it comes to the life of your equipment. Staying on schedule is super important to avoid running into issues down the line.
BDS service technicians utilize the best training available to create a strategic dispatch network of parts, warehouses, and resources to ensure that your business is still up and running as we remedy the issues you are having with your equipment. Whether you are having problems with unclogging paper jams, scanning issues, printing errors, or any other issue, BDS can help!
As your local print partner, we serve the New England and Florida communities, including Massachusetts, Connecticut, Rhode Island, New Hampshire, Vermont, Maine! We pride ourselves on remedying your printing issue in record time!
Contact us today to get started on printing solutions for your educational environment. To stay updated on the latest industry trends and news, follow us on our Facebook, LinkedIn, YouTube, and TikTok channels.