Kyocera mfp printers and copiers are a perfect choice for businesses looking for printing devices with a multitude of capabilities. BDS offers multifunction printers and copiers to help with printing, scanning, and faxing. In addition, we are certified Kyocera resellers, which means we put these devices through rigorous testing to ensure they perform at optimal levels.
Why choose BDS for my Kyocera MFP needs?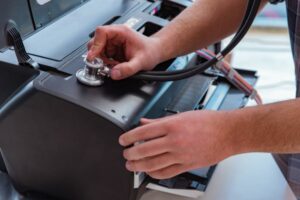 BDS provides several printing and document solutions to local New England and Florida business professionals, including Kyocera office equipment. Furthermore, we go the extra mile to learn about your print environment and industry to provide the best solutions for you.
Additionally, we take the time to understand your needs and recommend the appropriate Kyocera model for your print environment. As certified Kyocera resellers, our technicians are highly trained in servicing these devices. Additionally, we can provide you with a maintenance schedule to help ensure your equipment continues to operate smoothly.
The best customer service in the business
From the time you place a service call, BDS is committed to providing the best service. When you partner with BDS, you receive access to the best resources and education in the industry from our all-star service technicians.
Providing local professionals with superior customer service is the hallmark of our success. We take the time to invest all resources and training available to continue delivering the best. With over 40 years of experience partnering with diverse industry professionals, we have successfully shifted and adapted our approach to providing the best office solutions.
Request a quote today to learn more about Kyocera mfp printers and copiers. Follow our Facebook, LinkedIn, TikTok, and YouTube channels for the latest tips, tricks, and industry news.