The next article in our series will show you how to clean a printer head and provide the necessary supplies to do it. Read our previous article on copier cleaning.
When using your printer multiple times, it is common to run into issues with the quality of the pages you are printing. Usually, the quality of the document is poor, with smudges on the page, streaking, or fading. Generally, a dirty printhead is to blame.
What is a printer head?
A printer head is an essential part of your printer's functioning. The printer head holds the ink cartridges in your printer and is usually under the printer's cover. The print head is responsible for dispersing the ink onto the page. The printhead has small nozzles that spray the ink onto the document.
Typically, manufacturers' two most common printheads are thermal and piezo. The difference between thermal and piezo refers to the process by which they disperse ink onto the page.
Common issues with Printheads
Printheads run into some difficulties when it comes to functioning. For instance, printheads are highly susceptible to ink clogs due to excess dried ink. Dried ink can be disastrous to your print head. If left untreated, dried ink will cause issues with the quality of your prints. There is also the possibility of your printer breaking down and ultimately having to replace your model. These issues can be solved with a robust cleaning regime and ensuring that all ink droplets are wiped before drying, preventing severe damage to your equipment.
How do I know when it is time for a cleaning?
On most models, an LED light button on the exterior of your printer will provide you with information about your printer's functionality. If there is an issue with your printhead, such as a jam or clog, the button will flash on the screen.
One of the best ways to determine if it is time for a cleaning is to check the quality of the documents you are printing. This will be the first sign of your printer's health. If your print quality is poor and includes blurry documents, blotchy ink, or faded quality, your printhead is to blame.
Even if no issues are visible, there is always the possibility when printing, which is why preventative printer maintenance is essential to your printhead's overall health. Thankfully, performing these cleaning and maintenance tasks are easy! All you need is a schedule and the proper cleaning supplies to get going.
How to Clean my Printhead?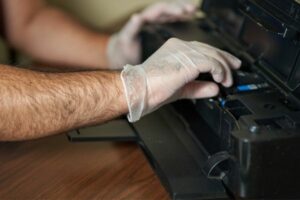 There are a few different ways to clean your printhead. It is always best to check your printer's manual or reach out to the manufacturer to ensure no specific cleaning methods are necessary for an individual model.
Let's break down some methods below.
Self-Cleaning:
Technological advancements have helped printers inherit more intuitive maintenance systems to ensure proper functioning. In general, most printers include a self-cleaning method every time you print. When printing, the print cartridge in your printer head goes through a cleaning process where a tiny wiper blade wipes away any excess ink. This blade helps you prevent dried ink from clogging and making a bigger mess.
The printer head cleaner on most printers is convenient, as it provides a sense of security that your equipment is actively avoiding more significant issues. However, this process is not absolute. The self-cleaning cycle can only cover so much when cleaning your printhead. For instance, if you leave your printhead uncovered, the dirtiness is likely to be unmanageable for the self-cleaner.
Cleaning the printhead manually
When self-cleaning is not enough, it is best to adopt a manual cleaning method. To successfully clean your printhead, follow these steps below:
Gather your supplies: Water, Paper towel, and Isopropyl Alcohol. Avoid any cleaners with harsh chemicals like bleach, for example. These cleaners can produce a great deal of damage to your printer, causing even larger issues in the future.
Turn off your printer: Turn off your printer manually. Once you've shut it off completely, unplug the wire from the wall. Turn off all electronics before cleaning them with water or any liquid substances to avoid the risk of fire.
Remove the cartridges and printhead: Carefully remove your cartridges one by one from the printhead. Avoid just yanking the cartridges out, as each model usually has a process for carefully removing these cartridges. After you remove your cartridges, carefully remove the printhead, which you will later dip into your solution.
Create your printhead cleaning solution: To create the perfect print head cleaning solution homemade for your printhead, create a 50/50 mix of isopropyl alcohol and water. Although water is typically damaging to your printer, the mixture is not. You can pour this mixture into a bowl and ensure that the water is shallow, not overflowing.
Dip and dry your printhead: Once your solution is mixed, dip your printhead into the solution for no longer than 2 minutes. Any longer may damage the printhead, and any timeless, may not be adequate. After two minutes, you can take your printhead out of the solution and dry it with a paper towel.
After you go through these steps, you can re-insert your printhead into the printer, ensure that the ink cartridges are placed in properly, and try to test print a page. The page should print correctly, with high-proper ink flow and quality ink and colors.
If you are still experiencing issues with your printhead after cleaning it thoroughly, it may signal a larger issue. In this case, it is best to contact a technician to help you solve the problem.
BDS technicians use the best training and strategic approach to ensure your business is up and running quickly and efficiently. BDS is in Massachusetts, Connecticut, Rhode Island, New Hampshire, Vermont, Maine, and Florida. Get started with us today!