Today we will be exploring inkjet printers, including the advantages and disadvantages of inkjet printers.
Many different types of printers are available for business and personal use, making it overwhelming to find the appropriate printer for your printing needs. Printers can range from being more industrial, typically better for large businesses and companies, to smaller, more micro printers optimized by small businesses.
You may be wondering, what are the inkjet printer's advantages vs. disadvantages, or what high-speed inkjet printer is best for me? We will explore all of that and more, including finding ways to find the best high-resolution inkjet printer for you.
Defining an inkjet printer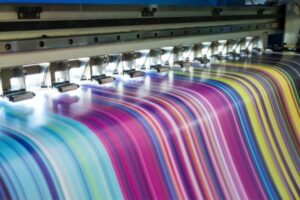 An inkjet printer utilizes inkjet technology to print materials on various materials. For this to work, the process involves dispersing ionized ink from magnetic plates onto the paper or material of your choice, which is then processed and delivered through the actual printer.
Furthermore, we call the microscopic nozzles on the printer head jets. When the paper or material moves beyond the print head, the nozzles will disperse the ink onto your page. Aside from printing regular text documents, inkjet printers' capabilities translate to creating high-resolution images and can capture various colors in these photographs.
Inkjet printers are commonly used by most individuals, making them an often-affordable option for homes and certain businesses.
What is an inkjet printer's advantages vs. disadvantages?
Deciding whether an inkjet printer is appropriate for you, or your business involves factoring in the printer's cost, capabilities, and efficiency. Below we highlight some of the advantages of inkjet printers and potential downfalls.
Advantages
Affordable: As we've briefly touched on, the initial investment to purchase inkjet printers offers the most affordable options on the market. If you are a smaller business or do not have a high demand for printing a large volume of documents, this printer may be best for you. As small and efficient as this printer is, you do not suffer in cost. This type of printer will give you the best bang for your buck. This printer is usually a good option for home offices.
Accessibility: Given how affordable inkjet printers are, finding one will not be that difficult of a process. You can head to your local retail store or computer/software store to find the right inkjet printer for you. Furthermore, because of how standard these printers are, most sales Reps are highly educated on how these printers work and whether individual models will satisfy your printing needs. Even better, if you need specific ink cartridges created to match a particular model, you can often find them at the exact location.
Efficiency: One of the more surprising strengths of inkjet printers is how lightweight they are. They are quiet, unlike some of the noisier models. Furthermore, these lightweight models can still meet your printing needs. It is also easier to move around with you should you need to be on the road or traveling for work. Inkjet printers take less time to warm up which is also a plus.
Versatility: Although lightweight models of inkjet printers are common, more industrial sizes are available if your business requires them. Some of these more industrial models are even capable of printing at speeds comparable to laser printers. The range of cost should not throw you off either, as quality is one feature that does not suffer regardless of price.
Disadvantages
Cost: We just listed the affordability of these printers in terms of the advantages, but that is more applicable to retail prices. That does not account for the price of buying more ink cartridges and regular maintenance of your machine. Over time, this can cost more.
Sustainability: One of the most reported issues with inkjet printers is ink clogging. Ink clogging happens when ink droplets dry in your printer head, making it so you are unable to print ink on the page. These can be a pain, and if not treated promptly and, more importantly, correctly, can lead to damaged machines that quickly depreciate in functionality.
Lower speed: Everyone wants a high-speed inkjet printer, but do you need high speed? If so, you may want to consider other models. Where inkjet printers excel in quality, they often suffer at speed. If you are looking for printers that can push out a high volume of pages at a quick pace, consider a production printer.
What type of material can I use to print with my inkjet printer?
Inkjet printers require non-porous paper, otherwise known as paper, that does not contain any open holes. Typically, the paper used particularly for inkjet printers is heavier than others. It can also be expensive.
Key Takeaways
The inkjet printer will be best for you if you are looking for a printer for basic printing needs. There are many pros and cons to consider but do not panic. Remember to consider the cost of maintaining your printer, including buying new cartridges, which can range from $20-$60 dollars.
Have issues with your Inkjet printer? You can submit a service request here. Our team of high-quality service technicians are prepared to help you with any of your printing issues.
Still confused?
Our goal at BDS is simple: to provide unparalleled technology and impeccable support to your business. As the second largest business technology reseller in New England and Florida, we are committed to educating you on everything you need to know before purchasing or
leasing
equipment.
Contact us
for guaranteed best pricing with a service and support plan tailored to your business needs.