Are you looking to add or update your office equipment with a new printer, copier, or multifunction device but are unsure about the price? In this article, we discuss desktop printers or A4 printers and the costs of commercial and multifunction printers, and the factors influencing the price. Above price, finding the right business printer for your business is the most important factor. An Office printer is an investment and will be higher priced than your at-home printer.
Doing a search for "office printer" and finding pricing between $30 and $10,000+, retail is confusing. Why is there such a wide range? You would be correct if you thought it was because of the printer's features and capabilities. Adding advanced multifunction features to a printer can increase its price by thousands. Costs will significantly increase if you need more advanced features such as software & cloud solutions, print security, and managed print Services (MPS).
What is the Actual Office Printer cost?
Many factors are involved regarding how much it costs to run a business printer. Consider the office's needs and budget before choosing a copier printer. The cost of printers for your business can quickly increase if you don't know what you need. The most significant cost factor in business printers is the type of printer and its functionality. The more you need your printer to do, the more expensive it will be to purchase, lease, and maintain the printer for maximum uptime and use.
We will examine the actual costs of a desktop printer based on:
Black & White VS Color Printers
Does it make more sense to buy a monochrome (black and white) printer, or do you need to print in color? Which types of documents do your office primarily print? It will cost more to maintain color printers.
The following guidelines can help you determine what you need:
Low-cost monochrome laser printers are ideal for basic home printing tasks.
Black and white business printers typically have lower resolutions than color printers.
Copying and scanning in color require a high-quality output on your MFP.
The cost of purchasing, maintaining, and repairing black and white printers will be lower. The price of a color-enabled business class MFP or printer is between $200 and $500 more than that of a comparable monochrome or black-and-white model.
How often do you load paper? The paper capacity of commercial MFPs is standard. Do you need different sizes and types of paper on demand? With technological advances, printers can print on countless stocks, media, envelopes, etc. The cost of this option can range from $100 to $1000.
It would be best to consider how much printing your office does. Depending on the print output or printing speed, the cost of the printer will increase. Purchasing more than one printer may be necessary based on your volume.
Printing in low volumes (less than 3,000 pages per month)
Printing of mid volumes (3,000-10,00 copies per month)
Printing of high volumes (10,001+ copies a month)
What Does Your Printer Need To Do?
The more features your office printer has, the more expensive it is. In addition to printing, scanning, copying, and faxing options, multifunction printers ("MFPs") may require advanced print automation workflows, increased memory storage, and cloud solutions. When reviewing this section, don't just think of what you need now; think about your business's future print needs. Multifunction printers have the capability to increase efficiency within your business due to their multitude of features.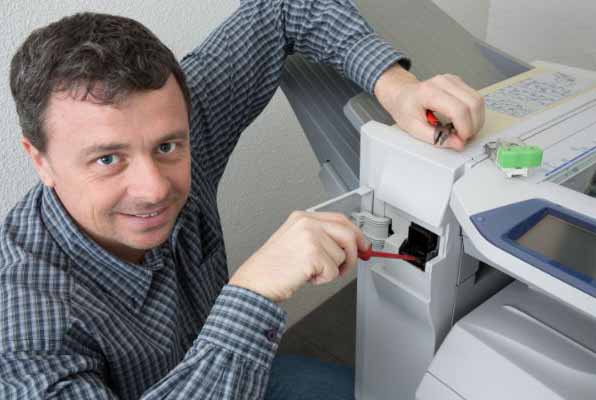 Besides actual printer features, we must consider the operating costs of the printer, including:
Printer maintenance and repairs
Supplies for printers – ink/toner cartridges, paper, labels, staples
Maintain proper connectivity between your devices
Printing costs can also be associated with managed print services. A managed print provider can maintain high print volumes in offices with many printers in their fleet. Managed print services include device maintenance, supplies management, remote management, and diagnostics. Does your office currently have an IT staff member that can maintain and help with your office printer? If not, MPS is a great option to ensure your office staff is not inundated with printer errors. Managed Print services can also keep your office printer costs down in the long run.
Printer Finishing Options
Most business class desktop printers offer a few finishing options. A wide range of costs are associated with desktop printer finishers. $300 is the average cost of an office-class stapler.
Consider these options which can add to the cost of a printer: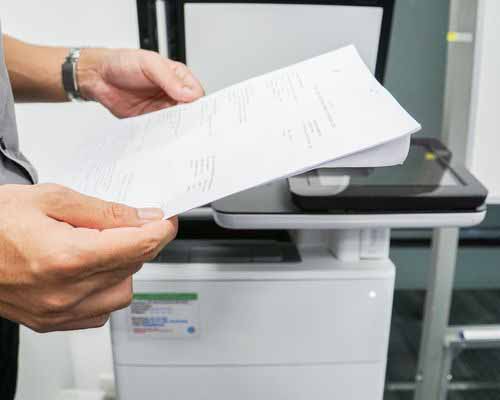 External Staple Finisher: an external stapling tray beside the copier.
Inner Finisher is a smaller staple finisher integrated into the copier to avoid any size increases.
The booklet finisher creates booklets by saddle-stitching.
Documents can be hole punched with 2, 3, or 4 holes using a booklet or external staple finisher.
A copier's inner hole puncher works similarly to its external hole puncher, except that it's integrated into the machine instead of externally.
With the Folding Unit, you can create Z-Folds and C-Folds.
Printer Types: Inkjet Printers Versus Laser Printers
The cost of an inkjet printer may be lower in the short run, but in the long run, a laser printer will be more cost-effective due to the number of pages printed and the refill cartridge size. Toner cartridges for laser printers last longer, and you get more pages from one cartridge. In contrast, inkjet printers have smaller ink cartridges and require more frequent replacement.
Financing or Buying your printer?
The next step is to decide how you will pay for your printer after choosing its features and options. There are two options for paying: Buy or lease. The advantages of leasing include conserving cash, using low-interest rates, and eliminating obsolescence. Both methods have tax advantages.
Conclusion – How To Save On Print and copier Costs
Having the right printer for your business dramatically influences its cost. As your office printer becomes more functional, the price will increase. The type of printer you purchase is the most significant cost factor in an effective print strategy.
Need to save on print costs?
Consider leasing – Leasing rates can help lower the overall upfront expense.
Don't add finishing options if you don't need them.
Go for a black and white printer if you don't use color.
Contact BDS today to determine how much an office or multi-function printer will cost your organization.