Do you require printing, scanning, copying, and faxing capabilities in your office environment? A Kyocera multifunction printer may be the best choice for your business. These all-in-one devices can perform multiple tasks on one machine. With print, copy, scan, and fax capabilities, these devices are the perfect option for small and large businesses. However, if you are still wondering whether this device is right for you, BDS can help.
Which businesses/organizations benefit from Kyocera multifunction devices?
Multifunction devices work best in businesses with advanced printing requirements. For example, a multifunction device is a great print addition for a small business with high-volume printing requirements. Similarly, large businesses benefit from multifunction printers, copiers, and multifunction devices due to typically requiring additional printing solutions to meet high demand.
Kyocera multifunction devices are also an excellent choice for businesses looking to save money. All-in-one capabilities in one device mean you can reduce the number of devices needed in your print environment. When you employ multiple devices in your print environment, you spend more money on supplies, maintenance, and retail costs.
Kyocera multifunction devices simplify this process with one machine that takes up minimal space in your office. Even if you are a sizeable enterprise-level business, employing multiple multifunction devices will save you more money than purchasing many copiers, printers, fax machines, and more.
Why choose Kyocera for my multifunction printer needs?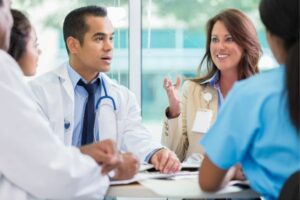 Kyocera has established itself as one of the top office technology brands in the world due to its unwavering commitment to reliability, speed, and more. These models boost superior quality with aesthetically pleasing equipment and high-quality print jobs.
Kyocera has gained a reputation for outstanding graphics and color output, making them the number one choice in various industries, including education, accounting and finance, healthcare, and more. Whether you need to print and analyze graphs, charts, or any other documents, this device will help.
A fantastic thing that continues to make Kyocera top of their game is their speed output. High-quality prints are typically only possible with lower speeds in older printer models. However, with Kyocera, speed and quality are equally crucial, making these devices a sharp and competitive printing solution.
BDS is a platinum Kyocera dealer
Partnering with a local print partner for your office and document solutions is the best way to receive high-quality equipment and superior customer service. At BDS, we are proud to excel in both areas and have earned the status of platinum Kyocera dealer. As a platinum partner of Kyocera, we are authorized to sell, maintain, and service Kyocera equipment with the best knowledge, skills, and training available.
When you invest in a Kyocera multifunction device with BDS, we go the extra mile to ensure that our partnership and equipment are of the best standard for you and your business. We take the time to assess your business and industry needs to create solutions and recommend the best equipment for your environment.
Kyocera multifunction devices can be expensive, but when you invest with your local print partner BDS, you can incorporate these machines into your print environment at a fraction of the cost. We offer multiple finance options for local New England and Florida businesses, including leasing and purchasing certified preowned equipment. Both options come with flexible payment and lease terms.
What are you waiting for? Get started with BDS today!
Request a quote today to get started with BDS on your next Kyocera multifunction device. Our expert service technicians and sales team are here to guide you through finding the right office solutions and Kyocera models. We offer black and white and color options for our multifunction devices based on business needs.
Follow our Facebook, LinkedIn, YouTube, and TikTok channels for the latest news here at BDS!