Are you considering a large format printer lease for your office? If so, you may need assistance weighing the pros and cons of investing in one of these devices. With a vast selection, BDS will simplify your large format printer needs by exploring the wide format and plotter printers.
Wide format printer
A wide-format printer can help you optimize your office productivity with high-quality prints. If you work in an industry like architecture or construction, this printer is perfect for your blueprints and more intricate designs. When you invest in a wide-format printer for your large-format printing needs, you can achieve versatile print sizes and printing speeds beyond your wildest dreams!
VIDEO: What is a blueprint printer?
These devices boost productivity like no other. In-house control of these devices allows businesses more access and control over the entire printing process. The wide format printer also has a higher-than-average output volume than your traditional printer. If you regularly print large volumes, this device can keep up with the speed to match.
A wide format printer may not be best for industries printing regular day-to-day documents. Although wide format printers have versatile print sizes, you could save money investing in a more traditional printer for your business documents, like the A3 printer.
The key to determining whether this printer is right for you is assessing whether you have large-volume printing needs. And second, does your industry require more detailed diagrams or charts? If so, there are better options to discover.
Plotter printer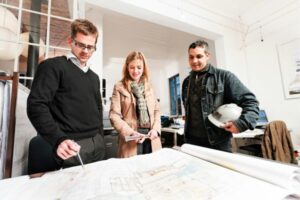 You will encounter the plotter printer when scanning the market for your next large format printer. Many need clarification about the actual function of the plotter printer because it is often used interchangeably with the wide format printer. However, there are stark differences between the two worth exploring. For starters, a plotter printer will be the best choice for professionals requiring highly detailed outlines, charts, or graphs.
Architect professionals are the number one industry that uses plotter printers. With highly abstract and detailed blueprints, these professionals require these devices to perform adequately. The last thing you want is for the designs you worked so diligently on to go to waste with poor print quality. These devices ensure the highest quality and precision, making them a knockout option for most architect professionals.
It is also worth noting that these devices are much more industrial than the typical office or wide-format printer. Because of the large size of these devices, you will want to ensure you have adequate space available in your office for these devices. Depending on the number of plotters you choose to incorporate into your office environment, they could occupy much space! These printers are advanced, so it would be unnecessary for businesses not to require these capabilities to integrate these devices into their print environment.
Flexible finance options at BDS
Now that you have explored essential considerations regarding large format printers, it is time to invest in one! And there is no better print partner than BDS. We have multiple finance options available to businesses, large and small! If you are looking to lease your next large-format printer, we can help! With flexible leasing, payment, and upgrade options, we can set you up for the ultimate success at a fraction of the cost.
If you already have your eye on a specific model for purchase, request a quote with BDS today! We offer certified preowned printers at an attractive price. With either option, BDS has superb customer service and is standard. Enjoy the benefits of our preventative maintenance program and let us create customized solutions that work for you!
Follow us on Facebook, LinkedIn, Instagram, TikTok, and YouTube to stay up to date on the latest industry news and trends.