Are you in the market for a brand-new printer for your office environment? Whether working in education, healthcare, or finance, you deserve high-quality printing. When searching the market, you may have encountered the A3 size printer. This is a perfect printer for most businesses looking for high printing speed and print resolution. Still, businesses may require additional information before investing, which is why we are here to help!
Today, we will discuss the different components of A3 printing, including A3 size printers. This information is provided to help you make a more educated and confident decision.
What is A3 printing?
A3 printing is a method of printing that involves the use of A3 paper, sized at 16.5 in. X 11.7 in. We call this method "A3" due to the International A standard of paper sizes. This paper size was created to create international standards for business worldwide printing papers. For instance, if you work in finance and have clients in a foreign country, using A3 can help create uniformity between the documents you share and send to these clients.
Although A3 printing is the professional standard name internationally, it is not something we often hear in the United States. When printing, you will often see format options for different documents, such as Legal, Tabloid, and U.S. letter. Most of the categorization boils down to semantics. However, maintaining consistency with your documents is crucial to producing professional-looking documents.
Is an A3 printer different from A3 printing?
An A3 size printer is a crucial component of A3 printing. To simplify, an A3 printer is designed to print A3 documents. Seems simple enough, right? However, the pull towards A3 printers from businesses comes from their versatility. You can print various materials and sizes using the A3 printer, making it a versatile option for most businesses.
Some standard paper sizes businesses print with this printer include:
US letter
Legal
Tabloid/Ledger
Envelopes
Postcards
For most U.S. establishments, businesses, and organizations, the materials and documents shared include the previous list. Because so many businesses print these sizes daily, it is nice to have a printer that can keep up and print all sizes.
Another strength of A3 printers is the wide range of materials that you can print with. Various materials and types of paper range from thick to slim that you can successfully print on these devices. You can even find models with a finisher and stapler option to boost your document. This is a truly versatile printing option.
Durability is equally as important as flexibility for a knockout printing device. Thankfully, A3 printers are just that! With a larger feel and ability to handle a large volume of prints, this printer will quickly become permanent in your print environment. Maintenance is vital to ensuring your print device continues to perform optimally without little to no interference. Ensure you are sticking to a maintenance and service schedule that works for you to ensure long-term success for your device!
High-quality print resolution when you need it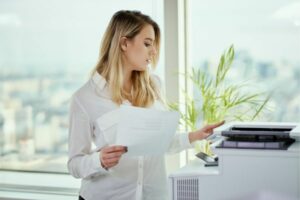 A key highlight of the A3 printer is the quality of your prints. What makes the A3 printer more unique is that it provides a Multifunction device's high speed and large volume capabilities at a fraction of the cost! The quality of prints you can create when you use this device is astonishing. Most traditional printers can only handle paper sizes up to A4, whereas A3 belongs in a similar class as large-format printers due to their ability to handle various paper sizes.
The quality never suffers whether printing in black and white or in color. Of course, you must be using the correct supplies and materials for your specific printer. However, as you use those proper materials, you may be astounded by the extra boost it gives your prints. Large format prints must be high quality, readable, and highly detailed. These printers deliver on that front, making it an excellent print option for most offices.
Are there affordable A3 printers on the market?
Frankly, A3 printers can be expensive. This is a truly versatile machine with capabilities that extend beyond what you would receive with a more traditional printer. Given all the extra add-ons and boost in performance, A3 printers can end up costing you a lot of money.
However, they do not have to! There are a couple of ways you can find affordable A3 printers for your office without compromising your budget.
Partner with a local print partner
First, we suggest working with a local print partner for your office printing needs. Doing so is only going to help you and your business. At BDS, we are not just concerned about making a sale. We provide you with the best office solution that works for you. We create personalized and individualized solutions to help you feel at ease about your next decision. These are services that you would not otherwise find at a retail store.
Regarding affordability, a local print partner will have more affordable financing options available for local businesses. BDS is a certified reseller of most major printer brands, including Ricoh, Kyocera, and Xerox. This means these brands authorize us to sell, maintain, and service these products. The stamp of approval helps customers feel confident that when partnering with us, they are receiving the highest quality on their devices. So, you can receive a high-quality A3 printer from your favorite brand at a fraction of the price.
We offer different finance options to ensure every business has a fair and equal shot at affordable printing.
A3 printer leasing at BDS
Printer leasing is currently one of the most popular financial methods on the market, and for good reason! When you lease an A3 printer with BDS, you do not just receive the printer with no other services attached. When you invest in a printer with us, we include maintenance, service, and supply replenishment when you need it. Say you run into an issue with your printer and need assistance fast. BDS can be there in record time (2-4 hours) to address the problem and get your printer back up and running!
Furthermore, our flexible lease terms and payment options are perfect for businesses wanting to stick to a budget. Many small businesses, or new businesses just starting, benefit from this option. The best part? As your business begins to expand and grow, you can upgrade your equipment easily at a fraction of the cost you would spend buying new!
Purchase certified preowned A3 printers at BDS
We have already spoken about being certified resellers of popular office technology and equipment but did not show what that looks like. As print partners, we have worked with many businesses over the last 40 years, which means we have provided a ton of printers. Instead of wasting those printers, we refurbish them in our community! We put these devices through a rigorous process to ensure they can function properly and optimally in your environment.
These devices are significantly cheaper than what you would buy on the market. Similarly to leasing with BDS, when you purchase certified preowned equipment, we are still there for you. Whether it is supply replenishment, maintenance, or any other service, we are here to help!
So, is an A3 size printer right for you? Get started with BDS!
Overall, this printer is a solid option that will work for most businesses. However, there are always circumstances that vary from the norm. If you have additional concerns that you would like to address, contact us today so we can help!
If you are committed and ready to plunge into your next A3 size printer with BDS, request a quote today! We will contact you with a BDS representative within the next 48 hours. Follow us on LinkedIn, YouTube, Instagram, Facebook, and TikTok for the latest updates!