Architecture, engineering, graphic design, and other industries that require large documents or drawings use these large-format printers.
Black and white wide format printers offer several benefits, making them valuable tools for many industries and applications. The printing process, ink usage, and technology used in black-and-white printing make them less expensive than color printing.
6 top benefits of wide format black and white printers
High Precision and Detail: For technical drawings, architectural plans, and engineering schematics, precision and detail are crucial. Black and white wide format printers can produce crisp, fine lines and intricate information, accurately representing intricate designs.
Printing speed: Wide format printers can handle large documents quickly, especially when printing black and white. Their advanced printing mechanisms allow these printers to produce large prints faster than standard printers.
Versatility: Wide-format printers can print on various media types, including different weights and sizes of paper. This versatility makes them suitable for producing blueprints, posters, banners, and other large documents.
Reduced Maintenance: Color printing involves multiple cartridges and intricate color mixing, sometimes leading to maintenance challenges. Black and white printing simplifies printing and reduces the likelihood of color-related issues.
Energy Efficiency: Monochrome printing consumes less energy than color printing since it does not require multiple ink colors and complex color mixing processes.
Ink Costs: Color inks are more expensive than black ink. Color inks need more complicated formulations and pigments to achieve accurate color reproduction, increasing their cost over black ink.
Industries that benefit from black & white prints:
Architecture, Engineering, and Construction (AEC):

AEC professionals often need to print detailed architectural plans, engineering drawings, blueprints, and construction schematics. Black and white wide format printing is essential for accurately reproducing these technical documents.

Manufacturing and Industrial Design:

In industries where precision and technical drawings are crucial, such as manufacturing and industrial design, black and white wide format printing is used to create large-scale templates, prototypes, and production plans.

Government and Public Services:

Government agencies, municipalities, and public services use wide format printing for various applications, including printing maps, city plans, zoning documents, and administrative materials.

Legal and Judicial Systems:

Law firms, courts, and legal departments frequently require large document prints, including legal briefs, court exhibits, and case files. Black and white wide format printing ensures accurate reproduction of legal documents.
Our top printer picks for wide format printing:
The RICOH MP W6700SP wide format black & white printer is designed to cut costs while affording you the versatility required for printing a wide range of essential documents and applications in-house. Enhance team collaboration effortlessly with comprehensive multifunction capabilities, allowing you to print, copy, scan, and share from a single, unified device.
Featuring a compact and ergonomic design, the MP W6700SP ensures user-friendly operation. It's an excellent fit for workflows with low to mid-volume demands, offering the following advantages:
Sharp and detailed 600 dpi image quality.
Streamlined document-sharing procedures.
Inbuilt security features to safeguard sensitive data.
Remote management capabilities for easy monitoring and control.
Canon's PlotWave Large Format Black & White Printers are advanced printing solutions designed to meet the demands of producing high-quality monochrome documents on a larger scale. These printers are particularly well-suited for architectural, engineering, and technical applications where precision and clarity are essential.
The PlotWave 3000/3500 Series offers a flexible 1 or 2 roll large format printer and copier with an optional integrated 600 dpi color/monochrome scanner.
Its single-footprint design saves space.
The top tray uses air separation technology to organize up to 100 E-size plots.
Enhanced security includes AES 256 data encryption, secure boot, and Access Management authentication.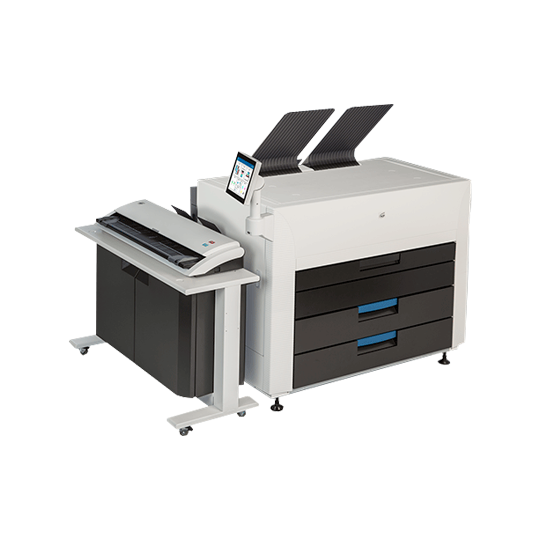 Kyocera KIP 7572G 10D – 2 Roll BW Workgroup Print System with Top Stacking. This system is designed to provide ultimate versatility for Technical Printing Professionals. KIP printers boast advanced technologies that establish the standard for quality and performance. With our printers, you're guaranteed top-notch quality and optimal cost-effectiveness, contributing to your company's enhanced efficiency, productivity, and profitability.
Experience the updated KIP 75 Series Badging with the inclusive KIP System K Software. The printer features brushed steel accents and trim, exuding a sleek aesthetic. Powering the system is the Microsoft Windows IoT (internet of things) Enterprise Operating System.
Ready to purchase or lease a black and white wide format printer? BDS can help! Contact our team to get started today.