Do you work in architecture, engineering, or any other field that requires you to print blueprints regularly? If so, you may wonder which options are available, and BDS is here to help! We offer a variety of large-format printers to help with your blueprint printing needs. Whether you print in black and white or in color, BDS has an option ready for you.
What are large format printers?
Large format printers are a class of printers that print large industrial prints, typically used for promotional purposes. Many architecture and engineer professionals' benefit from these devices as they can print highly technical blueprints and designs at record speeds without impacting quality.
Various large-format printers are available, and each model has a different purpose. Today we will explore two of the most popular large-format printers businesses invest in when they partner with BDS. These printers include the wide format printer and plotter printer.
Wide format printer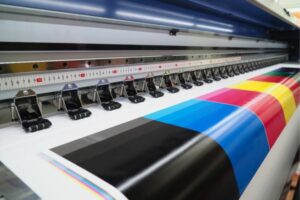 A wide format printer is a large format printer primarily used to print banners, posters, graphics, wallpapers, and more. Most wide format printers handle a width capacity between 18" and 100", making them a productive option for most businesses. Some highlights of wide format printers include:
Impressive speed
High-quality output
Durable
Easy to use
Wide format printers can print in black and white or in color. Determining whether black and white or color is best for your print environment can help when you begin searching for your next printer. For example, some wide format printers are only compatible with black and white, so you will not get much use if you require color for your prints. This printer is a fantastic option if you want to create inspiring designs and detailed blueprints that stand out.
Plotter printer
The plotter printer is another large-format printer with a more popular blueprint printing option. Plotter printers are unique from other printers because they use pen, pencil, marker, or any other writing tool to create their prints versus toner. Although this may sound old-fashioned, it is still a popular printing option for architects and engineering professionals, who often provide the most accurate and detailed blueprints.
Plotters are typically larger than wide-format printers and cost more. However, the detailed output makes this investment feasible for most businesses. Some highlights of plotter printers include:
High efficiency
Accuracy
Speed
Consistency
Many modern plotters are compatible with computer systems, making transferring designs from popular platforms like Adobe more accessible. If you are looking for a trusted printing option for your blueprints focusing on accuracy and consistency, this option may be best for you.
BDS offers flexible finance options for large-format printers
These printers do have a reputation for being more expensive than traditional printer models. BDS has taken the time and effort to create affordable financing options for local New England and Florida professionals by offering leasing options and purchasing preowned equipment. These initiatives have allowed many architects and engineering professionals to successfully integrate this advanced technology at a fraction of the cost.
Are you ready to make your next investment with BDS? Request a quote today, and we will contact you with a BDS representative in the next 48 hours (about 2 days). Follow our Facebook, LinkedIn, TikTok, and YouTube channels for the latest industry news and trends.