BDS has over 40+ years of experience helping local New England and Florida professionals, including architecture professionals, with their office technology needs. If you require assistance with wide-format printing, managed print solutions, or anything else, BDS can help with your architect prints.
We understand that architects rely on high-quality prints and designs to bring their plans and blueprints to life. You deserve the best printers available to achieve your architectural goals. There is a wide range of printers that you might find at an architectural firm, which may make finding the right printer for you more difficult. That is why BDS is here to help.
Today, we will focus on wide-format printers and why they are a fantastic choice for architects and designers to print their high-quality designs and blueprints.
What is a wide-format printer?
A wide-format-printer is an option for larger prints with higher output volume and requires additional equipment. Wide-format printers can replicate the graphics of the designs you create on your preferred platform by applying ink dots.
Wide-format printing has a few considerations worth considering before investing in one of these devices, including the type of ink you will be using and the paper size. The ink and paper size you use will determine the quality of your print, so it is essential to consider these factors before investing so you do not end up with a printer that does not meet your business needs.
Some popular types of ink for wide-format printers include:
Aqueous inks
Solvent ink
UV
Latex
When deciding the type of paper that is the correct size for your printer, you should consider what ink type you are using, if you will be using rolls of paper or cut sheets, and the size of your wide-format printer's paper roll, sheets, and thickness. Once you finalize these details, you can then feel more confident when you invest in your next printer.
What materials are wide-format printers primarily used for?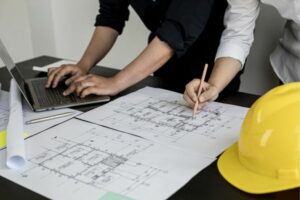 As architect professionals, wide-format printers are designed to work best for your industry. Given that wide-format printers fall under the umbrella of large format printing, these printers can print large format graphics at high quality with the most crisp and precise color and detail.
Some examples of materials that you can print with a wide-format printer include:
Logos
Banners
Signs
Blueprints
Architect professionals create these types of materials daily, so the payoff for investing in these machines is excellent for these professionals. Architectural firms require printer machines that will print large-size prints at high-quality speed, and with wide format printing, you receive that.
What are the benefits of wide-format printing?
Do you prefer high-quality printing with high printing speed? If so, wide-format printing is going to be great for you. We understand that architects spend many hours creating and executing designs and blueprints for their projects. The last thing you want is to complete your project only for your printer to print your poor-quality designs.
Architects require printers that will go the extra mile to help elevate their prints and designs, not hold them back. Wide-format printing is the best large-format printer for architects due to their attention to detail and speed.
Some strengths you can expect when you invest in a wide-format printer include:
High quality prints
We have mentioned high quality a few times now, but it is because we truly mean it. Do you want prints that will make your firm stand out? This is the right printer for you. Wide-format printers produce sharp and vibrant colors that pop out on the page. The clarity of your prints will be like no other, with every detail accounted for. When you meet with clients or contractors with your designs, we guarantee they will be impressed with the quality.
Cost-effective option
For any business or firm, finances are a critical component of success. If you are just starting your business or are on a strict budget, you may be focused on finding cost-effective options for your printing needs. When you invest in a wide format printer, you receive a cost-effective printing option, as you can print your large prints in-house, saving you a ton of money from outsourcing your prints.
Furthermore, BDS offers financing options to New England and Florida architectural firms, including certified pre-owned printers and leasing!
High productivity
Business moves quickly, and you will want a printing machine to meet the demand. This is especially important for architect professionals, as they often work on tight deadlines where their designs must be ready within a quick turnaround. When time is precious, wide format printers are here to help with their high-speed capabilities allowing you to print and share your proofs in record time.
How often should I maintain my wide-format printer?
Determining a schedule for maintaining your printer will depend on your unique schedule and needs. Regardless of how often you choose to maintain your printer, if there is one thing for sure, regular cleaning and maintenance are necessary if you want your equipment to operate properly to the best of its ability.
When we say regular cleaning and maintenance, that includes the materials in your printer and the external. Some items you can expect to maintain regularly include:
Ink cartridges
Printheads
Paper rollers
Ensuring that these items are maintained and up to date will help prolong the life of your printer while also helping you avoid common printer mistakes that will affect the quality of your prints. Furthermore, ensure that you are using high quality ink and paper to improve the quality of your prints over time.
Using high-quality materials for your prints will help you avoid frequently maintaining your equipment.
How can BDS help with my wide-format printing needs?
BDS is proud to partner with architect professionals to help them achieve their printing goals. We offer wide-format printers and plotters that will provide you with all the precision, productivity, and high quality you deserve!
Our wide-format printers make in-house printing easy, reducing the need for outsourced printing. We will save you money while offering you the flexibility to print from other devices, including your mobile device. The hallmark of our success is our customer service. We pride ourselves on providing the best service in the industry and are committed to delivering on our promises.
Are you ready to get started on your next wide-format printer investment? Request a quote today to get started, and we will connect you with a BDS representative within the next 48 hours.
Follow our Facebook, LinkedIn, YouTube, and TikTok channels to stay updated on the latest industry news and trends.