What is plotter leasing?
Plotter leasing refers to businesses entering into lease agreements for large-format printers widely utilized across many industries. Plotters are specially designed to print engineering drawings, architectural plans, maps, and other documents of substantial scale. Through plotter leasing, businesses gain access to this specialized printing equipment without the need for outright ownership.
Leasing a plotter can be a cost-effective option for those who need such equipment temporarily or occasionally or for those who want to avoid the upfront costs of purchasing a plotter outright. Printer leasing is also a fantastic way to stay ahead in technology. It also helps to expand business and try new print services. However, it may not be suitable for every business.
Here's a comprehensive look at the considerations and benefits associated with leasing a plotter: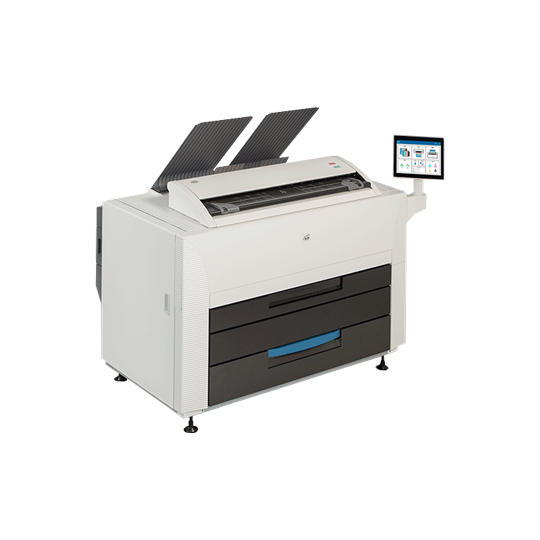 Identify Your Plotter Needs:
Determine the specific requirements for your printing tasks, such as the size and type of documents you need to print.
Consider the volume of printing you anticipate determining the appropriate plotter specifications.
Research Providers:
Look for companies specializing in plotter leasing services – BDS is an authorized dealer.
Consider lease terms, maintenance and support services, and the range of available plotter models.
Compare Lease Options:
Examine different equipment leasing plans and terms to find one that aligns with your budget and usage requirements.
Pay attention to factors such as lease duration, monthly payments, and any additional fees.
Choose the Right Plotter:
Select a plotter model that meets your specific size, speed, and functionality needs.
Ensure the chosen plotter is compatible with the documents you'll print.
Lease Agreement:
Carefully review the terms and conditions of the lease agreement, including the lease duration, monthly payments, and any maintenance or support services included.
Clarify any questions or concerns before signing the agreement.
Maintenance and Support:
Inquire about maintenance and support services included in the lease agreement. How will problems be tackled during the lease term and assistance hours?
Return Conditions:
Understand the conditions for returning the plotter at the end of the lease term. This may include ensuring the equipment is well-maintained and in good working condition.
Installation and Training:
Check if the leasing provider offers installation services and training on how to operate the plotter. This can be important, especially if you and your team are not familiar with the equipment.
Budget Considerations:
Leasing a plotter can provide cost predictability with fixed monthly payments. Evaluate your budget and determine if leasing aligns with your financial strategy.
Evaluate Future Needs:
Consider your future printing needs and whether a lease provides the flexibility to upgrade or switch to a different plotter model.
What industries benefit from Plotter Leasing?
Architectural and Engineering Drawings:

Wide format printers are commonly used in architecture and engineering for printing detailed drawings and plans. They can accurately reproduce technical drawings and schematics.

Mapping and Cartography:

Plotters are used in cartography and mapping applications to create large-scale maps with precise details. Geographic information systems (GIS) often utilize plotters for map production.

Design and CAD (Computer-Aided Design):

Plotters are employed in design and CAD applications to produce detailed illustrations, diagrams, and designs. They are valuable tools for architects, graphic designers, and engineers.

Textile and Apparel Industry:

Plotters are used in the textile and apparel industry to create patterns and cut fabric templates. They provide accurate representations of garment designs.

Scientific and Research Diagrams:

Plotters are utilized in scientific and research environments to create detailed graphs, charts, and diagrams. They are particularly useful for visualizing complex data.

Signage and Posters:

Plotters are used to create large-format signage, posters, and banners. Their ability to produce high-quality prints on a larger scale makes them suitable for advertising and promotional materials for small businesses.

Education:

Plotters are used in educational settings for teaching purposes. They can create visual aids, diagrams, and charts for presentations and instructional materials.
Ready to lease a plotter?
Plotters remain preferred in industries where precision and large-scale graphics are paramount. BDS has over 3 million in inventory and is an authorized reseller of Ricoh, Kyocera, and Canon and a leader in print technology. Contact us to get started with your plotter or large format printing needs.