Do you have large-format printer needs, including laser plotters, and need help figuring out where to start? Look no further than BDS! We can assist you with all your large-format printer needs without a full line of devices, including laser plotters, wide-format printers, and more! Our high-quality line of printing devices will help make printing blueprints, graphs, and other materials as easy as possible!
What are large-format printers?
Architect and engineer professionals primarily use large-format printers to assist with their blueprint printing needs. Typically, these professionals require high-quality printing equipment to ensure that the details of their designs are printed with the most accuracy possible. The more readable and detailed a blueprint design is, the better the outcome for these professionals, so they must have devices on hand to help them produce their prints.
Many large-format printers are compatible with various design tools like Adobe and CAD. The printers' designers invest in need to be compatible with these applications so you can receive the most accurate and detailed version of your design.
Large-format printers are called "large" due to the process involving creating graphics too big to be printed on standard paper sizes. Average businesses and professionals are unlikely to utilize this paper size due to its size.
Determining the standard size for large-format printers can be tricky because no one large-format printer is the same as the other. Generally, any design with a width of at least 24 inches can be considered for large-format printing. Twenty-four inches is only a guideline, and you may find that many architect or engineer professionals print using larger paper sizes than that.
What are the main benefits of using large-format printers?
Large-format printers are going to benefit those with large-scale printing needs primarily. It would be unwise for smaller businesses with non-advanced printing requirements to invest in a paper size of this magnitude because it would be a waste. Most average business professionals will find little use in this printing method. However, this printing option is perfect for those who regularly print blueprints or large promotional materials.
If you work in engineering or architecture, these printers will help bring your blueprint designs to life with the highest quality of detail. These professionals require advanced printing capabilities to accurately convey the details of their designs, and these printers do not disappoint. With various models available, these professionals can find the right large-format printer to help them meet deadlines and provide the best quality print jobs.
Marketing professionals may also find use in these types of printers. For instance, if you are planning a large promotional campaign that requires large banners or billboards, these printers can help create and print your design accurately. With your designs and accuracy from these printing devices, you can reach more people and make a more significant impact with your promotional efforts.
Whether working in marketing, engineering, architecture, or any other field with large printing requirements, these versatile machines can help elevate your business to the next level.
Different types of large-format printers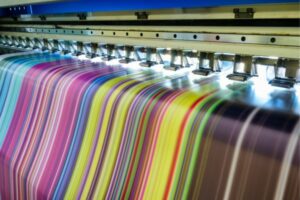 Now that we have defined large-format printers as a category of printers that produce large-scale prints, we can explore the several types of large-format printers available to you. Please note that this list is not exhaustive of all the available models on the market. As businesses and technology continue to expand and grow, so does the demand for more advanced equipment. BDS is committed to providing you with the most updated information and resources.
Plotters
Plotters are devices that fall under the large-format printing umbrella. These devices print large print jobs for architect and engineer professionals. Interestingly, these devices use writing tools like pencil, marker, and pen to draw continuous lines on the paper instead of toner. Although this may seem more traditional, these devices are still competitive in today's highly digital world.
Plotters can work on large paper while maintaining the high-quality, detail, and resolution designers require. Various materials can be used for printing with plotters, including plywood, plastic, and aluminum, making it a versatile printing option. These devices are large compared to more traditional printers, so it is best to invest in adequate office space to have room for your device.
Laser plotter
One of the more popular plotters in today's digital world is the laser plotter. The laser plotter is a more advanced type that incorporates laser technology to create your prints. This type of plotter offers a few benefits, including:
Boost in productivity
Flexibility
Variety in materials printed
An adaptable printing option in today's digital landscape
Laser printers have the same, if not better, detail and quality as more traditional plotters. This makes them a perfect option for architects or engineering professionals looking to upgrade their equipment while still maintaining that signature quality.
Wide-format printers
Another popular large-format printer option for businesses with large volume printing requirements is the wide-format printer. Whether you need to print posters, banners, blueprint designs, or anything else, these printers are perfect.
Wide-format printers create graphics and designs that can range widely in width. These devices come in various sizes and are easy to use, making them a perfect starter option for those getting started with large-format printers. These types of printers offer many benefits, including the following:
Versatility
One of the hallmarks of a robust printer is versatility. As business approaches and demand shifts, you want to ensure you have a printer that can adapt to change quickly. Wide-format printers are in the category of some of the most versatile printing options available.
Whether you need to print posters one day or a banner the next, this device can keep up with the demand. These devices' versatility allows them to print using various materials like vinyl, metal, and more. You can minimize printing expenses by having just one device for your printing needs versus a multitude.
Speed
You have a bunch of deadlines that you need to hit on a time crunch. You will need a device to help you meet those deadlines, and with little to no downtime, these devices can help. Help your staff accomplish more in record time with a wide-format printer to help with a large print volume. You can print a large volume of high-quality materials without worrying about downtime.
Quality & Detail
Your prints require additional detail and precision to ensure they are printed as accurately as possible. Wide-format printers deliver impactful designs to help your business stand out. For marketing professionals, these printers can help you gain customer interest in your company! With vibrant colors and the ultimate precision, you are almost guaranteed success with this device.
Cost-effective
Although these machines are larger than traditional printers and have advanced printing capabilities, there are still some ways you might save money by investing in one of these printers. Wide-format printers can help reduce your overall cost of materials because materials like wood, metal, and plastic are more affordable when you purchase them in bulk. You can better optimize your business budget by spending less on these materials for more.
What other industries can benefit from large-format printers?
Although large-format printers are primarily popular in the engineering and architecture industries, there are other places to find them. For instance, many education professionals can use these, especially wide-format printers, to create banners or other educational posters. Healthcare professionals may also use these printers for posters and informational banners to promote their services.
Should your budget allow, almost any marketing professional could benefit from large-format printers. Any promotional or in-house marketing materials can benefit from this type of printer. If you need help deciding whether this type of printer will benefit your industry, contact BDS and we will help!
Can BDS help with my large-format printer needs?
As your local New England and Florida print partner, BDS is prepared to provide local business professionals with the best service, products, and solutions. This includes our full line of large-format printers available, which includes plotters and wide-format printers. Our large-format printing solutions simplify in-house printing by consolidating your printing and communication needs into one device.
BDS is different from other print partners. We take the time to understand your goals and objectives for your business. We go the extra mile to assess your print environment and anticipate future needs. With over 40+ years of experience serving local business professionals in finance, education, law, healthcare, and more, we have successfully adapted our approach to helping local clients.
Customer service is a hallmark of our success, and we take pride in ensuring you are completely satisfied with your partnership. We are open to shifting and adapting solutions that meet you where you are at in your business. BDS sales experts are not pushy salespeople looking to provide you with just any solution. We want to find and create solutions that work for you and your business, so you are prepared for success.
What are you waiting for? Get started with BDS today!
Are you ready to get started on your partnership with a winning team? If so, request a quote today, and we will connect you with a BDS professional. Check out our free resources on our knowledge base and blog for the latest tips and tricks.
Follow us on Facebook, LinkedIn, YouTube, and TikTok to stay updated on the latest industry news and trends.