Did you know that not all printer paper sizes are created equal? For instance, a plotter printer will require a larger paper size than a desktop printer. A specific paper size is often used for print jobs for engineer and architect professionals. 11 x 17 printing is a printed method used for printing various materials, primarily by architect and engineer professionals.
11 x 17 refers to the paper size you are printing. This paper size is also called "ledger" or "tabloid". Although that may sound simple enough, you may wonder how to print in 11 x 17 and what materials are required. BDS is here to help!
What is 11 x 17 printing used for?
Architects and engineers use 11 x 17 printing to print a variety of materials, including:
Poster printing
Blueprints
Large designs/Graphics
11 x 17 is a large paper size compared to the standard 8.5 x 11 inches. Given the size, you rarely see this paper size used in most offices. You will see it used primarily in offices that require large prints. 11 x 17 paper allows architects and engineering professionals to read better and analyze their drawings created with compatible software.
11 x 17 is perfect for drawings, diagrams, and other design work. Some offices require this paper size for in-house materials, and others for external public-facing requirements. Either way, the sizing of this paper makes creating design blueprints easier with its large size.
It can be challenging to capture all the intricate design details when working with smaller paper sizes. Businesses that regularly create and print detailed plans and designs require a paper size that is easily printable, cost-effective, and, most importantly, can capture all the essential details of your design.
Although this paper size is popular among architect and engineer professionals, it is not the only paper requirement, and you should keep this in mind when shopping for the right paper size for your business.
What are some advantages of 11 x 17 printing?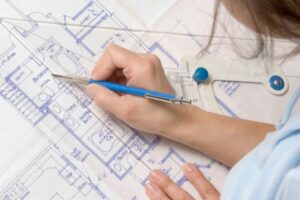 There are quite a few advantages that make incorporating this paper size into your daily printing a great option. Those benefits include:
A versatile printing method
Yes, printing in 11 x 17 will produce a larger print job. However, you can also fold this size in half to create a variety of marketing or promotional materials, including a booklet, brochure, flyer, or poster. The ability to use this paper size for various projects makes it a knockout option for businesses requiring large-scale print jobs.
Superior detail and quality
Architects and engineers work hard to ensure their designs and blueprints are as thorough, detailed, and readable as possible. The last thing anyone wants is all that challenging work to vanish due to poor print quality. Luckily, printing in this size method will help capture all the intricate details in larger images or graphics. Printing on 11 x 17 paper will help your designs and graphics stand out.
Are there any disadvantages to printing with 11 x 17 paper size?
Printing in this paper size is excellent for professionals who need it. However, this paper size would be inadequate for businesses that do not require highly detailed graphics and designs. You could lose a ton of money by investing in this paper if you do not find yourself using the paper size.
Furthermore, wasting paper of this large a size can have damaging effects on the environment. It is always best to determine the file size of your designs so you can find a suitable paper size to support that. If you are still deciding what type of printing paper size is right for you, reach out to BDS. We will connect you with an expert to help you determine the right fit in under 48 hours (about two days)!
Follow us on Facebook, LinkedIn, YouTube, and TikTok to stay updated on industry news and trends.