If you are an architect or working in architecture, you understand the necessity of a high-functioning plotter for your Architectural needs. BDS offers print solutions for architects and engineers to help provide you with the best printing equipment to meet your business needs. We understand the necessity of a solid wide-format plotter for your business operation, which is why we offer high-quality equipment with the best service in the industry!
What is a plotter printer?
Plotter printers, otherwise known as wide format plotter printers, are devices architects typically print large-quality drawings and designs with a specific emphasis on precision. They are hardware devices that can print on various surfaces, making them a versatile option for architects.
There is an essential distinction between plotter printers and other printers. Whereas more traditional printers utilize ink for printing, plotter printers rely heavily on pencils, pens, or other writing or drawing material. Thus, investing in a high-quality plotter printer will only enhance your designs.
Using a plotter printer differs from others and can be tricky to approach. To achieve the highest quality design, the plotter machine must repeatedly plot lines instead of dots.
The plotter machine is intuitive; once you feed the device your design, it will take care of the rest. The machine can even print multiple copies seamlessly! This makes for an efficient option for your print jobs.
Are plotter printers a popular option?
Among architects and engineers, plotter printers remain a popular method of printing. However, on a large scale, traditional printers, including inkjet printers, are the most popular printing method. Modern printers adapt quicker to the rapid technological advancement happening in the world and are quicker and easier to produce.
Plotter printers, in general, tend to be bulkier and more expensive than more traditional printing methods. Still, the digital plotter printers on the market today are an efficient and solid option for those utilizing these devices to their maximum capacity.
What are the advantages of plotter printers?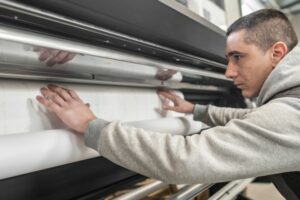 Aside from the highlights of plotter printers that we have already addressed, there are many other strengths to plotter printers that will help give you a competitive edge with your printing needs. Let us explore some of these strengths below:
Precision and accuracy
The most crucial factor to consider for your printing needs is that plotter printers have a competitive edge over other printing options when it comes to printing large, high-quality graphics. Architects, for instance, need to print their 3D renders and architectural plans and ensure that they read cleanly.
A plotter will ensure the graphics are of the highest quality and precision. The last thing you want is to lose any detail in your plans, so with plotter printers, you can rest assured that your design will print as you have drawn it.
Industrial plotter printers are designed for businesses and produce higher quality results. Typically, the larger and more expensive models have more robust printing capabilities that allow you to print on a larger surface area.
A flexible printing option
Plotter printers can print on multiple surfaces, making it a versatile option for those needing to print on more nontraditional document forms. Plotter printers can print on cardboard, wood, aluminum, and steel, among other surfaces. Specifically, architects will benefit most from this ability, as they often must print designs on more nontraditional materials than plain paper.
Speed
Plotter printers have come a long way, as printing on these devices used to be laborious. With advancements in technology, printing has only become quicker and more efficient, including plotter printers! Consistency and precision never lack either, which is refreshing as it used to be the norm, where faster devices often meant a lack of quality.
This is a strong strength that will apply to most architecture firms or businesses. If you have a full house of architects needing to perform high-volume printing regularly, investing in one of these machines will be your best decision. The last thing you want for your business is to fall behind because you are struggling to keep up with the printing demand. The quick, precise, and accurate printing capabilities will help your firm grow and elevate to the next level.
A digital-friendly printing option
Although architects traditionally drew their architectural plans with pencils or other writing materials, the digital world has made drawing architectural plans more innovative. Many different platforms are available online or through apps where you can digitally draw out your plans with innovative technology materials. You can perform these drawings on software programs like Adobe Illustrator and Flexi.
Modern plotters are compatible with these software services, making printing much more efficient. Suppose you adopt one of these platforms for your business usage. In that case, you can experience double efficiency, as drawing your architectural plans on these software programs is often a quicker and more efficient way to build your plans.
Drawbacks to plotter printers
Despite all the strengths of plotter printers, a few drawbacks are worth being aware of before investing in one. We do not like to harp on the negatives, so despite these drawbacks, plotter printers are still a solid and efficient option for most businesses. This is merely a cautionary measure, so you are making the most educated and informed investment for your architectural needs.
Big and bulky machines
Depending on your work environment, this may not be much of a drawback. Still, these machines are heavy and super industrial at a business level, meaning they may not be the most efficient option for smaller businesses or home offices. Furthermore, working at a large company may require multiple models, meaning more space to fit these printers.
Your machine may also be noisy, which may not be ideal, depending on your printing environment. Still, you can find less noisy options on the market. It is also worth noting that they are not the best portable option for your printing needs due to how heavy and large the machines are. These are all things to consider before you invest in your plotter printer.
Expensive
True, plotter printers tend to be more expensive than more traditional printers. However, the investment is still worth the payoff. With any printing equipment, the retail price may be more expensive. However, these machines are guaranteed to help create more efficient office regulation, productivity, and management, helping your business elevate to the next level.
Still, sticking to your budget is necessary, and if you think these printers may be out of your budget, do not fret. There are other cost-efficient options available to you! For instance, with BDS, you can lease a wide-format plotter printer and receive full service in your lease! We also offer flexible payment plans to meet your budget needs.
These drawbacks should not scare you away. If you are working in an architectural firm, you already have the dedicated space and budget to address these potential pitfalls. Remember to research as much as possible when investing in new equipment, and if you have any questions, you can always reach out to a BDS service technician or sales team member for advice.
Invest in your next wide-format plotter printer with BDS!
If you are ready to take the next step and invest in a high-quality wide-format plotter printer, consider BDS for your partnership. At BDS, our priority is customer service. When you partner with us, you will notice that customer service is of the highest quality, from when you meet with a sales team member to when you receive service or maintenance from our service technicians. We are committed to ensuring that you are satisfied with your investment.
Our team offers customized and individual support in our partnerships, taking the time to set you up with the most sustainable and successful office solutions. We are authorized sellers of many popular brands, including Xerox, Canon, Kyocera, Ricoh, and more! We have over 40 years of experience serving our local New England and Florida communities with their printing needs, including providing printers for architects.
If you do not need a wide-format plotter printer, BDS can still help. We have other office solutions available to help you run your business efficiently! We offer copier leasing, secure document management, managed print services, and more! BDS can even provide you with supplies so you do not have to worry about running out and slowing down business operations.
Get a Quote now for a Plotter
Our team will get back to you in less than 24 hours.