A4 document printing refers to a printing method of documents that uses the default paper size, A4. This printing function is perfect for professional printing, with the ability to print and share business documents, school reports, letterheads, door signs, and more. Given the widespread appeal of this printing function, many industries benefit from using this style of document printing.
A4 size does not only signify paper size. It also refers to a printer used to print A4 documents. A4 printers are often referred to as standard printers but aren't to be confused with printers with limited capabilities. That's to say, these types of printers can add upgrades and add-ons to help you adapt to the current digital landscape, including Bluetooth, mobile printing, and more.
Which industries benefit most from using A4 document printing?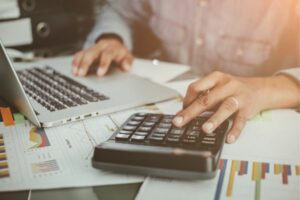 Because A4 refers to the default printer setting for documents, you will find that many businesses from various industries find use for this printer function. There is a universal appeal in A4 document printing because it's the standard and default printing option for businesses worldwide. There's comfort in the uniformity of having the same document size throughout when you use this printing function.
Of the many industries that use this printing method, below are a few of the most popular industries we serve:
These industries rely on consistent, reliable, and clear documents to perform to the best of their abilities. The A4 printing standard is excellent for their documents, as it saves time from having to reconvert documents into different sizes. Because A4 is the default printing standard, these professionals can start up their printers and print their documents immediately without worrying about any reconfigurations.
Just as there are industries that benefit significantly from this printer function, there are other industries that may benefit from a different printer paper size, including:
These professionals tend to require large prints to perform their day-to-day activities. For instance, most architects are busy drawing and designing blueprints that need a large format printer, like a wide format printer, to print their designs to the highest quality and detail successfully. Architects will not receive the high quality they would using a large format printer as they would an A4 printer because A4 printers aren't designed to handle such advanced printing capabilities.
When in doubt, conducting research with a BDS professional or on your own can help you evaluate which method works best for your print environment.
Things to consider before A4 document printing
We have discussed the industries that may be best suited for this printing method, which means that only some businesses from these industries will benefit from this function. The first step to determining whether your business requires A4 document printing is to assess your print environment.
Conduct a print audit, where a BDS expert print technician will come into your office environment and carefully document the day-to-day operations of your printers. This includes the amount you print, the types of documents you print, the speed at which your documents print, and more. Getting a print audit performed on your printer and copier machines is one of the best things you can do to continue maintaining your printer health.
From there, we can adequately provide you with printing solutions that will best fit your print environment. Regarding A4 printing, if we find that your documents require extensive print capabilities that would require a larger or different paper size, we will let you know! Our trusted technicians pride themselves on providing the most accurate and reliable information to help you make a more informed decision for your print environment.
When considering whether this printing method is suitable for your documents, consider the future of your business. What will document management look like for your business once you reach those new heights? Odds are, you are already considering the future of your business or organization, so consider your print environment. As we know, a thriving printing environment keeps businesses running!
Other things to note about A4 document printing
With A4 document printing, you aren't tied to simply printing in black ink. A4 printer paper can successfully print in black, white, and color. You don't have to worry about your document quality suffering. A4 documents can capture all the color and vibrance of your graphs, educational charts, or any other materials you print.
Cost is another crucial component that businesses consider before investing in a new printing strategy. Luckily, A4 printing is accessible on most U.S. standard printers. That means sourcing paper and printers to print these documents will not only be accessible but also more affordable. When you partner with a local print partner like BDS, we can provide various financing options to help you stay within your budget.
Whether you prefer to lease office equipment or purchase certified preowned equipment, BDS is here to help! We offer printers, copiers, and multifunction devices from popular brands, including Ricoh, Xerox, Kyocera, and more!
Request a quote today to connect with a BDS sales expert within the next 48 hours (about 2 days). Follow us on LinkedIn, Facebook, YouTube, and TikTok to stay up to date on the latest industry news and trends.