Offices with medium to large staff tend to use and benefit from multifunction devices. An MFD or MFP is a piece of office equipment that can print, scan, copy and fax. The MFD printer allows you to reduce the number of devices needed, saving space and cutting down on clutter.
What are the benefits of MFD printers for businesses?
Businesses use MFDs for cost-saving purposes.
By combining printers, copiers, and fax machines into one unit, these all-in-one solutions save on electricity bills.
Printing costs and consumables, such as toner and paper, can also be reduced by combining all functions on one device.
Print devices of this type can produce production print quality at high speeds.
Save space with an MFD function printer by combining multiple print functions into one single device.
MFD Multifunction Equipment is designed for ease of use.
Invest in a Multifunction Device that provides easy operation to prevent jams and employee downtime. User interfaces should be intuitive, training requirements should be minimal, and online support and documentation should be easily accessible.
The newest-generation multifunction printers feature tablet-like interfaces that make them especially simple. You can touch, swipe, pinch, and scroll like on a smartphone or tablet. In addition, you can add, delete, or swap tools for your customized workflow with apps integrated into the interface.
With multifunction printers connected to the cloud or mobile devices, you can work wherever you are. Mobile apps turn your MFD into a convenient tool for sharing, printing, scanning, distributing – even translating – documents.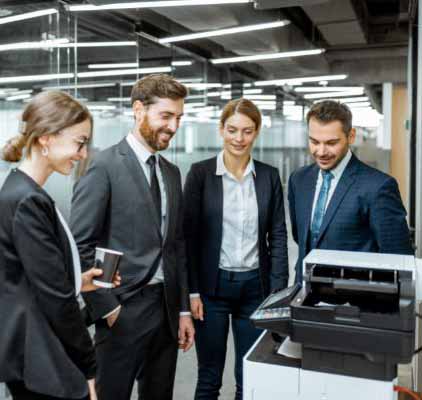 Why your business needs an MFD Printer
Designed to excel in a wide range of businesses, these MFPs are the ideal choice for small businesses and large enterprises. Let's walk through five reasons your office needs a multi function machine.
Multifunction equipment can genuinely multitask, preventing downtime. Simplify your workflow, reduce paper trails, manage documents in the cloud, and print, copy, scan, fax, and email in-house or remotely.
Ensure the security of your documents. Multifunction printers feature intrusion prevention, device detection, and data encryption capabilities that surpass industry standards.
Your paper documents can be organized, edited, and archived electronically to streamline cumbersome processes. Send paper documents to email, cloud-based storage, network folders, and remote printers.
Find the most cost-effective printing solutions to reduce your printing costs. Multifunction machines minimize the cost of paper, ink cartridges, and other consumables over time.
MFDs are environmentally friendly. By using these devices, you can minimize your carbon footprint, and you will be able to lower your total cost of ownership. Manufacturers proudly offer high-yield consumables, Energy Saver functions, and low Typical Electrical Consumption (TEC).
Print finishing options such as stapling, booklets, and hole punching are available on multifunction devices. These functions print directly from the external document feeder. Having an external finisher allows you to create additional document types in-house.
Multifunction Printer Device Document Management
MFD function devices allow you to manage devices and documents more effectively, including MFD task print, document security, and mobile scan or fax options.
Benefits include:
Improve security and reduce costs by tracking activity and assigning print rules.
Users can use Mobile devices for almost any document management task.
Quickly access reports about devices, jobs, the print environment, and more.
Managed print Services for MFD Printers
Print management solutions often significantly save overall print costs for companies. Managed print services offer enhanced security and customized reports through a combination of document management software and hybrid work capabilities.
Benefits:
Modern print devices come with IoT sensors that monitor temperature and vibration. Early detection of problems increases business uptime and reduces costs.
Monitor your printer repair in real time.
A remote monitoring system alerts users when toner levels are low.
Continuous multifunction device management.
Ready to get your free MFD print assessment?
There are many factors to consider when choosing the proper Multifunction Device for your business, including print volume, print speed, black and white or color, laser technology or inkjet, and security requirements. Our goal is to understand how your employees use printing devices and to become your print partner. During a print assessment, we do more than look at the pages printed on each device. Small questions have significant consequences when it comes to productivity and finances. Contact BDS today to build the most cost-effective and efficient plan for your business.