Are you in the New England or Florida area and looking for a MFD printer lease? If so, BDS can help with your MFD lease concerns with a full line of top-notch multifunction devices ready to help with your print, scanning, copying, and faxing needs.
How will MFD printers benefit my business?
Small and large businesses can benefit from MFD printer devices due to their all-in-one capabilities and cost-saving measures. Some other benefits you can expect from MFD devices are
Efficiency: All-in-one capabilities such as printing, copying, and scanning can be utilized in one device, making it an excellent option for boosting productivity and efficiency. You also save time on your projects due to not having to walk to multiple machines to perform one task.
Cost: When investing in an MFD, buying more equipment, including separate machines to perform your daily office tasks, is unnecessary. Less equipment means less money to spend upfront and overtime due to having fewer machines to maintain.
Durable and small: MFDs are not as big and industrial looking as they sound. They take up significantly less space than other industrial models on the market, making them a good option for a small office. If you are a small business that needs to save space, this device will be perfect for you, as its smaller but also durable, meaning it should not break too easily on you.
Will an MFD printer lease benefit my business?
What if we told you, you could get all the benefits of an MFD for a low price with flexible leasing terms? One of the biggest strengths of starting your MFD lease with BDS is that we offer flexible pricing and leasing options that fit your budget and needs. When you lease an MFD printer, you receive:
Little to no upfront costs: Usually, there is not a down payment required when you lease an MFD. If there is, it is usually a reasonable price that will break your budget. If you are in a crunch and need an MFD quickly to get your business up and running, you do not have to worry about producing a large downpayment.
Upgrade your equipment: As your business grows and expands, so does your need for new, innovative equipment at high speeds. When you lease your next MFD, you can upgrade your equipment as a part of your agreement, sometimes even for free! This is a great benefit for businesses just getting started.
Tax write-offs: Leased office equipment is eligible for write-offs for the full amount of the operating lease. That means you get to write off the full amount of your device without paying the full amount for your purchase. Deduct the cost of the lease payments from your business income, which will make it a direct expense.
How can BDS help?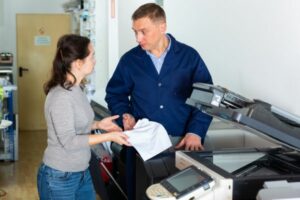 Before you take the plunge into your next MFD device, there are factors to consider, and BDS can help you determine what is right for you. If you need to focus on print volume, print speed, black and white, or color, BDS is here to help achieve your business goals.
With BDS, you will receive the best service in the industry from when you place a service call to when we get a technician at your location. We pride ourselves on going above and beyond to ensure your satisfaction with our partnership.
Are you ready to get started on your MFD lease? If so, request a quote today, and we will connect you with a BDS associate within the next 48 hours! Did you know we are on Facebook, LinkedIn, YouTube, and TikTok? Join the conversation by following and sharing our pages!