There are many types of paper, each with its weight, size, and texture. Every print project should consider the weight of the paper, as it increases the final product's quality, feel, and look.
Low toner, runouts, paper jams, and improper alignment are commonly blamed for poor print quality. The wrong paper weight is one factor that most people overlook.
Paper can be used in various ways and be versatile and confusing simultaneously. Choosing the right paper for your needs depends on the print output. There are several factors to consider when choosing paper on a commercial level.
How is paper weight measured?
In the United States, paper weight is measured in three ways: basis, metric, and points (or mils weight).
U.S. Basis Weight. The weight is determined before the paper is cut to its final size, such as letter or legal. This is defined as the weight of 500 sheets of paper uncut.
Metric weight. The mass of a single sheet of paper that has been divided into a 1 meter by 1-meter square. Always weigh the same size sheet to determine the paper's weight and thickness. Metric weights use GSM or grams per square meter.
Mil Weight. A paper's weight can be measured using the points or mil system. Calipers are used to measure the exact thickness of one sheet.
Printing paper types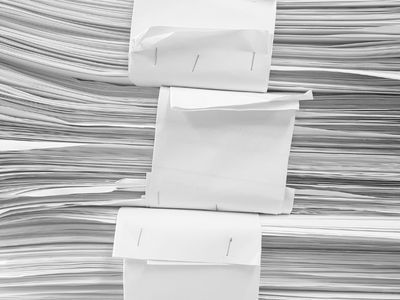 Many different types and paperweights are available in today's commercial printing industry. You can choose from various options, from essential Bonds and Books to Indexes, Covers, and Text papers.
Bond paper

Bond paper is the most common type of paper for copiers and printers. It can be purchased in different weights: 16, 20, 24, 28, 32, and 36 pounds. 20 or 24-lb bond paper is commonly used in offices.

Bond paper is commonly used for reports, presentations, proposals, flyers, and resumes. The paper is labeled multipurpose. It can be used for everyday printing tasks in office settings. This includes both laser and inkjet printers.

Book paper

Like its name, it is commonly used for printing books, booklets, catalogs, magazines, and posters. Different weights include 30 to 115 pounds. Papers in this category are coated and uncoated.

Cover paper 

Business cards, menus, cards, postcards, and invitations are often made from cover paper, also known as cardstock or cover stock. The weight of the cover paper varies from 60 pounds to 120 pounds.

You can feed cover paper through your commercial multifunction device when your print settings are set correctly. Cover paper has various finishes: uncoated, matte/dull, and glossy.

Index paper 

It's mainly used for index cards, as its name suggests. Among its many uses are postcards, tabs, dividers, and manila folders. Weights range from 90 to 140 pounds.

Text paper 

Text paper is used in commercial printing and is superior to bond paper. You can choose from 50, 60, 70, 80, or 100 pounds of text weight.

The finish of text paper varies from uncoated to matte/dull to glossy.
Your copier/printer must be capable of handling the paper thickness you desire. Desktop printers usually cannot process more than 80 pounds of cover. However, a multifunction copier with a bypass tray can handle up to 100 pounds or more.
Paper weight considerations:
Not all printers are created equal when it comes to paper settings. Heavy paper weights require the correct settings to ensure proper printer operation when properly loading the paper and configuring the machine. Incorrect configuration can lead to the following problems:
In a printer, speed and charge are adjusted based on the weight of the paper. Print speed may be affected if the paper weight setting is incorrect. This can cause the paper to skew, slip, misfeed, jam, image quality issues, or rapid wear due to internal mechanics.
Weighted paper fuses at a higher temperature. The toner needs more heat to bond properly with the paper if the paper type has more mass. Smearing or rub-off can occur when the weight setting is incorrect.
When applied to different paper weights, toner can be deposited differently. The wrong tray settings can result in mottled prints, deletions, poor print resolution, or light or dark prints.
Paper weight: what you need to know
Modern multifunction printers can work with a range of paper weights. However, most cannot print at high quality with all weights. The printing device and the type of print job will significantly impact the final product.
The most common paper in offices is bond paper, which weighs 20 pounds. This paper is ideal for copy machines, fax machines, and standard printers. Bond paper is lightweight, making it jam-resistant and economical to purchase.
Bond paper is highly flexible, allowing it to be used with various machines. Typical uses of a printer include a high-volume print job, a fax, or an everyday print job. Examples of the latter include an email or a document for storage.
High-end multifunction devices and inkjet/laser printers use mid-range paper weights. Heavy paper weights are more versatile, less translucent, and have a smoother finish. Printing business proposals, presentations, and direct mailers (such as brochures) often use mid-range paper weights.
Lastly, papers with the heaviest weights are best suited for commercial printers and specific inkjet/laser printers. These sturdy papers offer the smoothest finishes, the clearest colors, and the most significant resistance to translucency. In addition to signs, flyers, and presentation materials, heavy paper is also utilized as cover material for books (book covers).
Do you still have questions? Let's talk about printing.
Knowing your paper weight will ultimately help you produce a more impressive, durable, and high-quality printed product. Each paper weight has its specialized uses in printing.
Do you have questions about the paper weight for your printing project? We can help you decide which type of paper would work best. We are always happy to lend our experience to clients with offices in New England and Florida.