Is your small business heavily reliant on the ability to print, copy, scan or fax efficiently on demand?
These cutting-edge office machines are expensive – ranging from a few thousand to more than $10,000 for an outright purchase, and small businesses need help to afford such an investment.
Printer leasing is a great option for small businesses.
The initial investment also doesn't consider the collateral costs of owning the machine, such as the cost of printer toner, paper, and repairs.
By leasing copiers for small businesses through BDS, you can save thousands of dollars and get newer, more efficient equipment with a long-term return on investment.
Our article will outline the leasing service benefits for small businesses. You can get considerable perks, reduce upfront costs, and cut unnecessary equipment costs and commitments associated with purchasing a copier.
Please note that this article is intended for small-sized businesses with fewer than 30 employees. Is your company larger than 30 employees? View our original article on Business Printer Leases here.
Office printer lease terms for small businesses can include:
Providers of managed print services
Reduced printer costs
Services in Information Technology
Access to print technicians immediately
Subscriptions for ink, toner, and paper
Print maintenance packages
Small businesses should consider these factors.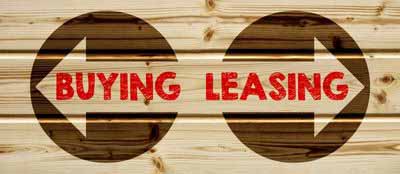 Costs associated with leasing a copy machine
Monthly spending and average costs
How to choose the right lease type
The lease options
How many printers do you need?
Office copier leases are flexible
Location of the print leasing company
NPS rating of customer service
An option to buy is included in the lease
Benefits of printer leasing for small businesses.
Small businesses can benefit significantly from leasing print equipment. You can stay on top of technology with leasing, offering better reliability, higher uptimes, increased productivity, and expert technical support.
Rapidly expand or reduce your printer fleet.
Enhanced data protection and security with constant updates, patches, and authentication controls.
Reduced downtime through improved maintenance.
Efficient, streamlined workflows.
Estimated monthly payments allow you to budget.
By automating the purchase of necessary supplies, leasing a machine can help reduce printing costs and improve transparency.
Seven questions to ask yourself when choosing a printer lease for your small business:
Will I need to print in color and black and white?
Laser Printer versus Inkjet Printers.
How do I choose a printer? Do you prefer a desktop or multifunction machine that can print, copy, scan, and fax?
What is your office's printing habits? Do you need a high-volume page-per-minute printer?
What type and size of paper do you need on demand? Learn about A4 versus A3 printers.
Is stapling and booklet printing something you need?
How many printers do we need to lease?
Choosing the right copier, printer, or multifunction machine for a small business can be challenging. It may take hours to read customer reviews to determine which copier model will last the longest and provide the most value when you have a limited budget. Let us help and request a quote!
What should you look for when choosing a printer leasing company?
Get quotes from reputable print copier leasing companies for the best lease terms. Choosing the wrong managed print provider could result in hidden fees, inflated end-of-term renewals, and the wrong technology solutions.
In addition, depending on your industry, you may need to lease production printers, wide format, commercial, or even mail solutions such as postage meters.
3 Last things to consider when you are ready to lease a printer for your small business.
1. My local printer leasing companies

If your print provider is near you, your customer service response time and availability will be reduced. Similarly, location can affect how paper, ink, and toner are delivered.

2. Customer service and availability

Your business relies on print lease providers. The ability to reach them and their willingness to help is vital. The right print provider can communicate effectively, listen to your concerns, and respond quickly.

3. Assurance of trustworthiness

Make sure the company will be there when you need them. Look at customer reviews and recommendations to see what others say about the company. Choose a print provider who provides guarantees or guarantees to prove its reliability.
Are you ready to lease a printer for your small business?
Consider printer leasing if you are spending too much on your office technology, so you can bring your fleet up to date, manage it, and expand your resources for increased productivity, functionality, and cost savings.
BDS has been supplying small and medium-sized businesses with the highest quality print equipment – and service – for over 40 years. To schedule a consultation, call (800) 616-8576 or fill out the form below.