Do you know the difference between an A3 vs. an A4 printer?
This is the third article in our A4 and A3 printing series.
When buying an A4 or A3 multifunction printer, it can be overwhelming to choose. We aim to answer these frequently asked questions when buying or leasing a new A3 or A4 printer.
Let's start with the basics of A3 Devices
A3 machines can print large images and documents up to 11" X 17" inches, also known as tabloid size. With an A3 MFP (Multifunction printer copier), you can print, copy, scan, and fax large images and documents on a variety of paper sizes, including A3, A4, US Letter, legal size paper, tabloid/ledger, and even envelopes.

Paper size is often an essential factor when choosing a printer or copier, and paper for A3 printers differs from paper for A4 printers.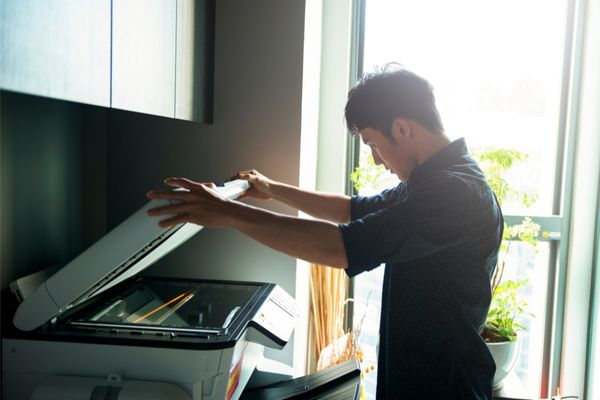 A3 Printer Benefits
A3 Printers can print large documents, such as posters, promotional displays, construction plans, etc.
Duplex printing on A3 paper with a resolution of up to 1200X2400 DPI.
All-in-one functionality – The printer can fax, copy, and print.
Printers can handle high-volume printing with faster page per minute.
Allow for advanced finishing options, including folder, stapling, and hole punching.
A3 things to consider before purchasing
Generally, A3 sizes are larger than A4 sizes, and you should ensure you have enough office space for them.
A3 sizes can have a higher total cost of ownership due to paper, ink, and toner.
Next, let's learn about A4 devices
A4 printers are the most commonly found in small and home offices due to their size and price point. Often smaller than an A3 printer, an A4 can handle smaller paper sizes, such as A4 and US letter-sized paper (8.5 x 11).
***It's important to note that you cannot print on A3-sized paper, ledger paper, or tabloid paper on A4 printers.***
A4 Printer Benefits
A4 MFPs cost about half as much as A3, allowing you to invest more in your business.
There is less space required for the A4 MFP compared to the A3, so small businesses, home offices, and small teams may find it easier to accommodate.
Your print shop offers various consumables, such as paper, ink, and other items.
A4 things to consider before purchasing
Look for an A3 printer if you need advanced finishing capabilities like punching, stapling, or other options.
The A4 printer cannot print on sizes larger than A4 and US/letter.
The A4 device often cannot scan both sides of a document due to its slow dual-scanning capabilities.
The key differences between an A3 and an A4 printer
When choosing between an A3 and an A4 printer, cost, volume, speed, features, and your team's needs in the long run are.
Printer Costs
Buying or leasing an A3 or A4 device requires calculating the total cost of ownership, and maintenance and supply costs should be considered along with the upfront cost of a machine. A4 paper, toner, ink, and other printer supplies are much more common at your local print store. Do you need help choosing between leasing and buying? Click here to read our article.
Print Volume
Depending on how frequently and for how long you plan to copy, the type of copier machine you select will influence costs significantly. A3 is better suited to organizations with high print volumes and special print needs, while A4 is better suited to organizations with low print volumes.
Print Speed
Many factors affect print speed beyond the difference between A3 and A4 devices. The A3 printer can handle several paper sizes and typically prints more pages per minute (ppm) than an A4.
Abilities & Features
Despite A4's fewer finishing options, both can serve as Multifunction printers that can print, copy, scan, and fax.
With their intuitive tablet-like interfaces and several applications, A3s offer various features. Higher-priced A4s can have a tablet touchscreen, while lower-priced ones have a control panel with buttons, which is most prevalent in homes.
We know print security is at the top of everyone's mind today. Depending on security needs, you will want to check out each brand and manufacturer to see what comes standard. Learn  5 Vital Tips to Ensure Secure Printing. Most home A4 printers do not provide a secure printing environment for printing, scanning, and faxing.
Print Environment
Due to their ability to print on a variety of paper sizes, A3 copiers are larger than A4 copiers. Considering the smaller size and compact design of A4 copiers, they are ideal for offices with limited open spaces.
Looking for the best printer for your office?
It can take time to choose a new printer for your organization. It is essential to consider many factors when selecting the right printer copier, whether an A4 printer or an A3. BDS is here to help! Our experienced team can walk through your current space and discuss your needs, wants, and concerns if you still need to decide which copier is right for you. To schedule a consultation, call (800) 616-8576 or fill out the form below.