Do you need to print a booklet and aren't sure where to start? Printing a booklet is necessary for most businesses looking to create printed marketing materials or any other business needs. There are a few things to keep in mind before printing that will set you up for success down the road when it comes to printing.
What is booklet printing?
Booklet printing is simple, as the process involves printing multiple-page documents as a Booklet. Many businesses will utilize a print booklet for marketing materials, human resources, or other internal necessities. They are used in educational spaces as well.
The biggest thing to consider when printing is whether your printer can print it in the format you want. Furthermore, you can print your booklet on a few different platforms, including Adobe Acrobat Reader, Microsoft Word, and more!
Ensuring that your printer supports automatic or manual duplex printing can also be helpful, ensuring that you can print on both sides of the paper, as you would with a book. Keeping these tips in mind can help you become better prepared before printing, as it can be an overwhelming experience if you are unsure.
Things to consider prior to printing: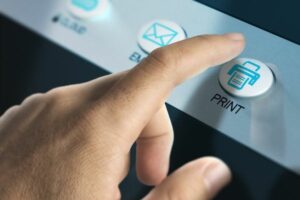 When printing a booklet, you should focus on your intent for creating one. Are you printing this booklet for an event, marketing, or creative purposes? Figuring out this prior will help, as many of the platforms that include booklet printing have different templates to help you achieve your goal.
For instance, with Microsoft Word, there is an option to print in a book fold layout setting which creates a conventional booklet feel, listing each page in the correct order. It is also worth considering the paper material you will be printing with before printing your booklet. Some printers can only print with a specific type of paper; typically, thicker paper/material will require extra steps.
Suppose you are still determining whether the material you will be printing is suitable for your printer. You can always check the manufacturer's manual to see if the material is compatible with that specific printer. Furthermore, conducting further research with a trusted, reputable printing company like BDS never hurts!
What are the methods?
As we have mentioned, there are different programs you can use to print your booklets that will each provide different outcomes. Below, we will explore one of the most popular systems utilized for booklet printing and show how to use them for successful booklet printing.
These lists are not as exhaustive as the options available. So, if you do not see a program you use below and still have questions, please reach out to BDS for support, and we can help walk you through the process!
Microsoft Word:
Many thriving businesses utilize Microsoft office services for their printing and document needs, meaning this will be the most popular platform your business will be working with.
To create a booklet, you can:
Go to the Layout section on Word and select the page setup button.
Change the setting under the margins tab from multiple pages to book fold. (Note, it will automatically adjust to Landscape).
Increase the Gutter value to save space inside your booklet for any binding or folding you plan to do.
Go to the paper tab at the top of Word and select the appropriate paper size for your tray.
Click file and print.
If your printer can print on one side or both, click the option that meets your printer needs.
From there, you can print to finalize!
Final considerations:
Choosing your booklet paper size can also be confusing if it is your first-time printing. In general, the landscape formatting complements booklets best, but you do have portrait mode available. In general, the landscape format tends to be larger.
In terms of material available to print on, the most common paper finishes are gloss, matte, and uncoated. These materials tend to be a bit pricier, so be wary of that before printing. Generally, standard options are better if you are looking for budget-friendly options.
Are you looking for a printer to print and bind your booklets? BDS is an authorized reseller of Kyocera, Xerox, Canon, and more office equipment. Fill out a quote today to get started with your booklet printing!