If you are looking for high-quality, reliable, and optimal A4 printing services, look no further than BDS. We can assist you with your A4 printing needs with many resources and tools available. We can supply you with supply replenishment, printers, and more to help you optimize your document printing in the best way possible!
Supply replenishment
To print A4 documents, you will specifically need A4 printer paper. BDS can help ensure that you always have A4 printer paper on deck, so when your paper supply begins to get low, you do not have to worry about running to the nearest print shop to get your supplies. You slow down workflows and overall business operations when you wait till the last minute to get your printer paper. You can avoid this by being prepared.
Furthermore, whether you are printing in A4 or other file types, you will need ink for your prints. Whether black and white or color ink, BDS has you covered. Our high-quality ink will help your documents stand out with crisp detail and vibrant colors. We provide ink compatible with major printer brands, including Kyocera, Xerox, Ricoh, HP, and more.
Did you know that BDS can monitor your ink and paper levels remotely? In fact, all it takes is our team of expert service technicians to come into your environment to assess and implement the proper technology to monitor your levels. With our monitoring service, you do not have to worry about setting a timer or creating a schedule to ensure you remember to get more supplies. We can do it for you!
Maintenance services for A4 printers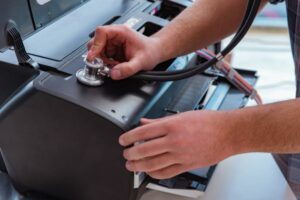 Like all printers, A4 printers will work optimally with proper maintenance and service. When investing in these devices, you will want to ensure that you follow a strict maintenance schedule. This maintenance schedule can include monitoring ink levels, print audits, and more. Doing so will guarantee sustainable success for your machine.
Many printer problems businesses run into can be chalked up to poor maintenance. Whether it is printer paper jams, ink smudges, or more severe malfunctions with your device, you typically can avoid this by staying on schedule. As busy professionals, we understand that you may need more time and resources to plan your maintenance schedule. That is why BDS is here to help!
We can create a schedule for monitoring your device, ensuring all the necessary services are conducted in the comfort of your office. Furthermore, if you decide to lease your device with BDS, we will install maintenance services all within your one monthly payment. With our help, your A4 documents will be looking good as new in no time!
Furthermore, if you begin to experience a more significant issue with your printing device, paper, or ink, BDS can be at your office in record time to assess and fix the problem. Our expert technicians are quick and efficient. They will have your printer up and running in no time, so you can get back to printing and sharing those important documents.
A4 printers at an affordable price
BDS has you covered with the best A4 printers on the market! Whether you are looking for a simpler A4 printer or a more advanced one, we can help! Our experts can help you find the best printer that will work for your specific office. We have experience assisting both large and small businesses, so we are keen on the common issues that face both types.
A wonderful thing about BDS, your local print partner, is that we offer affordable financing options for local New England and Florida businesses. Whether you want to own your next printer or lease it, we have options! Our certified preowned equipment is put through a rigorous process to ensure it performs at the highest level possible. This is a perfect option for businesses who know precisely the type of A4 printer that will guarantee success for their business and be able to adapt as they grow.
In contrast, printer leasing offers flexible terms and payment options. We find incredible for small businesses or businesses just getting started. Leasing could be a perfect option due to the flexibility, cost, and ability to upgrade as you grow. We pride ourselves on providing you with the most affordable printing options. Request a quote today, and we will connect you with a BDS representative within the next 48 hours (about two days).
Follow us on Facebook, LinkedIn, TikTok, and YouTube to stay updated on the latest industry news.