Canon Commercial Printers
Commercial printers from Canon cater to businesses and professionals.
The Canon commercial line of printers offers solutions for businesses of all sizes, from entry-level models to high-end multifunction printers.
With Canon's commercial printers, you can choose the model most closely fits your needs and budget within each series.
To meet the demands of high productivity businesses, they often boast advanced connectivity, cloud printing, energy savings, and enhanced security features.
Eliminate concerns about printer downtime with BDS. As an authorized Canon Reseller, we offer comprehensive copier installation, training, and continuous assistance for Canon commercial printers.
We provide customized commercial printer leasing options to cater to businesses of varying sizes. Our extensive range of models and features empowers companies to discover the ideal solution that perfectly aligns with their requirements.
Canon imageRUNNER ADVANCE Series:
These multifunction printers are designed for high-volume office environments. They offer features like advanced scanning, document management, security, and integration with various business applications.
Canon imagePRESS Series:
These digital production printers are designed for commercial printing operations. They can handle high volumes of printing with excellent image quality and advanced finishing options.
Canon imagePROGRAF Series:
These are large format printers designed for professionals in fields like architecture, engineering, and graphic design. They produce high-quality prints with precise color accuracy.
Canon varioPRINT Series:
These are high-speed, high-volume digital production printers suitable for commercial printing and publishing. They are known for their reliability and quality in large-scale print environments.
Canon imageCLASS Series:
Canon imageCLASS is a brand of laser and multifunction printers designed primarily for small offices, home offices, and businesses with moderate printing needs. These printers are known for their reliability, efficiency, and versatile features.
Enhancing Productivity:
Canon's commercial printers are at the forefront of efficiency. Tailored to address businesses' multifaceted and rigorous demands, these printers encompass many features and functionalities. These features enable organizations to optimize document management workflows, boost productivity, and uphold exceptional quality standards for printed materials.
Dependability:
Canon copier printers have earned a distinguished reputation for consistent and dependable performance. Whether managing large document workloads or intricate graphic tasks, these printers consistently produce crisp, vibrant, and polished results. This trustworthiness is crucial to upholding company communications, marketing collateral, and official documentation.
Data Security:
In an age defined by heightened apprehensions regarding data breaches and unauthorized entry, Canon has proactively taken measures by incorporating cutting-edge security elements to safeguard sensitive information. Through encryption, user authentication protocols, and secure printing alternatives, Canon ensures the robust protection of confidential documents, thereby reinforcing the reliability of their systems.
Why Choose BDS for Your Canon Printing Needs?
When you choose BDS for your Canon commercial printers, you can expect a collaborative and supportive partnership. This partnership is supported by expert technicians who troubleshoot issues if they arise.
BDS takes pride in providing regular maintenance and support to help you get the most out of your Canon commercial printers. Our partnership ensures your business runs smoothly and your investment is protected.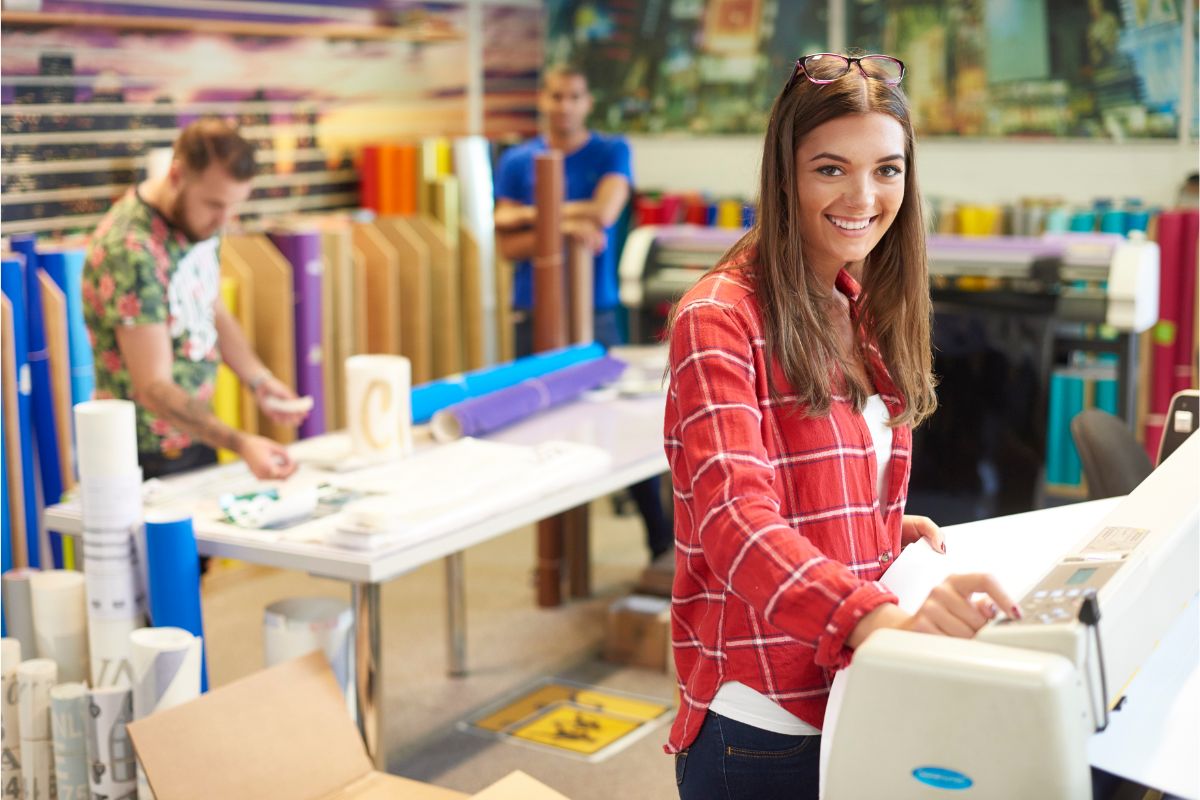 Canon commercial printers excel in high productivity environments through a combination of advanced features, robust design, and efficient performance.
Canon's commercial printers guarantee the security of document management and printing procedures. Engineered to protect sensitive data, deter unauthorized access, and uphold strict compliance with regulations, these printers come equipped with robust security measures.
Canon commercial printers are designed to print at exceptionally high speeds, enabling them to handle large volumes of documents quickly. This is essential in high productivity environments where time is of the essence.
Ready to get started? Get a Quote
Businesses have unique needs, and we work closely with you to find a solution that optimizes your document workflow, enhances productivity, and reduces costs. Our expertise extends beyond hardware to encompass software integration and managed print services.
Benefits of the Canon Multifunction Printers
Canon multifunction printers offer printing, scanning, copying, and faxing features to keep your business running smoothly.
Why should you lease a canon printer?
Business owners can reduce their costs by leasing Canon multifunction printers/copiers (MFPs).
Why you should work with a Canon authorized dealer?
With BDS, you'll find Canon business printers, copiers, and multifunction devices for your business needs.