I'm looking for an authorized Canon dealer near me
Look no further! BDS is an authorized Canon dealer, which means we offer a range of Canon business printers, copiers, and multifunction devices ready to help serve your business. Canon printers and copiers can elevate your business to the next level with the ability to print, scan, copy, and fax through your Canon Business equipment.
Canon has gained a powerful reputation for being one of the world's leading printer brands, as they boast high graphics, precision on color printing, and more! These, and many other features, set them apart from competitors when it comes to printing in an office environment.
Still, you may need some convincing to get on board with leasing a Canon printer with BDS. We are here to help you understand the level of elevation you will bring to your business when you invest in a Canon product with BDS.
Why Canon?
Aside from a stellar reputation for handling extensive demands at incredible speeds, Canon has many attributes that make it a more attractive brand to partner with over competitors in the industry.
Superior world-class service
Who wants to waste their time working with a brand or authorized seller that does not prioritize high-quality service? It is the most crucial factor to consider before signing the dotted line to lease new office equipment. Canon understands this and consistently ensures that all authorized dealers of Canon products meet a particular service criterion.
Canon is invested in its brand of world-class service, and dealers selling their products know that quick response times, high-quality service, and professionalism are key attributes to conducting business as a canon-authorized seller.
Reliability
You may quickly search the internet and find listings for the same canon products authorized dealers sell at a way lower price. We understand that purchasers will likely go with the cheaper option available. However, you should refrain from purchasing a device at a lower price that is not sold through an authorized dealer.
The reason we, and Canon, recommended only purchasing with an authorized seller of Canon products is that there is a chance of you becoming disappointed in your purchase from other places. When you buy Canon equipment from anyone other than an authorized dealer, there's little control from Canon or the seller regarding how the product is sold, including condition, missing software, and fake warranty.
When purchasing Canon products with an authorized dealer like BDS, you receive guaranteed service and warranty signed in your contract. This provides a certain level of comfort and stability you will not otherwise experience when purchasing from a third party.
Why should I choose BDS for my Canon office solutions?
BDS has everything you need for successful office solutions. From the first time you meet with a sales specialist to meeting with our service technician, BDS prides itself on stellar customer service. This is the foundation of our success and remains our number one priority.
We want you to be satisfied with your investment as a BDS print partner, so we ensure we can meet your unique business needs. We have experience partnering with many industries, including accounting and finance, education, nonprofit, healthcare, government, and more. Our work with these diverse industries helps us address your industry's unique challenges and offer solutions to approach those rough patches.
Furthermore, all of the BDS team members are knowledgeable about Canon equipment. When you partner with BDS, you can trust that you will receive the best advice and training on the products most appropriate for your business needs.
Service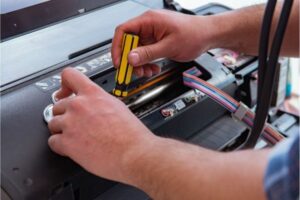 Our service also puts us ahead of competitors when partnering with the best printing companies. We have over 40 years of experience serving the local New England and Florida communities, with an NPS score of 92.6 based on customer satisfaction and loyalty to the company.
Aside from our awesome customers and partners, our service technicians are the stars of the show at BDS. Our technicians utilize the best training with the tools and resources available to provide optimal service with your equipment. Did you know that once you fill out a service request form we can get a technician to your office within 2-3 business hours? This speedy service will allow you to get your business up and running again in no time.
Whether you need to order supplies, service, or just have a general question about your office equipment, BDS is here to help. To stay updated on everything BDS and industry news, follow us on our Facebook, LinkedIn, and YouTube pages!