Are you in New England and Florida and looking for a commercial printer? Consider BDS commercial printer rental for your office! Our high-volume commercial printers are the perfect addition to your office, with low to no upfront cost. BDS is the top of our class, with superior customer service to match our high-quality solutions and products.

VIDEO: Commercial printer rental in Massachusetts
What is a commercial printer?
In contrast to more traditional models like the office printer, a commercial printer is a larger industrial printer that delivers maximum speed and efficiency. For reference, you can expect print speeds up to 75 PPM (pages per minute) with a commercial printer, which is way above the printing standard. If you work in a busy industry with high-volume printing needs, this printer is a fantastic option for your office.
Not all commercial printers are created equal, and finding the right one for your office will require some extra work. It would help if you first determined the frequency of how much you print per week. If you are not printing at a high frequency, better and more affordable options may be available. In contrast, if you print frequently, you are better off investing in a commercial printer for your printing needs.
This is not a perfect science; sometimes, you need a second opinion on which model is right for you. BDS can help with this process. We can help you walk through your options. With the best technology brands in the world at your fingertips, we guarantee we will find the best model for your printing needs.
Commercial printer lease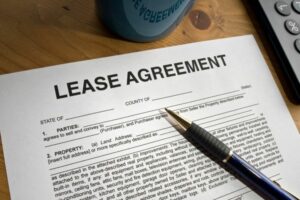 When you invest in a commercial printer, you typically have two options. One is to purchase your commercial printer. The other option is to lease your next commercial printer. We find that the second option is the best option for most offices. Here is why:
Flexible payments: When you purchase a printer outright, you may spend more upfront than when you lease. Furthermore, maintenance costs and supplies add up. When you own a printer, you are solely responsible for this. When you lease, you can pick flexible payment plans that work for you. You can receive top-of-the-line equipment and maintenance repairs included in one low monthly payment.
Flexible lease terms: Whether you require a 12, 24, or 36-month lease, BDS has the most flexible lease terms available! Some businesses prefer longer leases, while others prefer shorter leases. BDS has found a way to create the most flexible lease terms that will truly benefit your office and your wallet.
Upgrade conveniently: A wide variety of commercial printers are available, and as you begin to grow and expand, so may your need for new equipment. We want to accommodate those needs, so we have created upgrade options for our printer leases. You do not have to worry about penalties or hidden fees for upgrading your equipment. We make the process as simple and transparent as possible.
Leasing your next commercial printer is an excellent choice for large and small businesses. Many businesses of all different shapes, sizes, and industries are taking advantage of the BDS leasing program. Furthermore, when you lease your commercial printer with BDS, you receive our preventative maintenance program.
This program involves creating a schedule specifically for your device to ensure it continues running smoothly. Maintenance is critical to any printing device, and BDS takes liberty in creating the best schedule and cost-effective preventative option for your equipment.
All-star service from your local print partner
Leasing your commercial printer with BDS is different from any other leasing company. We are not solely concerned with making a sale and providing you with any random device. We take the time to ensure we provide equipment and solutions that will upgrade your print infrastructure. Our customized solutions are like no other. Our technicians go the extra mile to understand better your current print environment, industry challenges, and future growth.
BDS's hands-on approach is rare in this industry. With a 92.6 NPS (Net Promoter Score), BDS scores above the industry average and strives for perfection. Additionally, as certified resellers of Kyocera, Xerox, Ricoh, HP, and Canon office products, we can provide you with the best equipment and service.
As certified resellers, our technicians are trained to service and maintain equipment from the most popular brands in the world. Every printer is unique from different brands and models. Having technicians who know your device's ins and outs is a great relief for businesses.
Sign your commercial printer rental with BDS, today!
Are you ready to get started with your next commercial printer rental? Request a quote with BDS today, and we will contact you within the next 48 hours! Follow us on our LinkedIn, Facebook, TikTok, Instagram, and YouTube to stay updated on industry news and trends.