Note: Not sure what commercial printing is? Read our first article in this series.
A high-volume commercial printer delivers maximum productivity and high-speed performance, with print speeds of up to 75 pages per minute.
Businesses typically use high-volume commercial printers for printing large quantities of different types of documents on a regular basis, such as marketing materials, manuals, and reports. Various paper sizes and landscape and portrait paper configurations are available on high-volume commercial printers.
Which Features do Commercial Printers Have?
High-volume commercial printers with a high capacity are designed to meet the needs of busy workplaces because of their durability, dependability, and low cost-per-page. They come with an immense number of features to ease the burden of your office tasks.
Speed
Depending on the model, high volume printers can deliver documents quickly at speeds up to 75 pages per minute.
High Quality and High Capacity
Your documents will look crisp and clean with high-resolution images produced by high-volume color laser printers.
Advanced Technology
In addition to their high capacity, our office printers are cloud-connected, wi-fi mobile-ready, and app-enabled, giving you the flexibility to print virtually anywhere.
Print on different sizes and weights of paper
Commercial printers have the advantage of being versatile. Printing can be done on a variety of paper weights, coated or uncoated, and card stocks.
Printing, Scanning, and Copying All in One
Multifunction laser printers feature scanners that make scanning, copying, and duplex printing documents simple. Faxes are even available on some models.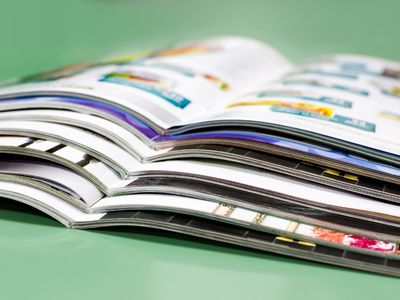 What is high-volume printing?
The term "high volume printing" refers to printing large quantities of items, such as fliers, documents, marketing materials, brochures, or anything else you might require. It is not only about the amount but also the speed at which you need the printing done. You can get high-quality prints quickly when you have a high-volume printer in-house.
What is the difference between black and white and high-speed color printers?
Depending on your business's needs you can choose a monochrome printer (Black & White) or one with color options. When choosing, remember to consider the long-term printing goals of your business.
For example, a commercial printer specializing in printing flyers, color photos, and brochures will likely use a high-volume color commercial printer versus a monochrome printer for business documents.
Using an inkjet printer vs. a laser printing:
Inkjet printers use ink cartridges, while laser printers use toner cartridges. The printing type affects a printer's performance, cost, and overall output.
Large-volume printers use toners, while low-volume printers use inkjets. The inkjet printer is usually found in home offices, while the laser printer is increasingly popular in business settings.
Inkjets and laser printers also have a different startup and operational costs. Inkjet printers are typically less expensive than laser printers upfront. Due to a superior page yield and monthly duty cycle, laser printers are usually more economical to operate long-term.
How will my business benefit from a High Volume Printer?
A high-volume commercial printer can be beneficial to many enterprises level and medium-sized to small business offices. High-speed 70, 80, 105, and 120 ppm systems offer excellent image quality for on-demand environments. You won't have to wait for the printer anymore.
Among the features of these devices are:
Handling of air-fed paper
Fax, print, scan, and copy at high speeds
Production of booklets
Integration of cloud applications
Touchscreen display with a user-friendly interface
Consistency system for color
Optional advanced security features
High-capacity document feeder
Commercial printers can print anything and everything. Learn more about a4 versus a3.
How to Choose the Right Commercial Printer?
Each business is different and requires distinct commercial office machine requirements. A print solutions expert can help you decide the best printer system for your business.
Consider these four factors as well as your industry's guidelines:
How many sheets do you print per week? If the number is higher, you might need a larger device.
Choosing a copier that fits within your budget doesn't mean sacrificing quality. There are many options available on the market.
Do you prefer to lease or buy? A print services provider can help you find the correct commercial printer for your business.
Will you be printing in color or black and white? Consider how often your office uses color ink. Does the same document still work in black and white without compromising quality?
What is the cost of a large-capacity print device?
A commercial copy machine's cost is affected by several factors, such as its quality, printing speed, faxing capabilities, and other advanced finishing features like scanning and stapling. Typical high-volume commercial photocopiers start at $3,000, with higher-quality models going up to $16,000. Your business needs will determine how much you spend on a commercial copy machine.
Other costs associated with your copier:
Lease costs
Subscriptions for toner, staples, paper
Repairs and service agreements
Managed Print Services
Need more info on High-volume commercial printing?
Does your business have high-volume printing needs? If so, a commercial printing system will help! With over 3,000,000 in inventory, BDS can help you find the best printer copier for your industry-focused business.