Offset printing involves transferring an image from a large printing plate onto a rubber blanket, then onto a printing surface.
Commercial offset printers are a cost-effective printing production method for bulk and high-volume materials. Commercial offset printers produce specialty items like catalogs, brochures, newspapers, magazines, and packaging.
Due to its relatively low costs, offset printing has quickly become one of the most popular printing methods for business printing. For companies who bulk print, offset printing produces high-quality prints and products at a lower price per item cost point.
Offset printing presses have several coating options
Commercial offset printers offer a variety of finishing options to enhance your prints. The use of varnishes and aqueous coatings, specialty inks, embossing and debossing, bindery, and other effects can enhance your project and marketing materials.
What types of items are printed using offset?
Several items can be printed using offset printing, including books, catalogs, brochures, stationery, newspapers, direct mail advertising, and envelopes. These affordable print jobs require a relatively high-quality print at a low cost.
You can also use commercial offset printing to print images on most surfaces, including paper, wood, metal, and leather. Due to its ability to adhere to the texture of the printing surface, this rubber blanket also ensures high-quality prints on different surfaces.
Any color can be reproduced perfectly and at high quality with offset printing using the Pantone color system. Printing produced can be combined with finishing options such as cutting, folding, and perforating. Offset printers can produce more labor-intensive materials quickly and efficiently with finishing options.
Offset printing versus digital printing: What's the difference?
You may also come across commercial digital printing when looking into offset printing. Digital printing has come a long way since offset printing was considered the most reliable printing type. Digital printing now rivals offset printing in quality.
The offset printing method transfers the image area to the sheet of paper from a "plate" to a rubber blanket. In offset printing, the based ink is wet, usually based on rubber or oil.
Digital printing involves the output of electronic files in black-and-white or full color. A digital press works by applying an electrostatic charge to paper. Charges are adhered to with dry toner, either black and white or color.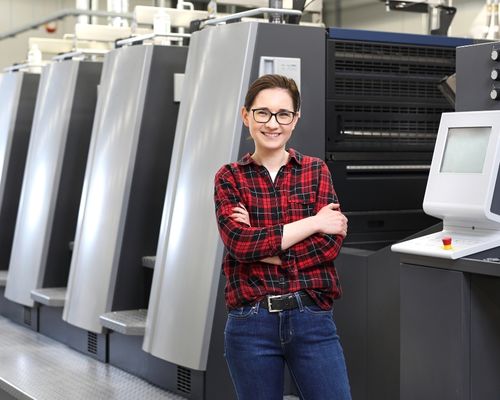 When choosing offset or digital, consider these factors:
Set up the cost for your printing project

Offset jobs have a higher start-up cost, but their cost reduces considerably with volume. When the plate is fully invested and ready to go, you will spend less on big offset jobs than digital prints. Regardless of the size of the project, digital print has the same price per piece.

Print Volume

The advantage of offset printing comes when your project is large enough to overcome the initial costs – usually over 500 pieces. Printing large quantities on offset is usually less expensive than printing on digital.

Color Quality

One of the most critical aspects of offset printing is color management. Using Pantone colors, which are pure and potent, the color is transferred onto the material of your choice and looks stunning. In contrast to CMYK, there is no mixing of colors or diluting of intensity.

Brand consistency is ensured by the Pantone® Matching System (PMS). With the PMS System, these colors are uniform, regardless of where you are, and you can reproduce them perfectly. As of now, digital printing equipment does not support this option.

Print speed

In a hurry or last-minute decision? No offset printing can be done at the last minute. Creating metal plates takes time. With digital printing technology, you can print last minute and include a proof.

Paper Sizes

There is a limit on digital print runs. Nevertheless, large-format printing is an option for digital. When comparing digital vs. offset printing, offset wins.

Paper types greater than A4 can be handled by most offset printers. Offset presses can handle much larger sizes. While digital printers are not as large as offset options, their paper measures around 20" and up to 35".

Finishing Options

Offset printing can be used on virtually any material. Offset printing can still produce excellent results when used with non-traditional materials.  Offset printing options include varnish, foil stamping, embossing, and more. The ability to die-cut, fold, and laser-cut digital machines can save time.
Why wait? Let us help you succeed with commercial printing.
With a better understanding of what commercial printing is and why it's essential, you can begin designing, printing, and distributing a wide range of products! Our team can help you create beautiful promotional materials through commercial offset printing.