Business Printers: Commercial & Office Printers
Streamline and enhance business printing processes with our printing, copying, and multifunction device selection.
Our business printers are perfect for boosting work productivity.
Your business deserves significant results. From multifunction printers to desktop business printers, BDS office printers and solutions help your team be more productive by making tasks once burdensome easier.
Businesses today need to adapt and work differently with intention. We deliver top-of-the-line performance and innovative features for high-quality prints and intuitive operation with our business printers. We are an authorized dealer for many major brands of printers, including Kyocera, Canon, Ricoh, HP, and Xerox.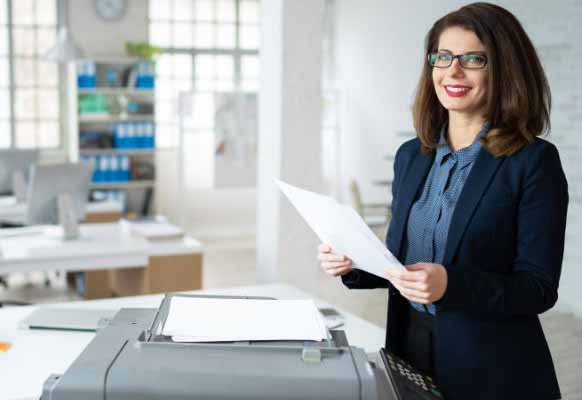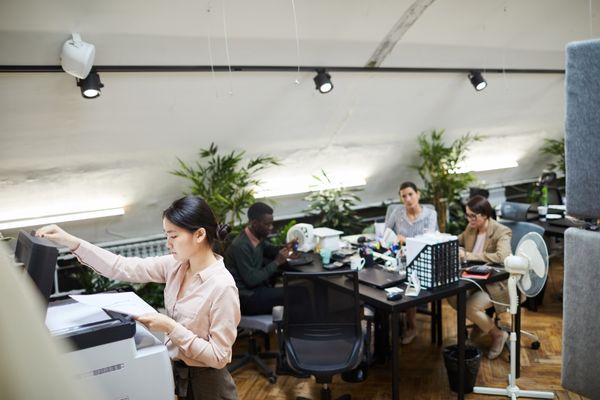 Get the most out of your business technology equipment.
If you're a business owner, you know the importance of having a printer to keep up with your busy schedule. It is even more critical to get the printer that suits your business.
BDS partners with you to assess your business requirements and recommend the best equipment based on space, functionality, features, speeds, costs, and other factors.
The Benefits of a Business Printer
An investment in your company's printers can be significant. With the right tools, work becomes more manageable. BDS Print solutions are designed to deliver performance that you don't have to think about so you can focus on what matters most.

Printing Cost-Effectively
Instead of increasing your utility bills, office printers benefit your work environment by providing an alternative to many other necessary services, including scanning, faxing, copying, and storing data. Business printers are 40-55% more efficient than non-certified models. As a result, they use less energy and provide better work experience.

Ensure High Levels of Security
Business printer tools enable you to communicate in real-time with on-premises printing and scanning. The benefit of this is that it improves turnaround times, reduces costs, and ensures that your documents remain secure and confidential. With better-controlled printer access, it is easier to control who has access to your plans and data.

BDS understands that businesses require robust printing solutions. You can achieve faster print speeds without sacrificing the quality of black-and-white or color printing with a business printer. Our color printers deliver crisp output, whether you're printing a full page or a portrait-sized one.

Colorful, intuitive, and effortless touchscreen navigation is available on office printers. The interface lets users select from various features, from printing to copying to scanning. Using Bluetooth, you can access modernized printing services on your device. By providing easy and convenient access to users, they increase productivity in the workplace.
Which is Better for my Business, Buying or Leasing a Printer?
Business printers are an essential investment for any size company. It is crucial to make it as cost-effective as possible, but at the same time, you must ensure that you invest in the right technologies to equip your employees with the tools they need to succeed. We offer several affordable purchase options in addition to flexible lease options.
Printers that are Certified Used Pre-Owned
Are you on a budget? With our high-quality service and financing terms tailored to your financial needs, you can purchase or lease previously owned equipment at an attractive price. Our Certified Pre-Owned copiers are clean inside and out, free of scratches, dents, scuffs, and dings, as much as we can make them.
Choose a Printer That Meets All of Your Needs.
Contact BDS today if you are looking for business printers in New England or Florida. You can count on us to help you weigh the pros and cons of inkjets and lasers for your business printers. We'll help you find the brand and model that offers the features and functions that will benefit your business the most based on the type of printer you need.
Our inventory includes new and used printers from all major brands, including HP, Canon, Kyocera, Ricoh, Xerox, and more. No matter your business needs, BDS can find the optimal printing machine.