Experience the epitome of high-performance printing with our Kyocera Copier models.
Whether it's producing crisp black-and-white documents or vibrant color prints, our Kyocera copiers deliver outstanding results that meet the demands of modern businesses.
Our Kyocera Business line encompasses a comprehensive range of printers, copiers, and multifunctional machines, including the renowned TASKalfa and ECOSYS series. With our fully integrated line, we provide a diverse selection of color and black-and-white multifunctional copiers, digital production systems, and wide format plotters to meet your specific requirements.
Types of Kyocera copier models we offer:

These are compact and space-saving copiers designed for personal or small office use. They are often more affordable and have lower printing speeds compared to larger models.

Also known as All-in-One (AIO) copiers, these machines combine multiple functions into a single device. They can print, copy, scan, and sometimes fax. MFPs are available in both color and black and white variants, and they are widely used in offices of all sizes.

Kyocera copiers are designed for high-volume printing and are typically used in print shops, commercial printing companies, and large corporate settings. They offer advanced features, such as high printing speeds, finishing options (stapling, booklet making, hole punching), and support for various paper sizes and types.

These copiers are specifically designed for printing large documents, such as blueprints, architectural drawings, posters, and banners. They can handle paper sizes larger than the standard letter or legal sizes.
Cutting-Edge Technology
Partnered with our cutting-edge technology, Kyocera copiers ensure your data security with features like secure printing, user authentication, and encryption. We understand the importance of keeping your sensitive information confidential throughout the printing process.
Data Security
Kyocera copier models prioritizes data security in their printing technologies. They offer features like secure printing, user authentication, and encryption to protect sensitive information. With the increasing importance of data privacy, Kyocera implements robust security measures to ensure that documents remain confidential throughout the printing process.
Sustainability
Kyocera ECOSYS and TASKalfa series focuses on environmental sustainability and cost-efficiency. With long-life components and energy-saving technologies, these copiers offer reduced operational expenses without compromising performance.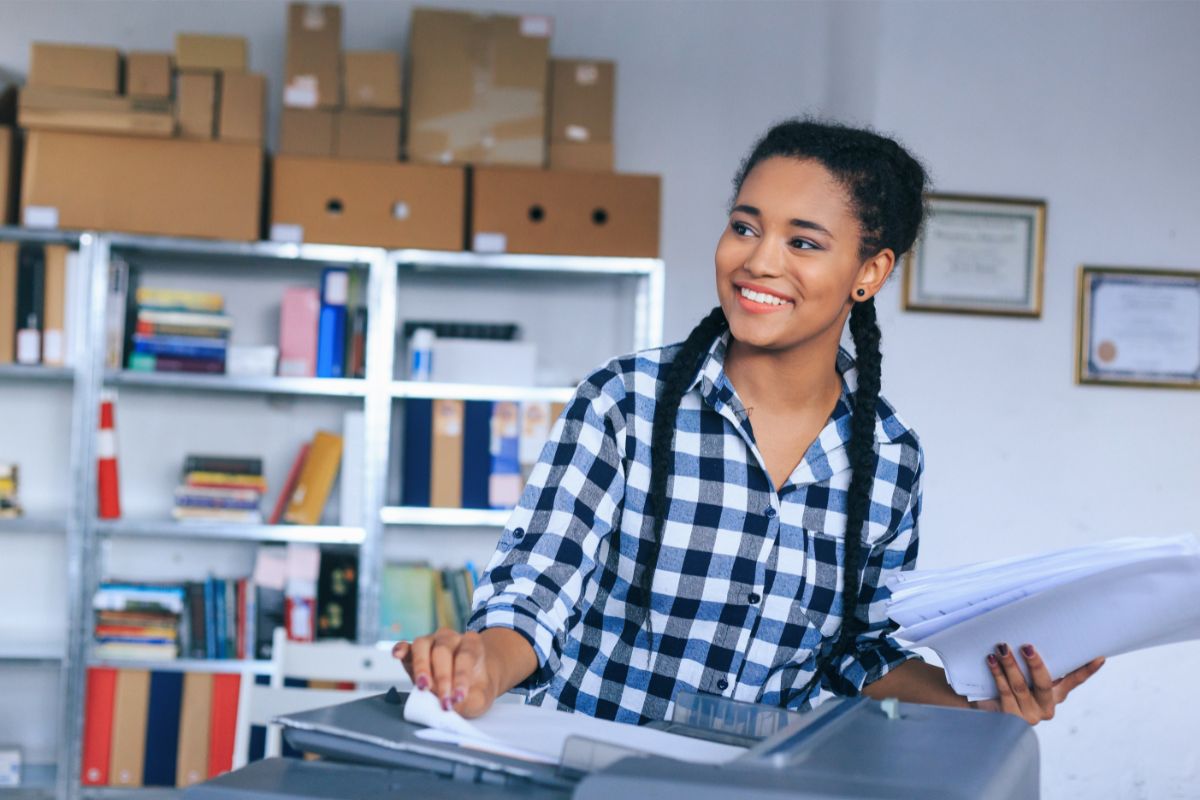 Whether you operate a small office, a busy workgroup, or a high-volume production facility, we have a Kyocera Copier model tailored to meet your specific needs.
From compact desktop copiers suitable for personal or small office use to robust multifunctional copiers designed for medium to large workgroups, each Kyocera model offers distinct features and capabilities. We consider factors such as printing speed, image quality, paper handling options, and connectivity to deliver copiers that seamlessly integrate into your workflow.
Ready to get started? Get a Quote
By choosing Kyocera, you gain access to a comprehensive range of printing solutions tailored to your business needs. From multifunctional copiers to digital production systems and wide format plotters, we provide the tools to enhance productivity, efficiency, and overall document management in your organization.