Are you familiar with high volume production printers? Odds are, you may have even used these devices before without even knowing. Production printers are becoming one of the hottest on the market right now, with many wondering: What is the hype?
Production printers will not be the best option for everyone, but for those who will find use in them, they are a fantastic option for upgrading your printing environment. BDS is proud to offer a full line of high-volume production printers with multiple finance options to meet your budget. We take the time to create customized solutions that work for your business and industry.
If you know little about production printers or are unsure how these devices will help elevate your office to the next level, BDS is here to help. We will break down the benefits of this printing solution and decide if it is best suited for you.
What is a production printer?
A production printer is a high-speed printer used for high-volume printing. Many diverse businesses and organizations typically use these types of printers. Large businesses find the most benefit from these devices. However, some small businesses may also benefit. It depends on your business's individual needs and your industry's standards.
Speaking of industries, professionals working in finance, healthcare, architecture and engineering, education, and nonprofit use these devices the most. These industries regularly print at high volumes and often require a device to meet the demand. Production printing offers flexibility to businesses, helping them save time and money by investing in the device in-house.
You can print a variety of materials with your production printer, including the following:
Flyers
Contracts
Catalogs
Manuals
Booklets
The color management on these materials is high quality with digital production printing, making it a perfect printing option for marketing professionals in any industry. You can print promotional materials for your business at a high ppm (pages per minute), making it an efficient option for businesses with a large print volume.
How will high volume production printers affect my printing environment?
If you are looking to upgrade your printing environment to the next level, production printers are a fantastic way to do so. Investing in these powerful devices causes a rippling effect through your print environment and your business! As you grow and expand, your printer can keep up with the demand and adapt to your current needs. Do not worry about having to upgrade your equipment with a production printer!
Furthermore, with such high-quality prints, you are bound to catch the eye of many potential clients with vivid color output and images that burst from the page. With high speeds, you can get your marketing materials out quickly! If using a high-volume production printer for materials meant for in-house use, your staff will also be happy with the strong detail on their materials.
Better prints create a more efficient and collaborative work environment!
Better security for your high-volume printing needs
An overlooked strength of these devices is their excellent security and compliance measures. If you are working with confidential data regularly, these printers are perfect for creating an extra layer of security for your documents. With production printers, you receive much control over the quality of your print jobs and who is printing them. Cybersecurity threats continue to rise, and having systems to protect against leaking sensitive information is more critical now than ever.
A much-needed boost in productivity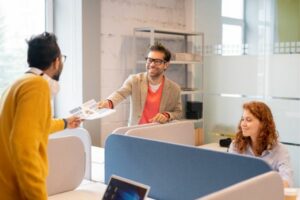 Because you can print much faster, these printers allow you to get more work done than a traditional printer. Even if sharing and collaborating on documents digitally, a conventional printer that cannot output at a high volume with high speeds will slow down workflows. Production printers can keep up with the demand, making it perfect for businesses working with digital and physical documents.
Invest in your next production printer with BDS
BDS is different from other local print partners. We have over 40+ years of experience providing high quality printing solutions to local New England and Florida professionals. Over those years, we have gained the opportunity to partner with professionals from all different backgrounds, allowing us to shift and adapt our approach to providing you with technological solutions that will elevate your business.
We take pride in the work we do and are always striving for excellence. Customer service is a hallmark of our success, and with an NPS (Net Promoter Score) of 92.6, we continue to strive for excellence. Our customized office solutions are guaranteed to boost productivity for your office. Request a quote today, and we will contact you with a BDS representative within the next 48 hours (about 2 days).
Follow us on Facebook, LinkedIn, TikTok, and YouTube to stay up to date on the latest industry news and trends.